Escape the Museum 2
After a devastating earthquake rocks the city, David must reach the museum before nightfall and save his wife and daughter! Explore different Hidden Object scenes, and solve a variety of puzzles, while journeying across town to your family. Navigate the treacherous streets, risk life and limb at every step, and figure out the best possible path with the help of an unlikely stranger in Escape the Museum 2.
Immersive gameplay
Beautiful scenes
Game System Requirements:
OS:

Windows XP/Vista/7/8

CPU:

1.0 GHz

RAM:

512 MB

DirectX:

8.1

Hard Drive:

187 MB
Game Manager System Requirements:
Browser:

Internet Explorer 7 or later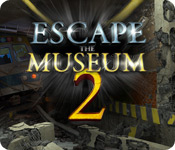 NEW299
The Big Fish Guarantee:
Quality tested and virus free.
No ads, no adware, no spyware.

Reviews at a Glance

Escape the Museum 2
0
out of
5 (
0
Reviews
Review
)
Customer Reviews
Escape the Museum 2
22
22
Different type of game - fun
Using the one hour free, I was disappointed when the hour was over so I bought it. This is a fun continuation - and better - of the Escape from the Museum and from the husband's point of view. The hidden objects are challenging but totally do-able. There are in between challenges that let you progress to the next step that are fun but so far, not too difficult. I totally recommend this game.
March 18, 2012
Hidden object game with engaging story line, refreshingly free of Dark, Evil or Weirdness!
This is a fabulous game to play w/ teens/kids. My entire family liked the hidden object scenes (challenging enough but not too hard), the need to combine found objects to advance the game, escape from one room/ scene to the next, etc. It seems some hidden object games have little or no plot line or if they do have a plot line contain a disturbingly dark twist. We played the 1st Escape the Museum & liked it, I think this one was even better. I would love to see more along the lines of this game, please!!!
March 31, 2012
More games like this, please!
This is one of my favorite games of all. I love the characters and the family interactions. Unlike Escape the Museum, this follow-up from Dad's point of view has a great hint system with clear directions if you get stuck in the puzzles. I love helping Dad do good deeds, and the real-life, non-occult focus. One thing is lost from Escape the Museum--the gorgeous artifacts have been replaced by every-day items.
April 27, 2012
Finally a HO game that dosen't deal with ghost & the like.
I'm fairly new to ho games but really love this one. I don't like the evil spirt type & this is wholesome.
March 18, 2012
Find and fix
Good storyline: David must find his family after an earthquake. He keeps running into problems getting to the museum. Each problem is a separate scene in the game. You have to find how to solve the problem, such as getting into a mall. Nice graphics and characters You use most of the inventory items as you go. Some are left for the end Cute how the old guy throws a bottle that crashes against the item you need in the HOS scenes Lots of HOS, most pretty clear Good hint system, again, the old guy You can't leave a scene until it is done No hand holding on this one. You have to find the right place to click to get a HOS. Good length: 4.5 hours casual
January 23, 2013
Just love it !
I bought this game about 2 yrs ago, and for me it was a good challenge,
March 18, 2012
So Much More Fun Than ......................
than the first game - "Escape The Museum". I thoroughly enjoyed this demo - a lot. Storyline: Here I am a teensy bit confused. Dad (you) is on the couch (apparently he has some blood pressure problems), mom (Susan) has taken Caitlin to the museum for the day but promises to be back for Thanksgiving dinner. They leave, an earthquake happens, dad gets up (with that thing the devs like to do where you're slowly opening your eyes), shouts that the lines must be down and he has to get to the museum. YAY Dad to the rescue! Now, before I continue - is this the same earthquake as in the first game "Escape The Museum" but from dad's perspective, or is this ANOTHER earthquake and this family is just having rotten luck? I wish THAT little tidbit had been better explained, especially if someone is going to play both games back to back. Or at least play the demos back to back as I did. Graphics: Amazing! So much better than in the first game. Bright, colors amazing and all the colors spot on and not all monochromatic - green plants, yellow car, red fire hydrant, just a world awash in color. Sound: Sound effects also pretty good. Music? Sorry, I am a grandma who has learned to tune things out. But the voices, and there was a lot of talking going on, which I love in a game, were spot on regarding tonal quality. If there was surprise, the voice sounded legitimately surprised. Some games lose something in the translation. Gameplay: So, you (dad) have now "come to" (you know how devs like to do that slow eye-opening thing), holler that "oh, what happened? Was there an earthquake?" And off you go to find your keys, phone and map. You realize the circuits are all busy and make the heroic decision to go to the museum and rescue your loved ones. You open the door and come face to face with ...... either the town weirdo (which is what I thought when he asked you to find his collection of tiny cars - and you did), a transient or someone else. Whomever he is, he is now your helper - located at the top right of your screen. Wave your cursor around up there a bit, he'll come out. He actually gives you a lot of informative help, much more than a hint button would. HOGs: Many, many, many, many. This is an HOG heavy game. You will see sparkles whenever there is an HOG for you to open up and play. And there will generally be several places in one area to find them. Especially as you get farther into the game. I LOVE that in this sequel (?) the list of items you have to find is clear. Also, the items you have to find are not tiny, are not hiding, necessarily, where you would never be able to find them and are not monochromatic with the surroundings. Saying that, however, at the first group of HOGs I had to play, I played them all, got my items, but then ended up going back to one of the HOGs, replaying the exact same list as earlier only to get the same inventory items I had received - earlier. Those items had simply disappeared. If you don't do the steps in the appropriate order is this what happens? I didn't run into that again. A glitch perhaps? HOGs: Many, many, many and many more. This is an HOG laden game. In each area you need to accomplish something, there will be several HOGs for you to complete. There are the prerequisite sparkles so you can find them easily. The list of items you need to find is clear, the items you need to find are easy to find, not necessarily hidden behind or under something nor set in a monochromatic tone with the surroundings. If you do require a hint during the HOG, never fear, your helper is there in the form of a snapshot picture. You can't miss him. I'm not quite sure he even needs recharging it happens that fast. So, you have a jumpable map, which shows where you need to go, where you need to go back and continue doing something and where you have finished. In the lower right hand of the screen is what looks like one of those machines in a hospital that takes your vitals - the noisy ones. It tells you how long it took to complete the level (why?), the distance to the museum (I guess that would be helpful) and your heart rate in bpm's (beats per minute). If you randomly click in an HOG your heart rate starts to escalate. That's pretty cool, actually. You also have a small backpack in that same corner. When you click on it, it says "inventory". Well, no. Since you use your inventory items right away, you don't store them in the backpack. But I did pick up an item which I believe will be used to rebuild a bridge. And THAT'S the inventory being referred to. Also, on the right hand of the page (inventory on the left) is something called "Side Missions" with black silhouetted items. What the heck is this, I asked self. Self said, hmmm, don't rightly know. Well, Self and I finally figured it all out. It seems dad had to go back to one of the uncompleted areas and there was found a cute dog - whose picture went into the first silhouetted slot at the top of the page. Our "side mission" was to find it's owners. Voila, the mystery of the side missions solved. Although, in actuality, it appears there are quite a few side missions to solve. - lol. All in all, a most enjoyable game. Much more so than the first one (feel free to go to my review of that game - not quite so stellar I'm afraid). In any case, this Glam-ma says please do try the free demo. If you don't enjoy it as much as I did, you have only lost an hour. It will certainly be on my Wish List (hear that kids?) Happy Gaming.
May 16, 2014
a cute little game that's a nice brain break
this game is extremely old, but it was still a cute game. there are many short scenes where you have one main goal - figure out how to get over a chasm in the road, get an ATM off of an injured person, etc. there are HOScenes, maybe two or three per area. they are not super difficult, but it does require a bit of looking for the last two or three items. some are blended in by color. I can't even really explain why I liked it, other than it was pretty campy and a relaxing experience. there are your standard hidden object scenes, and so far a couple "find 15 whatevers". the graphics are hit and miss, mostly miss. at one point in the beggining it the renderings were line drawings like in Tiger Eye, then they went to very rudimentary hazy "realism". WARNING: If you do not complete the scene you are in before you exit, you have to start it again when you resume the game. there is also quite a load time between scenes. this game didn't require a great deal of thinking, the tasks were relatively easy to accomplish and there was no back-and-forth because you had to complete your mission before you could go on. I'm definitely going to buy it, it looks like it will be a respectable length, about 4 hours for me since I'm not in much of a hurry.
March 18, 2012
A GREAT "Good Samaritan" story - yay Dad!
In my opinion, this sequel is better than the first! Same earthquake as before, but from the husband/dad's point of view. As Dad attempts to reach his family who are stranded at the museum, our story's hero comes to the aid of several injured victims and helps lost pets find their way home.The game mostly consists of interactive adventure play, with some HOG's and a few puzzles. A GREAT way to spend a quiet Sunday afternoon!
March 18, 2012
cute and easy
Lot easier than the first one and different. Had a plot but really easy to play. Still a fun game to play.
August 8, 2012
The Apple logo is a trademark of Apple Computer, Inc.