Escape the Museum 2
Exclusive
After a devastating earthquake rocks the city, David must reach the museum before nightfall and save his wife and daughter! Explore different Hidden Object scenes, and solve a variety of puzzles, while journeying across town to your family. Navigate the treacherous streets, risk life and limb at every step, and figure out the best possible path with the help of an unlikely stranger in Escape the Museum 2.
Immersive gameplay
Beautiful scenes
Game System Requirements:
OS:

10.4

CPU:

800 Mhz

RAM:

256 MB

Hard Drive:

186 MB
Game Manager System Requirements:
Browser:

Safari 4.0 or later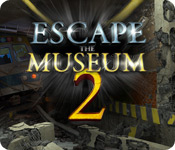 NEW299
The Big Fish Guarantee:
Quality tested and virus free.
No ads, no adware, no spyware.

Reviews at a Glance

Escape the Museum 2
0
out of
5 (
0
Reviews
Review
)
Customer Reviews
Escape the Museum 2
22
22
Afternoon fun
Fast little game that was more fun then I expected. OK to spend 2.99 or 3.99 but short for 7 bucks. Then again, I'm a tightwad. One comment, as a woman I was glad to see a male hero. Big fish, where have all the men gone? Funny, but my husband never even noticed that most of the adventure games we play are female dominated. Kind of bugs me, so I repeat an earlier reviewer with, "Go Dad!"
March 25, 2012
interesting story, puzzles and HOS
I wasn't going to play this based on the other reviews, but did decide since it was the deal of the day to try it. I didn't find really anything bad about it. The story supposedly follows the husband/dad's perspective of how things happened from the first "Escape the Museum" game #which was the perspective of the mom/wife and daughter, I guess, haven't played it yet, but I do plan to when I get my next free game or have a credit#. Storylines are what make the games interesting, IMO. Otherwise it would just be a series of HOSs, which would just put me to sleep! This story was interesting because it was believable - the man not wanting to sit around and wait with the other survivors while not knowing the fate of his family. Also, there are side tasks to do, which have to do with finding a lost puppy or child. I liked that story subplot because it showed even more depth to the main character. Also, of great interest to me was that the things we had to do, for the most part, were plausible - like using a rubber mat to cover up an electric gate so you could climb over it. I often play adventure games and think that the way we have to do something is pretty stupid and that there are often many better ways to do it. This one actually utilizes street smarts and survival skills. The graphics were just ok. Not terribly sophisticated, but they really didn't have to be. It didn't matter that much to me. Also, I didn't seem to have the problem others were commenting on re: blurred edges/hard to see items. Maybe my video card is just better, who knows... I had one glitch in while doing a HOS in the trunk of a car later on in the game. Part of the regular scene #just a small part# overlapped with the HOS and there were at least 2 items in that area. Luckily, the clues helped me to find them. The clues were fast and unlimited and honestly, funny... They are provided by an odd homeless man. It's better than some silly paranormal item that wouldn't fit into the genre of the game!!! I didn't like the music as it was really monotonous, which is too bad because the end credits music is quite nice. They should have intermingled it in more. As for fun, I only gave it 4 out of 5 because I had problems finding some of the "hot zones" or hidden stuff, especially when it came to finding the parts needed to lift the drawbridge toward the end of the game. There were no hints for them, either, at least I didn't come across any. Plus, they weren't in every scene, so I often didn't even know I'd missed something until after I opened the door to the next part of the game, only to have the map indicate that it was incomplete. I had to resort to Big Fish Games' walkthrough quite often for this. Oveall, though, I liked it and hope that the first "Escape the Museum" is as good as this one!
March 19, 2012
escape to the museum
During the same earthquake as Escape the Museum, you now play as the anxious father getting across the city to your family trapped in the Museum. Don't miss anything on the way, as if you have to backtrack you have to solve puzzles a second time. You also help others along the way. A nice complement to the first one with more of an adventure feel.
September 1, 2012
Not bad!
A nice little adventure, you didn't have to go back and forth to different areas, and it told you if you had finished the areas, which was helpful, but less of a challenge, better than average HOS. Worth $3, not much more! Most of the resources and challenges made sense, that helps!
March 18, 2012
HELP BY MIDNIGHT
Good follow-up game. Like the "hint" guy, but he disappeared when I needed him to help outside the HOS. Figured it out anyway. Really good graphics, great voice overs, nice plot. Easy and lots of fun. Strange he said he needed to help them by midnight - in an earthquake, isn't it help asap. Okay length for Gogii sale.
October 22, 2013
Fast and fun game
I thought this was a fast and fun game to play. As others already mentioned, some of the HOs were hard to see and I found myself squinting which doesn't really help. I usually go for the creepy spooky HOG/Adventure games but did enjoy this one. It was a nice change from the usual evil spirits and assorted things that go bump in the night.
July 22, 2013
Older game and not that good by today's standards
I got about half way through, but just wasn't interested enough to finish the game. When this came out, it was probably the state of the art for HOG/Adventure games, but there are so many better games now. I don't recommend it. It shows you how much things have changed. I played and loved Escape from the Museum 1, when it came out and this one is similar. In this installment, you play the husband, who wakes from a nap to discover that a major earthquake has hit the city and you need to get to the museum to find your wife and daughter. You make your way through the city, solving problems (getting over a crevasse in the street, over roof tops, past downed power lines, etc.) to reach the museum. Each point has a HO scene that isn't interactive or particularly fun. Some of the actions required to get past the impediment are not intuitive. Along the way, you need to find pieces of machinery that you will need to get into the museum at the end. (Didn't pay to the end, so I am not sure why you need all those parts.) There are also a number of side jobs (you find a lost puppy and then have to find the owner). The non-interactive map is useful because it shows where you are and if you haven't completed everything at each locations, like find a part. The graphics were ok at best. Hints are provided by an eccentric homeless guy, which was a pretty original way to handle that. (If you can't find something in the HOS, he will throw a bottle at the item.) The story is good and so are the sounds effects. Keeping your heart rate down is part of the game. Not sure how that fits into the overall game play, although, before your wife left for the day, she reminded you to take your medication. There are some original ideas here and the fact that you can play this game in short bursts is a plus, but overall I thought it was outdated and not much fun. If you are looking for an easy, linear HO/A game, this might be for you, though.
June 21, 2012
Buy this only if there is nothing else to do
Slightly better than the first instalment, but still just a straight-up HOG. Story line is thin, no animation to speak of and just dull compared to current games offered. For the price of 2.99 I guess it would be OK, but save your game credits for something better.
March 18, 2012
Not the best HOG
The storyline is ok not one of best, graphics are kind of childish, tasks that are given cannot be accomplish, this is overall a boring game.
March 18, 2012
Not for me
I can see why this game is only 2.99. Have played a lot of games at this price that were way better. Graphics were very poor quality, hidden object scenes broke down to a smaller window and objects hard to see. Just overall not a challenging fun game. Glad I played the trial first and then only played for 20 minutes..couldn't take anymore.
March 18, 2012
The Apple logo is a trademark of Apple Computer, Inc.
The Windows logo is a trademark of Microsoft, Inc.