Echoes of the Past: Royal House of Stone
Having made an incredible journey in time, you'll find yourself in the medieval kingdom of Orion. Reveal an ancient curse and save the kingdom and its inhabitants. The last prince of Orion is waiting for your help! Open the weird locks and explore every room of the castle in Echoes of the Past: Royal House of Stone. You will meet the castle's inhabitants and learn the horrible mystery of the royal family in this exciting Hidden Object Adventure game.
Perplexing puzzles
Multiple minigames
Save the kingdom!
Game System Requirements:
OS:

Windows XP/Vista/7/8

CPU:

800 Mhz

RAM:

512 MB

DirectX:

9.0

Hard Drive:

173 MB
Game Manager System Requirements:
Browser:

Internet Explorer 7 or later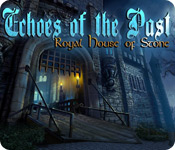 NEW299
The Big Fish Guarantee:
Quality tested and virus free.
No ads, no adware, no spyware.

Reviews at a Glance

Echoes of the Past: Royal House of Stone
0
out of
5 (
0
Reviews
Review
)
Customer Reviews
Echoes of the Past: Royal House of Stone
48
48
Past Its Prime, But Still Fun
GAME COMPLETED A COUPLE OF TIMES First of all, you must take into account that this game was released in 2009 to appreciate just how good this game used to look. By current standards it?s pretty blah, but even on my large monitor it is still not rough enough to affect the game play. I like all of this series because they deal with a fun concept. We are visiting a museum about a medieval kingdom when all of a sudden we are sucked into the portrait of the cursed prince, and are stranded in the House Of Stone until we can rescue the unfortunate victims and find our way back home. In each of the following games in the series we are caught up again in the kingdom?s dramas. I?ve only been playing HOPAs for about 18 months, so I wasn?t around when they first became popular, but it seems to me that games of this vintage seem, harder than today?s. Hint button gives you hints, not instructions. Knowing where to go next can be a real mind bending exercise. I found myself using the walkthrough on more than one occasion just to get around. Thankfully, the puzzles are for the most part fairly straightforward. I like that the HOS are of two varieties, lists and multiple items. Oh, and there is a misclick penalty. The game also keeps track of time, and you can compare your scores. This time the game took me 2hrs 20mins, which is not long admittedly, but it was fun. Not earth shattering stuff, but great to have the whole series, and not a bad way to spend a dull afternoon.
April 12, 2013
Very enjoyable and fun game
The cutscene in the beginning reminded me the Sleeping Beauty, but in a male version !! - Very nice graphics, - Good sound - A lot of HOS, interactive and not too hard - many mini games - some are repeated a few times (like finding pairs)! - Very good level of challenging (but there's a lot of hints to find and save...and not need to wait recharging) - Great atmosphere. Worth playing, it provides preety good entertainment!
January 20, 2012
An old favourite
I have just replayed this game for the umpteenth time and enjoyed it as much this time as I did the first. I find the balance between HOS, puzzles and inventory items just about perfect but I am a HO addict! Although you are directed back to the scenes it is to hunt for something different so that is not so irritating. Although there is no map the scenes are fairly easy to navigate and there is not too much backtracking. The dialogue does not dominate the storyline and is almost a rest between chapters! The first time I played it took 2hours 40 minutes this time one hour and forty minutes. I like that I can attempt to beat myself. Some reviewers must have different versions to mine as I did not know of any morphing objects. What am I missing?
January 17, 2012
Definitely Different
This game was definitely different. It took me 4 hours to play. You're given a timer when you start the game. The storyline wasn't bad, but I got this game mainly because I want to play all the games in this series. I'm thinking that they get better each time. First, the hint button is done differently here than in other games. Rather than have different levels of difficulty which determine the speed at which the hint button refuels, this game offers you mirrors. The first one grants you 10 hints. In every HOS, there are 2 mirrors to find. Those only grant 1 hint. It doesn't really matter though because the hints are only useful for HOS. In different parts of the castle or different mini-games, the hint just tells you something about the room. If there is nothing to do, it will tell you that, but that's it. Thus, the walkthrough will become your best friend. With this game, you really have to pay attention to the story because it gives you the clues necessary to solve things. The voice acting was pretty cheesy. I don't know where they find their actors, but maybe some more auditions would help. Some of the games were easy, some were hard. As I said, since the hint button doesn't really help in those situations having the walkthrough is a great asset. I don't like to use it because I like the challenge but if I have to I do. Of course, you can always skip the puzzles. This is a short game. Just want to let you know that in advance. For me, it didn't matter because I bought all 3 games in the trilogy. This was the first stepping stone, so to speak. Now that I've completed this game I'm really excited to start playing the next in the series. If you're wanting to play all games in the series, then I definitely recommend. If you're just looking for a pleasant game to play for the day, you might want to skip this one unless you are okay with the short length. So I will go ahead and recommend the game, but use your own judgment.
March 19, 2012
Fun Hidden Object Game
Fairly enjoyable game. My main problem was the length, seemed a bit short, & without giving anything away, I thought the ending a bit weak. However, in saying that, the game was enjoyable, with gorgeous graphics, & interesting puzzles. There is also a nice mix of 'adventuring' inter-spaced with challenging hidden object scenes.
November 29, 2011
If you don?t like spider?s or snakes..........
I?m not allowed to quote the lyrics, but there?s an old song that would fit this game to a T. If you don?t like spider?s or snakes, you ain?t got what it takes to play this game. Just Kidding!! But prepare yourself there are oodles and oodles of them in this game along with bugs and mice running across the floor and terminates (?) climbing walls!! If you can get by all that it really is a fairly pleasant game to play. It really isn?t as bad as it sounds. There are a lot of HOG?s, and surprisingly they?re fairly tough. Although not a junk pile or monochromatic, they are just very well placed. They do a dang good job of hiding those things! There are some interesting variations of them as well, I found that very refreshing as I am not particularly fond of HOG?s. You will need to return to the same scene at least two times, but the HOG is different the second time around. If you collect mirrors (they are not listed, but they are in the scene) you can collect addition hints. This little gem has puzzles I?ve never seen before and they are quite challenging! There is no skip button for puzzles (I think there was only one in the beginning), don?t fear, there is always a walkthrough to be found. It is not for hard core enthusiast unless you?re looking for something to relax to. There are no voice overs and the music is so sublime that I forget what it even sounded like. The graphics are very good, clear, clean and crisp. It just doesn?t have the look or feel of some of the recent top 10. But don?t let that stop you. Give it a try when you?re looking for a little something to do on a slow day. It has a clock on the options page that shows how long you?ve played (mine was 3:10). I took my time and enjoyed myself, shared the HOG?s with my 4 year old grand-daughter (she?s really good at finding the more difficult items!). We need to start the new gamers early to carry on!
March 29, 2012
First in the series
This is the 1st in the series, and I did enjoy it as well as the other 2. The HOs were just right, and the mini games were challenging without being frustrating. The graphics, storyline and sound were above average. Of the 3 this is probably my least favorite, but I still enjoyed playing. I definitely recommend this series!
December 17, 2011
FUN GAME
This was the first Echoes of the Past game I played. I truly enjoyed everything about this game. Challenging enough and the morphing objects are always a bonus to look for. I've since played all the Echoes of the Past games and this one is by far my favorite.
November 15, 2011
Good Fun with challenge
I purchased this game after demo, but every time I started it something came up. Finally sat down and played whole game and found it fun but at times frustrating when getting stuck in a room with no way out. Had to hit blog walk through only twice though. The art was wonderful but some of the hos objects were a little difficult to find due to size and blending. The mini games were all matching which made up for the running back and forth between rooms (map would have been helpful). All in all enjoyed the game and will continue with series.
December 25, 2011
The Perfect HO Game!
To me, the Echos Of The Past trilogy are the perfect HO games. The puzzles are challenging, the story is interesting, the artwork is great and the HO can be difficult. I hope Orneon puts out another game in the Kingdom of Orion.
January 19, 2012
The Apple logo is a trademark of Apple Computer, Inc.