Amazing Adventures: The Caribbean Secret
The Museum desperately needs your help! Legend has it that a Spanish ship loaded with a fortune of gold went missing somewhere in the Caribbean and was never found. This lost treasure is referred to by locals as the Caribbean Secret. Explore amazing Caribbean locations finding cleverly hidden objects and playing unique minigames to recover the riches in Amazing Adventures – The Caribbean Secret!
Caribbean atmosphere
Gorgeous scenes
Find the treasure!
Game System Requirements:
OS:

Windows XP/Vista/7/8

CPU:

600 Mhz

RAM:

256 MB

DirectX:

7.0

Hard Drive:

54 MB
Game Manager System Requirements:
Browser:

Internet Explorer 7 or later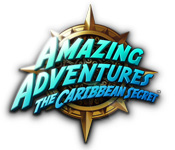 NEW299
The Big Fish Guarantee:
Quality tested and virus free.
No ads, no adware, no spyware.

Reviews at a Glance

Amazing Adventures: The Caribbean Secret
0
out of
5 (
0
Reviews
Review
)
Customer Reviews
Amazing Adventures: The Caribbean Secret
14
14
Amazing Fun
This is a straight-forward hidden object game, with moderately difficult scenes to complete, & fairly easy puzzles to solve to progress along in the adventure . . . If you find all 50 skulls, you earn unlimited search in the hidden object scenes, & you get to play lots of match three rounds . . . The end puzzle is cool, & you can play this game timed or untimed . . . As a bonus, after completing each level, you get a fun fact about the Caribbean . . . !
December 24, 2011
Yea Man Am going to the Caribbean.
Pop Cap make some of the best H.O games out there this is the kind of game i like it set as you can tell in the Caribbean just like the other games you have a list of item to find and mini games to play there knot too hard but this game is set on the fun factor thats what you get with pop cap games.as with the other games the graphics are dated but its still fun to play thats what counts in Pop Cap games.
March 23, 2012
Amazing Adventures-Amazing Games!
Amazing Adventures are always great HOG games. This series is one of the all time top three. The Caribbean Secret is no exception. Great HOG,great visuals and a challenge for all skill levels. This game is a buy!
July 24, 2012
like the other amazing adventure games-awesome
i haven't met one of these i didn't like. the graphics are great. the HO scenes are not crowded. the game is looooong! you have 25 missions and 4 to 6 levels in each mission. you have to find 2 skulls per level and when you are done with each level you have a puzzle to solve but these are easy!!!! at the end of the missions you find out a fact about the caribbean. it does get tiring after awhile so i would plan to play a while and go back to it. i usually play until i am done and it gets monotonous. i should divide it up and play a little at a time. it is a great game just like all the other ones.
November 15, 2012
Liked the puzzles
very entertaining, puzzles, and HOGS!
November 25, 2011
Just my style!
I loved this game because it's challenging yet not frustrating! I don't like the games that have items hidden so hard that you have to resort to using a hint, or the games that don't explain what your next mission is. The puzzles to get to the next level are also fun & I think most people who enjoy this type of game will be very pleased, definitely on my" to buy list".
January 23, 2013
Improving on Past Pop Cap HO Games, but...
I did love this game, but I hate giving reviews, so here's a combo pack: It's fun. Kitschy, fun, and challenging, so by all means if you love the genre - get it. So far it's the best I've tried. I've played the Mystery P.I.s and they all suffered from one BIG drawback: repetition. So does this. I didn't seem to mind so much because they upped the challenge a bit and, again, it was kitschy. Still, *especially* for the endgame I'd have LOVED some new content. (The bonus Match 3 was a faboo add-on too!) I would hope they'd learn from this. Some games are nigh unplayable due to this issue. I need long breaks from the Mystery P.I series, but this is one I played for hours. I'm getting into Vacation Quest: Hawaii now, and I see they've upped the challenges even more, building on these no doubt. Yes, there's repetition as well, but again better graphics and sweet, sweet kitsch factor. I see their constant improvement; I hope fresh content for their HOGs is on their list in the future. Until then I don't see anything going over 4 stars for me.
January 3, 2012
Fun game Too long
Game was fun to play. Visited same places to find things too many times. Towards the end game was rather boring. Some objects were hard to find. Game was fun just a little long.
December 24, 2011
Another Classic HO Game
GAME COMPLETED SEVERAL TIMES Story: The Museum desperately needs your help - again! Legend has it that a Spanish ship loaded with a fortune of gold went missing somewhere in the Caribbean and was never found. This lost treasure is referred to by locals as the Caribbean Secret and it?s your job to recover the riches. Developer: PopCap Games Release Date: Nov 2009 Extras: High Scores, Times and Collectibles, Unlimited HOs If you?ve played one Amazing Adventure, you?ve played them all. Literally, the only differences are the background. Even many of the items are borrowed from the previous games. This one does offer a couple of different puzzles between the HOs ? spot the difference, return items, Match 3, swap tiles, turn tiles, jigsaw, word match. I really don?t like these games, but I have an 84 year old friend who can?t take in the more complex HOPAs. For her and people like her these games are perfect, so I review each with her in mind. Of the 5 games in the series, this is my favourite. It has more picturesque scenery. As always, the game has collectibles, which unlock unlimited play mode on the HOs and, in this one, Match 3 games. The game is timed and scored, so top scores ranks are an achievement of sorts.
February 22, 2013
Good hidden object game
Amazing Adventures - The Caribbean Secret 3 stars A good hidden object game with scenes from the Caribbean. The art work is very good for the most part and the objects are well-hidden but large enough to see. Out of all the Amazing Adventure games, however, this particular one has objects that are rather hard to find due to scenes crowded with objects. There are 25 levels to work through, which makes it a long game. If you find 50 skulls, the unlimited seek and find part of the game opens up. If you miss some of the skulls or forget to look for them, don't worry. The scenes are repeated several times and you will have another chance. You can tell if you've already found the skulls in that scene by seeing if the skulls' eyes at the top are lit up. You can play the unlimited part of the game after you finish the main game. Basically in the main game you're looking for 10 hidden objects in each scene. Even in the Relaxed Mode there is a speed bonus, so if you look for two or three objects, then click on each of them quickly, you get extra points. There are also point penalties for random clicking and using the Hint button. After you find the hidden objects in each scene there is a mini-game to play. There are about 5 different types of mini games such as spot the differences, word finds, reassemble pictures, etc., and you just alternate between these same types of mini games, with different scenes, for the whole game. So it's "find the 10 objects in one scene", "mini game", "find the 10 objects in a different scene", "mini game", etc. for the whole game. It gets kind of repetitious after a while. All the scenes are repeated, but you're looking for different objects in each repetition. The only way I could finish the game was to play it for short periods at a time.
June 5, 2013