Mystery Case Files: Dire Grove
The Celtic legend of Dire Grove has been passed down from generation to generation for centuries. Considered a fairytale, its telling was meant to frighten small children into staying in their beds through the night. A recently unearthed artifact in the United Kingdom, however, proves the dark legend to be true! Use your wits and Hidden Object talents to follow the trail of a group of missing graduate students in Mystery Case Files: Dire Grove!
Game System Requirements:
OS:

Windows XP/Vista/7/8

CPU:

2.0 GHz

RAM:

1280 MB

DirectX:

9.0

Hard Drive:

517 MB
Game Manager System Requirements:
Browser:

Internet Explorer 7 or later
Alcohol Reference
Tobacco Reference
Mild Violence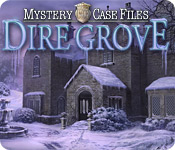 NEW299
The Big Fish Guarantee:
Quality tested and virus free.
No ads, no adware, no spyware.

Reviews at a Glance

Mystery Case Files: Dire Grove
0
out of
5 (
0
Reviews
Review
)
Customer Reviews
Mystery Case Files: Dire Grove
300
300
Chilling o.O
The graphics are amazing. The story is good. It has a nice amount of quality puzzles. Also, the morphing objects are back. (And, as a bonus, you will have the wonderful surprise of a certain tiny figure in your car...) It has an emptiness I've never felt before in Mystery Case Files. The snow and the cold - you almost feel it. Things left behind in a rush also help to deepen the sense of mystery. You continue because you want to know what the heck happened. But the suitable and adorable (as always) soundtrack was... gone. You hear the wind, most of the time. And it's a matter of personal taste, of course, but I really disliked having real people on this. The acting, one time or another, just lacked the emotion. And since my laptop is an old snail, it was easy to see that it pulled more from the graphic card than previous titles. Nevertheless,
March 16, 2013
First of the MCF games I've played and I loved it!
This was a really fun game to play if you like HOA games. There were some things that were worked into this game that I thought were really interesting and made it seem like these events actually took place, or some sort of movie you were watching, like video tapes you had to find throughout the game. I loved how you had to piece the clips together to eventually be able to watch the video diary in it's entirety. The actors weren't half bad either, it wasn't a cheesy video diary where the mouths didn't go along with the words or the actors movements were on a loop or something. It was almost like scenes from the Blair Witch Project. I always play on Expert mode or which ever the hardest mode is and I found this game to have just the right amount of challenge. I could do without so many HO scenes, but most of these games are littered with them, so I can't complain. I also love how they don't just hand you whatever items you need in that scene, you have to just find things along the way and piece the puzzle together bit by bit. I love acquiring an item and not knowing what use it will have until later on in the game. I really despise games that award you several items for your inventory for completing just one HO scene, or when they place several important objects in one location for use in that specific location! I play these HOA/Adventure Puzzle games for a reason- I want to be challenged! I want to fit together the pieces of a larger puzzle piece by piece. Don't just hand me every puzzle piece I need right off the bat... that takes the mystery and "adventure" out of the game! Besides the challenge, I loved the creepy atmosphere, the detail in the different locations and the overall chilling feeling throughout the whole game. This game actually made me download all the other Mystery Case Files games! Unfortunately, not all of the MCF games are as great and interesting as this one. I hate Ravenhearst Manor.... that was a let down. However, Escape from Ravenhearst and Return to Ravenhearst are now two of my favorite games. I purchased them both and could not put my laptop down once I started! All in all, this was fun to play and I was sad when I finally solved the mystery...
March 12, 2013
Was Good But Difficult At Times
Dire Grove was a great game but it could be very difficult at times. The plot was awesome and the snowy setting was great -- the outdoors were so beautifully made. I liked the scattered videos because it gave us a better idea of the plot. However I got stuck a lot and had to use an online walkthrough. Challenging games are really fun but not so challenging that you have no clue what to do half the time (which I found happened quite often in this installment). Overall -- great game, very challenging.
February 5, 2013
Very good game - maybe too long, though.
This game was very good but I held back from giving it 5 stars for a few reasons. The main one was that there was an awful lot of back-tracking in the game and the locations were very far apart. A map would have been very useful. The Hint button only worked in HOGs so I found I consulted the Walkthrough far more than I would normally as there were quite a few things to do that were not obvious. However, the graphics were probably the best I have seen yet. The use of the film and the live actors was really well done. At one stage I thought the films were just silly and was skipping them, but then I realised that I needed to listen as they contained clues. I played the game in the midst of winter and the graphics of the snow and the noise of the wind were so good I felt cold the whole time! Just one more thing - Developers - when setting a game in a certain country please make sure you get some details of place correct. Words such as "township" and "municipalities" are not used here and the "football" in one of the HOGs is not what the rest of the world recognises as a "football"! I know this is nit-picking - but it does grate. I offer my services as a consultant in the future!
January 23, 2013
Fun Mystery Game
This is an awesome game! I recommend it [:
January 9, 2013
lots of shocking twists
i loved it, but the end was difficult for me. little confusing trying to figure out what to do at times.
December 8, 2012
Hmmmmm!
I have to say that this wasn't one of my favourite MCF games. The game moved around too much and it was easy to get lost or forget where things were. I enjoyed the mini games and the sound and graphics were excellent, but this isn't one I would buy!
December 2, 2012
Creepy fun.
I really enjoyed this game. It's a bit creepy, plenty of HOS, and challenging enough though beginners may want to make use of the skip and hint buttons. On the downside, I play quite a lot of these type of games, but this one only took around 4 hours to complete. Also, the ending was kind of abrupt, there was no real explanation of what exactly happened which kind of ruined it for me, hence only four stars. All in all though, I'd recommend this game.
November 26, 2012
Great Game!
My 8 yr old son and I just finished this game and are in the #1 spot! He's pumped about that. Really great game. It had just the right amount of "creepiness" and good graphics.
October 24, 2012
Enjoyed it but wasn't the best I've played
I liked the game and the atmosphere. Maybe it was because it was dark, cold and rainy here so the snow added to the overall environment. The storyline was OK with the premise being missing students who were investigating some Celtic legend related to Dire Grove. It just didn't really grab me and I think because of the storyline, they were limited to what type of thrills to put into scenes - which ended up being a ghostly figure in mirrors and outside of windows and constant snow across the screen. A different premise would have allowed for a better thrill factor. The HOGs were OK but I found myself wandering from location to location to determine if a new one had surfaced to give me the item I needed to further the story. Visuals were good, puzzles were generally logical and not too difficult. It took me about 6 hours to play with breaks to do laundry, etc. Was hoping for more suspenseful. All in all, I would recommend but just cannot put it at the top of my list as best I've played. Nor would I recommend with an exclamation point after the statement.
August 26, 2012
The Apple logo is a trademark of Apple Computer, Inc.