Mystery Case Files: Dire Grove
The Celtic legend of Dire Grove has been passed down from generation to generation for centuries. Considered a fairytale, its telling was meant to frighten small children into staying in their beds through the night. A recently unearthed artifact in the United Kingdom, however, proves the dark legend to be true! Use your wits and Hidden Object talents to follow the trail of a group of missing graduate students in Mystery Case Files: Dire Grove!
Game System Requirements:
OS:

Windows XP/Vista/7/8

CPU:

2.0 GHz

RAM:

1280 MB

DirectX:

9.0

Hard Drive:

517 MB
Game Manager System Requirements:
Browser:

Internet Explorer 7 or later
Alcohol Reference
Tobacco Reference
Mild Violence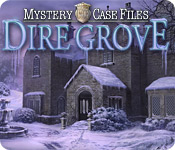 NEW299
The Big Fish Guarantee:
Quality tested and virus free.
No ads, no adware, no spyware.

Reviews at a Glance

Mystery Case Files: Dire Grove
0
out of
5 (
0
Reviews
Review
)
Customer Reviews
Mystery Case Files: Dire Grove
284
284
cool
it was a great game loved the scenery
July 21, 2013
Reality Check is in Order
I hate to say anything negative about these great games, and if you will notice I get level of challenge 5 bars. However, when is too much challenge too much? It seems that all these MCF games are true adventure. There is no help button except in the HOS and I found myself totally lost most of the time. This game and all of these in the MCF series need at least a map of some sort to help you realize where in the world you were. I played for over 7 hours and eventually gave in and used the walkthrough to figure out where I was and what I needed to do. I even ended up with something left over in my inventory... I think. It just took the fun out of it for me. Even the mini games had no instructions or help. I know there are those who enjoy wandering aimlessly about a computerized world but I'm not one of them. Now that the complaining is out of the way, the graphics are fantastic. Real people are intertwined in the story which is very good. The sound is fantastic and did I mention it is extremely challenging. The music and sounds are great also. The designers did a fantastic job. The story is well written and true to the MCF series. You get an attachment to them and the ending, it was fantastic. If you enjoy a level of challenge above and beyond all others, beautiful graphics and music, and a really good story, this game is for you! I highly recommend it. However, if you are like me and prefer and a little help along the way, then maybe you might consider passing this one by. Having said all this, I do highly recommend this game.
May 1, 2013
Old Style
I love the Mystery case files. I just think they have gotten to much into chase things around be4 u can move on. Go back to the origi game play please...
January 17, 2013
The Good and the Bad
This game was certainly different. The story line was good, and kept my interest. The videos could have been a more important part of figuring out the game though. The 2 things i did not like were that the Hint button only functions to find hidden object in the hidden objects screens. It does NOT give any help in playing the actual game, which had me resorting to using the Strategy guide, which was annoying to track down the parts (which was constant) that i needed. Also way too many hidden object puzzles. they never seemed to stop. So I really liked the game concept and story line, nice artwork and music, but it was overshadowed by the lack of hints and extensive hidden object screens.
January 1, 2013
HO were best part and the eariness
This game was right up my alley with mystery, and the Hidden Objects were good but the mini games were tough. And I wasn't sure where to go sometimes...had to go to the walkthrough which I don't like doing. It was a great story and eerie and fun enough to get through but confused me at times. I even tried playing a second time after finishing and still needed help. Not use to having to go to the walkthroughs didn't like that part.
October 1, 2012
Mystery Case Files - Dire Grove
I tried the teaser and really enjoyed it, then bought the game, but was very disappointed - I have managed to get to page 8 and have been pulling my hair out since - no matter what I do there there seems to be no more clues - I am stuck in the office trying to work out the safe combination - any clues!!! unless I can open it I am going nowhere.
June 27, 2012
Horrible Hints
I agree with others comments about the wonderful graphics & story, but without proper hints & instructions, one is forced to always close the game and go to another website for walkthroughs. I was at the end of my rope. Seriously, I was. - The puzzles give NO instructions. - Tiny HOS items to find & random clicking is NOT allowed, as the screen will freeze on the 4th click. If you can't see the item, random clicking is necessary. - You're forced to watch all the tapes if you want hints. Very time consuming, especially if you wish to replay the game. Since I don't, I always had to close the game & refer to the walkthroughs. - Towards the end of the game, if you missed picking up anything earlier on, your out of luck. No maps, hints or help. Close the game and spend more time searching the walkthroughs. - The end needs a ladder, without proper hints, you will go crazy trying to figure out what to do next. Back to the walkthroughs. - The very end is so time consuming & frustrating..... arrrrr!!! No skip button!!! No wonder this game seems so long. You have to keep searching the walkthroughs to see what you have missed. Absolutely frustrating to say the least. Especially if you put the game on hold and get back to it later. Without proper hints, this game is a real work out. Sorry I bought it.
June 5, 2012
Great scenes; boring play
The scenes are all crisp, clear, and photograph-quality, but the pace of the game is so slow....virtually all hidden objects and comments without the "thrill of the hunt".
December 5, 2011
Lots of back tracking
I play in the middle of the night, so I do not have the sound turned on. Could not get through it with out checking the walk through a lot. The hints are bad. Maybe it's a better game with sound on, but without, it is just frustrating. You back track a bunch.
January 16, 2013
What a Dog.
Dire Grove is a HOG that is mired in mediocrity. Along the way there are 14 ?video tapes? or cut scenes to watch that went on and on and on and on ad nauseam; I got tired of watching them and started cutting them short. Lots of HOS but most were poorly drawn. The last one was the worst; I used the hint on 5 items and was not sure what any of them were supposed to be. Very poor artwork. For one thing, they had a penchant for hiding 50 to 90% of the objects in the HOS to make it harder to find them without actually blending them into the scene. They frequently repeated objects in the HOS. After the first time you played a HOS you would get it again and half of the objects were repeats. In game play, if you clicked on the wrong place on the right item, because there was only a tiny spot to hit, you got an insult when it was really poor scripting at fault. But the weakest part of the story was that you had to find items well before you needed them or knew why you were collecting them. You will use the walkthrough at every single step. Boring. The final scene is a joke. For story they get a C-. For repeats and sloppy artwork, their HOS get a D. For cut scenes they would rate an A if they had half as many or shorter ones; give them a C. For continuity of story, an F for sure. For fun I think a D+ is about right. Who let the dogs out? Forget this puppy and buy one of the better games; just about all of the other games out there are better.
April 22, 2012
The Apple logo is a trademark of Apple Computer, Inc.