Nancy Drew: The Final Scene
When a high school friend gets kidnapped in a historic theater, you, as Nancy Drew, are plunged into a desperate race against the clock! With the theater being torn down in just three days, can Nancy outwit the kidnapper and rescue her friend before the wrecking ball flies? Or will this be Maya's Final Scene? Use your Adventure Game skills to explore the majestic theater, and solve perplexing puzzles!
Immersive gameplay
Tricky puzzles
Save the hostage!
Game System Requirements:
OS:

Windows XP/Vista/7/8

CPU:

600 Mhz

RAM:

128 MB

DirectX:

7.0

Hard Drive:

587 MB
Game Manager System Requirements:
Browser:

Internet Explorer 7 or later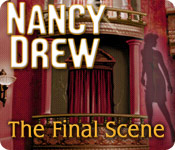 NEW299
The Big Fish Guarantee:
Quality tested and virus free.
No ads, no adware, no spyware.

Reviews at a Glance

Nancy Drew: The Final Scene
0
out of
5 (
0
Reviews
Review
)
Customer Reviews
Nancy Drew: The Final Scene
17
17
Who kidnapped Nancy's friend in a movie theatre?
This is the 5th game in the Nancy Drew series, which was released in 2001. Unfortunately, it shows: * Graphics are sometimes a bit blurry on a high definition 23'' screen * ...and they are dated. * I only counted 4 riddles / mini games. (Note-Slider, Keylock-Slider, type Numbers in correct order, box puzzle) * Some phone numbers are absolutely useless since nobody answers. On the positive side... * the voice acting was spot-on as usual, * we got more than our share of suspects and people to talk to, * and I was really surprised who the culprit was. (I expected somebody else.) The game was a bit on the short side, and - like Scarlet Hand - you would have had to take down notes. (Which I refused to do and referred to a walkthrough instead after reading through the instructions once.) The game was not bad, but there are a lot of better games in the series. It would have been great in 2001, but in 2012 I cannot - in good conscience - recommend it anymore.
January 5, 2012
Quite short, not as good as others but I enjoyed it
I don't do love or like but out of 5 This doesn't have the polish, in depth, multi-layered puzzles or interactions of the other ND games. It's also about the shortest ND game and one of the easiest (but still not easy) of the series. It's one of the very early ones and it does show. But I still enjoyed it and actually more than a couple of others that had better graphics, locations etc. I loved the story of your friend has been kidnapped in this old theatre that is about to be demolished and the background story which you can read about in the game as well as see one is about magic tricks and Houdini. It's not very involved re Houdini but I loved finding out how you do a couple of tricks and thought that side of it was fun. There are four characters in this game and they are scattered throughout the theatre. Like all ND games you keep talking to all of them especially after you trigger other conversations or things you uncover. I like this game as you didn't have to go to bed or put your clock forward but a day automatically ends when you have accomplished certain things. There are three days but days 2 and 3 are quite short. I found day 1 to be the longest as that's just pure exploring around the theatre, finding your bearings, talking to people. The whole game is set in the theatre. Like all ND games you can't skip the puzzles but actually thought they were very straightforward, like you would get them in a HOPA. There was a slide to exit, press one tile others move, keep an eye on the 'ball' (item that is moved around), and move tile to exit in a path before you are captured which may be the hardest of them, a jigsaw (which you rotate each piece as well as move them) and make a key (which you do have to make notes and it is a bit tricky). I really recommend you to save before trying them as they don't have a reset button on them. In senior mode the puzzles are apparently slightly harder I played senior so can't comment how easy the junior is. Usually in ND games you can replay a couple of puzzles as many times as you want, this is weak here, as it is just the move in a path one which once you figure it out once I didn't see the point of playing it again and the move 'the ball'. With ND games you do need paper and pen to jot down some things but really this is only about 2 different items which is very obvious when you come across them. This is what I like least about ND games as if you could record things it would save me wondering what needs to be recorded and what doesn't. I actually wasted 1-2 hrs of writing down stuff which I didn't need to. It's a manual save game and like all the early ND games the load and save game is in the same place, you can click on the line to write down the name of a save but it's not that clear and the later games are far better and there is no chance of accidentally loading an old game when you want to write down a new save (I've done that in the past.) It also has the old interface which takes up half the screen, it's annoying but I have gotten used to it and now don't really see it. There are some things you don't have to do to progress in the game but it is weird as it assumes you've done them. If you are methodical in sweeping each scene and examining everything and have a good memory where everything is in relation to each other I don't think this is a hard game. I actually do have problems with direction and that part takes me longer in finding my bearings but it's not actually that hard, and the puzzles aren't really stinkers. There is a couple of timed elements in the game, but it's second chance which means if you don't get it the game automatically will take you back for you to do it again, so you don't have to worry about saving so often. There was one that was quite tight but once you figure it out what you have to do the timed element wasn't bad. It is a good ND game for beginners but I'd be scared if I recommend this for someone new to ND games they might think this is it for ND games and most of them are way more better done in involvement, intricacy and all round. So don't judge all ND games on this one. It's probably the die-hards who love ND games are going to be the ones who enjoy this and I must admit I am now one of them. But if you love tricks, or theatre and just love a good story and aren't looking for an A grade adventure game then it's worthwhile playing. As I said I had more fun with this game than some others that are far better made and thought out but that's due to the setting and the story. If you are just looking for one of the best ND games to play and you're not going to play them all, then I'd give it a pass. But I liked it for what it is, and used a free coupon on it and enjoyed it so I do recommend it but as I said only for some people.
January 21, 2013
FIN - Not my favourite, but I wouldn't miss it
FIN is the fifth game in the Nancy Drew series. As it is one of the earlier games, it doesn't have a lot of puzzles that the later games are famous for, but you do get to do your share of snooping. You don't get a checklist either, so it is essential to take notes - but then again, you always need to in the ND games. Voice acting and characters are great, and I am not complaining about the graphics - for 2001 they are good, and they are good enough to play the game today. I wouldn't even make the speech skippable - it's one of the trademarks in ND games, which are essentially very realistic (apart from second chances! :)); you can't skip someone's speech in real life, you can interrupt them, yes, but Nancy isn't that rude! :P Sadly, this is my least favourite ND game - and I am a huge fan of the series - because most of the time I felt like a headless chicken, I didn't know where to go, who to talk to (and how to get them to talk more) etc. It doesn't really help that there is a "deadline" - you have three days until the theatre is demolished, every day you have to accomplish certain things for the game to progress and you can't sneak in during the night to explore the place! The storylines are very interesting, both modern and the old one, each of the characters has something to hide and the suspense keeps you on your toes until the very end! So, if you like ND games, do get this one as well, because I know people who think this game is the best one of all the 25 that have come out. But maybe not before you have got used to the format with some later, easier games. :) tuskel, sincerely
February 21, 2012
It was fun, but not breathtaking
This review is based on a complete playthrough. First let me note some things: People complaining about needing to write stuff down yourself: welcome to Nancy Drew. That's one of the signature features of all the ND games, along with figuring things out on your own - but the newer games do have 'task lists' for you Junior Detectives out there. This isn't one of the newer ones, however. Graphics: I've got a 25" monitor and they looked ok. Which is good, because you need a big monitor since this game still uses the original interface that takes up half your screen. Sound: Not impressed at all with the sound for this game. The main background was a loop that would change 'moods' often at random (or at least for no reason I could figure out). I honestly think the voice overs were better in the earlier games as well - "Treasure in a Haunted Mansion" did really well with that. Story: It wasn't bad. But it wasn't anything to write home about either. It was more a case of individual character sketches rather than a cohesive plot: yes, there is a 'plot' that takes you through the game, but most of what you do and find out has little to do with it. Supposedly you have 'only three days', but in keeping with the "Rules for RPG's" - unless there's an actual countdown timer somewhere on your screen, you can take all the time you want. Time matters only at the very, very, very end. Game Length: It's short. The puzzles are easy and there aren't many of them. The were only a couple of things that really tripped me up - one I knew what I had to do and even knew what it was I needed to do it with - I just had a hard time finding that thing in the theater, another had to do with order of events - they weren't as prepared for player 'creativity' as they are now. My conclusion - even comparing it to the other "early" Nancy Drew games, this one doesn't bring home any prizes. The ending was surprising, but not handled nearly as well as it could have been - you can leave one major 'subplot' completely unfinished, for one thing, and the ending sequences really needed a bit more work. Unless you feel the need to 'have them all', you can safely skip this title.
April 8, 2013
Can't recommend this game
I actually stopped playing this game twice due to not knowing what to do.. The game is where you are trying to rescue Nancy's friend that was kidnapped inside the theater. On day 1 there are no instructions on what to do.. I kept going room to room for about 2 days when I played. I finally quit played 2 other games and came back to this one. I got the walk-thru to tell me what to do. Day 2 did get better, just like day 1 tho you had to consult the walk-thru. I really wanted to applaud the ending at first.. It had my heart going and all the past problems almost made up for it. It was the first time I was excited and having fun, but the end was complete let-down. It could of been done 100 percent better.
August 13, 2013
Great ending
The graphics were good considering when it was made and the storyline was ... uncomplicated. Doesn't have as much depth as the games before it. There weren't many puzzles and the bulk of it seemed to consist of just going back and forth and talking, talking, talking so it was the easiest ND I've ever played. It's mostly intuitive and if you aren't sure what to do, just run around and start talking to people again and you can easily figure out what to do next. There is one part where if you look in the purse right after the light falling, you get stuck and must use a "second chance". I will say that it did have a great ending to it. In fact, the ending made up for everything else. So yeah, I would still recommend this game.
August 20, 2013
worst nancy game ever
I have played them all through the most recent one, Alibi in Ashes. Just recently played this one because I hadn't played it before. It was just bad. Boring, nothing to do, one of the worst nancy games. Which is odd, because Ghost dogs of moon lake comes out soon after this one, and Ghost dogs was really good. If you are a nancy fan, and have played them all, go for it. But it is tedious. Be warned.
April 15, 2012