The Otherside: Realm of Eons
After receiving an anonymous package containing a strange book, Miranda finds herself inadvertently drawn into the fantastic world of The Otherside: Realm of Eons. With the guidance of the mischievous Jovie, a possessed teddy bear, she must travel back and forth between worlds and help to unravel the mystery of a brother and sister torn apart! Help Miranda to solve the many riddles that lay within this Hidden Object game!
Fantastic locations
Fun and challenging minigames
Save The Otherside!
Game System Requirements:
OS:

Windows XP/Vista/7/8

CPU:

1.0 GHz

RAM:

512 MB

DirectX:

7.1

Hard Drive:

197 MB
Game Manager System Requirements:
Browser:

Internet Explorer 7 or later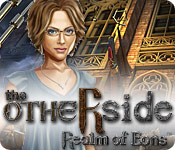 NEW299
The Big Fish Guarantee:
Quality tested and virus free.
No ads, no adware, no spyware.

Reviews at a Glance

The Otherside: Realm of Eons
0
out of
5 (
0
Reviews
Review
)
Customer Reviews
The Otherside: Realm of Eons
17
17
Like It? Let Me Count The Ways
This game seems to have slipped under the radar, yet it is one of the best games of its type that I?ve seen. Bear with me while I list just a few of the reasons I am so impressed. 1. Clearly designed to appeal to young players, it is bright and colourful, has wonderfully imaginative graphics, and straightforward gameplay. I?m a grownup, but I really enjoyed the visuals. And I loved the bear. 2. It offers lots of variety. In one scene, you are required to find a number of listed objects, followed by a number of pictured objects, followed by 15 of one item, and probably a simple puzzle or two, all in scenes within the scene. 3. Each of these objectives is clearly stated, active areas within the scene are highlighted, and all hold together with the simple but interesting story. 4. The simple and somewhat ?childish? dialogue nevertheless keeps everything clear and can be skipped if you want. 5. The story took a while to get me in, but when you find yourself feeling the need to hurry because the bear?s in trouble, you know you?re hooked. This is a refreshingly different HO game, suitable for 8-80 yr olds. Give it a trial.
December 7, 2011
I LOVE THIS GAME!
I only needed to play it for a few minutes and I was sold. It is unique in a way that leaves some of the Collector's Editions in the dust. The HOS are not the usual (finding useless junk). You have to find stuff you are going to use and have fun doing it. The mini-games are very original too, just challenging enough without being annoying. I can't believe my good luck in getting this for only $2.99.
August 29, 2012
This game is hilarious!
Sometimes there's games that, while not being the most appealing for anything like a plot or storyline, are just enjoyable because of their unintentional silliness. While at first the hand-holding is annoying, as there are no options between casual/expert, it's easily overlooked the more you get into the silliness of the game. The main character, Miranda, seems to have been gifted with an extraordinary ability to fix every single thing that comes her way- and she'll stop at nothing to achieve her end! In fact, she shorted out a fuse box at the pawn shop and then locked the pawn shop owner in the back room so she could check out his records when he wasn't forthcoming enough. Pure gold! And while she was dumpster diving to find some needed parts to repair one of the myriad things that needed fixing, she blithely ignored a human skull. She's a very focused woman, is Miranda. And let's not forget the strange little bear with the creepy eyes who sporadically shows up and has her fix more things- some of which seem to have been broken on purpose just to show off her superlative MacGyver skills. Why is she a woman on a mission? To find Louise, a missing woman who shows up in ghostly form to inform her that she's seen her in her dreams. That's about the time the demo ended. I simply must find out what these dreams were about...
January 20, 2013
No need to wander around.
I have to agree that this might not be the most challenging game around, but the storyline did keep me interested. I was glad to have a game where one does not have to go back and forth to different locations to pick things up to use elsewhere. In this game, you have to find things in a scene and then other area opens up for you to find hidden objects and then you are returned to the previous scene. No need for a map which is a nice change from current games. Some of the hidden objects were hard to see, but the hint system refreshed at a reasonable pace. The music did not appeal to me so it was turned down. Puzzles were repeated, eg. tansgrams, matching pairs, arcade type, but they were spaced apart so I didn't mind re-playing. The little bear was rather annoying at times, but I found it interesting that the heroine also found him to be a pest at times!
November 25, 2012
fun! fun! fun!
i was really surprised this game got such an average rating. i thought it was really fun and entertaining. it wasn't the same old HO game. the graphics were clear and the hint system was good. you are looking for a girl that has been taken and her brother has asked for help to find her. you keep losing him as well and then run across the girl wanting her brother and the brother wanting his sister. it really is a fun game tho'. don't remember the last time i enjoyed a game like i did this one!
October 26, 2012
Strictly for children
Very good little game, but geared for the beginner or children. Easy to find objects in several different scenes. Progresses well. I only played the trial, but if I had young children at home, I would purchase this for them. I gave it 4 stars because it's suitable for a young age.
September 9, 2012
Through the Portal to another world - will you get a little girl back?
Review based upon completion of the game. Rescue a little girl, which was kidnapped two years ago and vanished without a trace. Apparently she is in another world which can be reached by portals. Some teddy bear who likes to break things is involved. The Good: + find hidden objects by logical category + ...often in smaller parts of the screen + good length (24 chapters) + I saw that kind of twist coming, but still good story The Neutral: o graphics dated o not many puzzles... The Bad: - ...which tend to repeat often (especially the tangram) - teddy bear became unnerving after a while - especially when he's floating around on a cloud as click penalty Bottom Line: The game is over two years old, and the graphics show. It still has a good story, so I recommend it for a sale.
March 10, 2012
I got bored
This is probably a good game for younger players but I found it to be boring. Most of the important puzzles are of the mosaic variety which I dislike. The others are mostly of the find a part and assemble an item type. The story line is OK but not enthralling. If you are an inexperienced gamer you might like it if you are hard core I suggest you take a long look at the game first.
February 10, 2012
not for us 62 yrs young women
not much of a challenge at all
September 10, 2012
It Was Just Ok.....for me.
I just didn't quite get this game. Maybe I was too tired to play - don't know. Storyline: You have somehow, through an origami, found an open portal to another world. You are a journalist and you are tired of your job. You wish/dream of going to another more exciting world. Now, the fun begins. Graphics: Not the best - not the worst. Sound: I apologize - unless it really gets to me I tune out most sound. Gameplay: You go through various portals to various addresses in search of....something. You help the characters you meet. So, I guess you fulfill quests in order to gain information that keeps you leading you elsewhere. You discover a mystery. A cry for help. And you get addresses from the various characters and off you go. HOGs: Many. This is an HOG-heavy game. Unfortunately, most times the items are so small (even after I changed options to wide screen) that you result in random clicking - for which there is a penalty. Mini Games: You have to play one mini game (at least) in each level/site/place you go to. I found them very easy (i.e., move the pieces around to make the picture). The hint button takes a full minute to recharge. So use it wisely. I guess the game IS, to a degree, fully of mystery and intrigue. Who wrote the cry for help? WHEN was it written. WHERE was it written. All the appropriate "W's" a good writer asks. Who, what, where, when and why. Ok, I paid attention to that in school. The game, however, can also be cheesy at times. This Glam-ma says it was a cute little game but not worth the little disposable income I have every month. Nor a credit. However, saying that, please do try the free demo. You have nothing to lose but an hour and you might truly enjoy this game. Happy Gaming.
May 18, 2014