Artist Colony
Once home to the most pioneering creators of their time, it's up to you to restore a thriving oasis of artists as you rebuild the community. Attract new talent by renovating the gorgeous surroundings and inspiring artists, dancers, musicians and more to become masters of their craft in this fun Sim game. Create, perform and sell brilliant works of art to revive this ultimate creative sanctuary in Artist Colony!
Personable characters
Unique gameplay
Inspire artists!
Game System Requirements:
OS:

Windows XP/Vista/7/8

CPU:

1.4 GHz

RAM:

512 MB

DirectX:

7.1

Hard Drive:

115 MB
Game Manager System Requirements:
Browser:

Internet Explorer 7 or later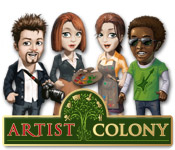 NEW299
The Big Fish Guarantee:
Quality tested and virus free.
No ads, no adware, no spyware.

Reviews at a Glance

Artist Colony
0
out of
5 (
0
Reviews
Review
)
Customer Reviews
A High Quality Game !
What an amazing game to play ! Story, graphics, music, gameplay everyting is perfect. This is not a "classic" management game. You have to take your time and enjoy the moment. So it's not for all kind of gamers. Some could find it slow or repetitive so beware...For myself i completely fell for it. A time to relax, no hard thought, no puzzle and a wink to the seventees ;O)
November 22, 2011
My favorite Time Management game
Exceeded all my expectations. My wife watched me play it and had to install it herself, we both love it. If there's any issue I had, it was that you can't scroll out far enough to view the whole map, you have to use the mouse to navigate around, minor but becomes more evident the faster you need to respond. Still, the best one out there.
December 5, 2011
Beautiful but boring and repetitive
I was initially charmed by the pretty graphics but, for me, it turned out to be all eye candy and no substance. After only a couple hours, I started being utterly bored doing the same things over and over without much difference with the results -- that's when I realized the game was actually very shallow. Gameplay's incredibly repetitive, doesn't have any depth at all, and everything quickly became tedious for me. On top of that, it has zero replay value because it's entirely tasked-based. The core gameplay consists in 1) Training any new artist in his/her 2 given skills up to 10 points each, 2) Having each artist create a total of 20 masterpieces, and 3) Selling masterpieces. Rinse and repeat, as the rest is pretty much inconsequential. There aren't enough buildings to restore or upgrade. I didn't know what to spend all my money on even before I was a third into the game, because there was nothing left to spend it on. That kind of killed the incentive to continue on right there. I also found the overall interface very cumbersome. Dragging and dropping artists around the map is made difficult because the area you'll want to drag to is almost never visible on screen due to the very close up view - and there's no zoom out option or on-screen map. The constant dragging and dropping hurt my hand after a short while, as that's what 99% of the gameplay consists in. On top of that, I thought the toolbar to find and jump to specific artists was clunky when you start having more artists to browse through. I couldn't find any reason to make my artists fall in love, as it doesn't really affect the game one way or the other. As for the rest, like regularly searching for artists and dragging them to the kitchen area to eat, or to the dorms or rest areas to sleep, didn't add anything to the gameplay for me - just more dragging and dropping, only elsewhere. The colony's land isn't very big and there aren't enough areas of interest on it. I was hoping for more there, too. I wanted to give it 2.5 stars but, in the absence of halves, I'll have to go with a 2. I wish the game had more depth, something to hold my interest, and also a more efficient interface.
November 25, 2011
Nice but repetitive
The graphics and storyline lured me in. The ideas are good but leveling up at later stages takes such a long time it detracts from the fun aspect of the game. Issues I experienced: *I have 15 artists in my colony, yet still cannot upgrade the residents quarters. *Dragging artists to resident quarters did not work for the longest time which resulted in me having 6 angry tired artists just wandering around the colony. Very frustrating as dragging them to the sleeping quarters did nothing. *An active way to attract buyers or clear out stuff in the gallery would also be good. I found not enough buyers arriving compared to how many masterpieces were being churned out. A few things to iron out, so hopefully a second version of the game will address these issues.
February 1, 2012
Great, great story line!
great game with great story. At the beginning of the game you start with 2 characters, and how you make progress in game, new characters come. Although it seems difficult to play with 10 or 15 characters it's not! and you can catch up. You need to upgrade building so you can earn more skills. But first you need to earn money by selling your pictures, shows, sculptures ... i do not know, many people may be disappointed with game and considered boring. but honestly I think it was great. After I finished all the tasks that I had, I decided to continue to play so all the characters can fill skills. I played the game twice from beginning to end, because it was relaxing.
March 25, 2012
One Of My Favorites!
This is hands down on of my favorite games. I haven't bought it yet, but I do plan to. It's a bit silly, as it's a lot of point and click, but it's a ton of fun! You direct a colony of artists (my dream place to live) to clean up this disheveled art colony some of their parents had made. I was really bummed when the trial ran out. This is a spectacular game to zone out with. Very fun.
August 11, 2012
My favorite game?
This is one of my favorite games because it's got a great story and a perfect combination of strategy and time management.
February 5, 2012
Great!!!
I loved how this story had a family backround and how they made it seam like they were still there without using ghosts. normaly i dont like games like this one but the sound, grahphics and the gameplay is amazing! i would recommend this game to everyone i know! this is my all time favorite game but, sadly, i havent bought it but you know what im about to do ;) ~Sticker101
November 12, 2011
Just An Enjoyable Game
This game is mostly repetition. You earn the characters skills and clean up the colony. There are different goals throughout the game...all dealing with restoring the colony. The graphics are nice. The story line was alright. Honestly, this isn't really THAT great of a game, but I can't stop playing it. I've actually played it through at LEAST 3 times. I just enjoy it. Maybe it appeals to my obsessive nature (none of the tasks are very hard; it is just time consuming) or maybe I just like it because I was a theatre major in college. Either way it's fun and relaxing and something I can do while cleaning the house.
August 28, 2012
Awesome Game!
I love this game so much, it has a great plot line and is just fun overall.
March 9, 2012