Artist Colony
Once home to the most pioneering creators of their time, it's up to you to restore a thriving oasis of artists as you rebuild the community. Attract new talent by renovating the gorgeous surroundings and inspiring artists, dancers, musicians and more to become masters of their craft in this fun Sim game. Create, perform and sell brilliant works of art to revive this ultimate creative sanctuary in Artist Colony!
Personable characters
Unique gameplay
Inspire artists!
Game System Requirements:
OS:

Windows XP/Vista/7/8

CPU:

1.4 GHz

RAM:

512 MB

DirectX:

7.1

Hard Drive:

115 MB
Game Manager System Requirements:
Browser:

Internet Explorer 7 or later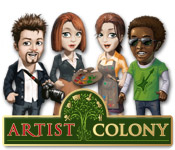 NEW299
The Big Fish Guarantee:
Quality tested and virus free.
No ads, no adware, no spyware.

Reviews at a Glance

Artist Colony
0
out of
5 (
0
Reviews
Review
)
Customer Reviews
Loved it!
I just love games like this! Sim games are among my favs, and this one is right up there!
January 21, 2013
The Best!
I love this game. I wished BigFish offered more games like this. It has a great storyline. The graphics are top notch. It is challenging but not over the top where I lose interest. I have played this game at least 5 times in the past year. BigFish, please bring ups more games like this one!!
May 27, 2012
Nice but repetitive
The graphics and storyline lured me in. The ideas are good but leveling up at later stages takes such a long time it detracts from the fun aspect of the game. Issues I experienced: *I have 15 artists in my colony, yet still cannot upgrade the residents quarters. *Dragging artists to resident quarters did not work for the longest time which resulted in me having 6 angry tired artists just wandering around the colony. Very frustrating as dragging them to the sleeping quarters did nothing. *An active way to attract buyers or clear out stuff in the gallery would also be good. I found not enough buyers arriving compared to how many masterpieces were being churned out. A few things to iron out, so hopefully a second version of the game will address these issues.
February 1, 2012
Just An Enjoyable Game
This game is mostly repetition. You earn the characters skills and clean up the colony. There are different goals throughout the game...all dealing with restoring the colony. The graphics are nice. The story line was alright. Honestly, this isn't really THAT great of a game, but I can't stop playing it. I've actually played it through at LEAST 3 times. I just enjoy it. Maybe it appeals to my obsessive nature (none of the tasks are very hard; it is just time consuming) or maybe I just like it because I was a theatre major in college. Either way it's fun and relaxing and something I can do while cleaning the house.
August 28, 2012
More so Adventure than TM
Really liked the game, great storyline, great video art. Can improve on gameplay as mentioned it's repetitive, also a few minor bugs with the sound but nothing really stands out as a problem. Overall an interesting game and looking forward to what this company somes up with next
August 21, 2012
A Very Interesting Game
My Aunty was the one who originally shown me this game, and I found it that is was very different to other games. I liked the storyline to the game, and it was helpful how they gave an outline of the past at the beginning of the game. I also liked the characters and the cut-scenes that were involved. Two things I disliked though were how zoomed in the game was, and that you couldn't zoom out. It took forever to get to where you wanted! I also didn't like that it was a bit repetitive and once you cleaned up the Colony, there wasn't much to do other than earn money, practise the skills and max them out, and create masterpieces, if you had enough space in the gallery. It was quite fun to play, the music quality was excellent, and the storyline was quite interesting. Overall, if you like games that have storylines alongside the actual game and you want to try something different to a normal time management game, I recommend this game!
June 9, 2013
My Kind of Game
If you like not having any time restraints and want to relax while taking your time, this is a good game for you. This game runs at the pace you set which I love. Storyline: You start out with two characters who are trying to restore a colony made specifically for artists and return it to its former glory when your father ran it. Eventually new people will show up with their own storyline and it's up to you on how you train them and when so you can progress the story. Graphics: I thought they were cute. Not the absolute best there is but that's what gives this game its charm and I wouldn't have it any other way. Sound: I actually don't play with the sound up as I play late at night, so as not to disturb others in the house. I can't comment on this aspect. Gameplay: There is a lot of clicking on characters and dragging them to certain studios in order to upgrade their abilities or dragging them to the residence hall for sleep or to the kitchen to eat. All characters have two abilities that cap at level 10. You also have to watch their needs, such as hunger, aspiration, and sleepiness. This affects their motivation to do any training, working around the park or creating masterpieces. You can fall in love but it's not really necessary. All that does for your characters is bring their aspiration up. This game is a bit slow, as I mentioned it goes as fast or as slow as you want. You can have your artists level up in the studios, such as the painting studio or the dance studio in any order you want as long as they have those abilities. If you want, you can level them up completely in one area before you move on to the next one. You can only level them up so far in the story before you "upgrade" to the next though. One thing that irked me was when your characters create their masterpieces, buyers didn't seem to want to show up to buy them. So that time was wasted waiting because you can't create another masterpiece even if you have other artists with max aspiration because it stays there until it's bought. Also made it hard to get money to complete a task. I easily sat there for 20 minutes waiting. And I was done training, so I couldn't do anything else. Overall, I like that there is no time constraints. I want to relax at my own pace and this game is great for it. I really enjoy seeing my characters develop and make masterpieces that keep getting better and better as they level up. Plus it helps that I love art so maybe that's why I took to this game so fast.
April 13, 2013
Fun! But not a game I will play multiple times.
Fun! But not a game I will play multiple times.
May 12, 2012
Awsome game!
great story line and funy characters.
October 27, 2012
Good game
This is a good and funny game but in any moments is boring! I really like it!
July 17, 2012