Broken Hearts: A Soldier's Duty
Be swept away in a heartbreaking romantic tale of love, romance, deception, and tragedy seen through the eyes of Maria Lopez and her soon to be military husband David Fox. Dive in and explore Maria's hazy memories and piece together the true past using your Hidden Object skills. Discover gorgeous scenes and earn incredible achievements as you learn the whole story in Broken Hearts – A Soldier's Duty.
Replayable levels and puzzles
Unlockable achievements
Mend a broken heart!
Game System Requirements:
OS:

Windows XP/Vista/7/8

CPU:

1.2 GHz

RAM:

256 MB

DirectX:

8.0

Hard Drive:

139 MB
Game Manager System Requirements:
Browser:

Internet Explorer 7 or later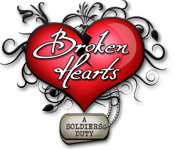 NEW299
The Big Fish Guarantee:
Quality tested and virus free.
No ads, no adware, no spyware.

Reviews at a Glance

Broken Hearts: A Soldier's Duty
0
out of
5 (
0
Reviews
Review
)
Customer Reviews
Broken Hearts: A Soldier's Duty
8
8
okay version of Hidden Object game
Not sure why this is getting terrible reviews. This game is for those that enjoy strictly Hidden Object, with a tiny bit of "find the pieces and build the whatever" thrown in for variety. Game play is that you are given a category, and asked to find five things that fit that category, such as fruits, weapons, sea creatures, cosmetics, kitchen gadgets, etc. Object is to try to find all ten items in each scene, without using hints, to earn the most hearts on each level. I never read or pay attention to the storyline in any game, but with that being said, the storyline in this game is plausible and moves the play along, if you enjoy following the story. Lots of different versions of hints are available, such as name, outline, or locate, but using hints will reduce your number of hearts for the level. Also, you can replay any level to get more hearts, but use caution, as items will be different and may be a bit harder to find the second time around. Graphics are above-average and fairly colorful, rather than grainy and dull, but certainly not the highest quality. As you search for items, there are usually not a large number of "wrong answer" items in the scene, and you are not penalized for clicking on the wrong item, unless you click too rapidly. A few of the items you are looking for may be quite small, or obscured by bushes or some other obstacle, such as being located underwater. Background music is pleasant enough, and isn't too distracting. I think anyone that likes strictly Hidden Object games will enjoy this game. No strategy or time management in this game - just straightforward Hidden Object. My guess is the the bad reviews stem from people wanting adventure or strategy-type games, but if you are looking for strictly Hidden Object, then this is a decent choice. I played the full sixty minutes of the free preview, and have marked this one for purchase the next time there is a half-off sale, mostly because I rarely purchase any games at full price, and prefer to wait for the sales. In sixty minutes, I got to Chapter 5, which looks to be just a little bit less than halfway, based on what I could tell by the length of expected play. Because difficulty level is fairly easy, not sure I would have any desire to play it over and over again, but might enjoy it as a change of pace. If you like this game, you would probably enjoy Route 66 or 100% Hidden Objects, or any of the Big City Adventures series. If Hidden Object is your thing, this one works.
July 9, 2014
Broken Hearts: A Soldier's Duty
I actually didn't think this game was all that bad, I actually liked the different concept of hidden object themes. The story doesn't really matter in respect to the game play, but Maria Lopez is planning her wedding to a soldier, David Fox. It is a pretty mushy girly game with romantic music and tons of hearts so I'm pretty sure the guys are going to pass on this game. You are given two main themes in which to find several items that are associated to those themes, for instance under the theme Time, you would find and click on anything related to time, hourglasses, watches, calendars, sun dials etc. The goal is to earn hearts and if you use a hint, you will receive less hearts. If you use a hint you can choose to get an outline of the item, or a picture of the item or the actual location of the item. When you use a hint it will temporarily freeze, but you can still choose to get an outline or picture of an item until it unfreezes. There are achievements to earn and you can purchase card games with the hearts you have earned and play these card games as often as you want, There are several different types of card games available, Klondike, Pyramid, Prisoners, Golf and Free Cell, each require a different amount of hearts. This isn't the kind of game that will blow your socks off, but it is interesting enough to pass a couple of hours, enjoy!
April 10, 2014
Poor and outdated game
Graphics are not that bad, music is calm, the story is silly. A game without any emotion ! Boring, only HOS, and in every scene you need to find 5 or more of the same object: fruits, sweets, drinks, fishing artifacts, etc. Maybe children can enjoy.
February 19, 2013
SCENES WAY TOO GRAINY, ITEMS TOO SMALL
First of all the objects that you're looking for makes no sense whatsoever and in addition to that, the background is SOOO grainy that you very easily get blurry-eyed and headachy. Of course, the other objects that you DON'T need are sharp as a bell AND large while the objects you are looking for are very well hidden and in some cases, miniscule. Some of the things that you have to find (in accordance to the heading such as "clothing accessories") HONESTLY makes you wonder what the game developers were thinking; since when is an attache case part of a clothing accessory? While the music in part of this game was appropriate, this same music was just too down-hearted and depressing to continue to listen for the rest of the game. I got as far as Chapter 7 and just called it quits and removed this game off my computer
February 18, 2013
Slow Paced
The game was just too slow paced and repetitive. The basic story was good, but presentation was very poor.
January 14, 2012
ODD
What was that all about. I didn't stay long enough to find out. A very second or, indeed, third rate game. Peculiar and poor graphics. An apparent silly storyline. A game to promote a very quick response to boredom. Definitely not one for me nor, I imagine, for many other gamesters.
January 7, 2013
DON'T WASTE YOUR TIME
This game is mediocre. The story line is horrible, and the graphics are very poor. I found it altogether too be boring, childish and much too easy.
March 10, 2012
a bad game
I just couldn`t get into this game i found it too boring
December 19, 2011
The Apple logo is a trademark of Apple Computer, Inc.