Dark Tales: Edgar Allan Poe's Murders in the Rue Morgue
A dreadful murder and kidnapping has occurred in the Rue Morgue and only you can solve the dark crime! Follow the clues to find the killer and the missing family. Become the apprentice of the famed C. Auguste Dupin and solve the devious puzzles to find the hidden clues that will lead you to the monstrous murderer. Based on Edgar Allan Poes most acclaimed murder mystery, Dark Tales: Edgar Allan Poes Murder in the Rue Morgue is a fantastic Hidden Object game full of suspense and excitement.
Mysterious atmosphere
Gorgeous scenes
For a more in depth experience, check out the Collector's Edition
Game System Requirements:
OS:

Windows XP/Vista/7/8

CPU:

1.0 GHz

RAM:

512 MB

DirectX:

8.0

Hard Drive:

232 MB
Game Manager System Requirements:
Browser:

Internet Explorer 7 or later
Alcohol Reference
Tobacco Reference
Mild Blood
Mild Violence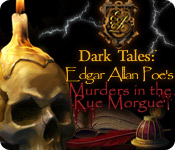 NEW299
The Big Fish Guarantee:
Quality tested and virus free.
No ads, no adware, no spyware.

Reviews at a Glance

Dark Tales: Edgar Allan Poe's Murders in the Rue Morgue
0
out of
5 (
0
Reviews
Review
)
Customer Reviews
Dark Tales: Edgar Allan Poe's Murders in the Rue Morgue
36
36
Wonderful game with lots of fun HOS
The graphics are very well done. The art is lovely and everything is very crisp and clear on the screen. I really liked the music soundtrack and I'd rate it among the best I've heard in any HOPA game. The storyline is nothing super original but it's well done and it definitely drives gameplay. You play as the assistant to a master detective and you visit various locations to search for clues to a murder. The game is designed so that once you've found everything you need at a given location you move on to the next. This minimizes the pointless backtracking which plagues many other games of this type. There are many HOS which is why I purchased the game after finishing the demo. The generous amount of HOS persists right to the end of the game. In some areas there are up to 4 HOS all in the same room. I loved this because I buy HO games to do HOS. The HOS generally are fairly easy but most have at least one or two objects that take a little bit of hard looking to find. They are very well drawn and pretty to look at. The number of puzzles felt just right. There aren't so many you're tripping over one every second but you will find several in each location you visit. The puzzles are mostly easy and fun to do. There aren't any that will make you tear your hair out. The adventure component flows well most of the time. As stated, it flows linearly and the objectives are very clearly laid out by the storyline. Occasionally, I hit points where the task I needed to perform to complete an objective wasn't clear. There is no hint button so I managed to get through all of these points on my own except for one where I had to resort to an online walkthrough to find out the next step. If it weren't for this I would have given the game a five. Overall, this is a very well-crafted game that I had a lot of fun playing. People who don't like HOS should not buy this game because it has far more HOS than the average HOPA. For people who like HOS this is a game I would highly recommend.
July 19, 2014
Rue Morgue
I had played the black cat prior to this game and found it more of a challenge more enjoyable for me. This ending was a total let down for me, sort of wimpy. I did not pick up on the ending of this game being revealed in the black Cat, otherwise I wld not hv purchased this game.To short also, finished it quickly. Probably will not purchase another of this series.
June 14, 2012
Not Earth Shattering!
This was another HOG that I purchased as a dual pack by BFG, along with the Black Cat, which I haven't played yet. You might want to play the trial version before purchasing this. I can't say that there was much to this one. The visual is really nice quality, however, all of the audio was extremely annoying to me, so I completely opted out of it. Especially, since you have to read the entire storyline, anyways. Which I also skipped! I just couldn't get into the plot of this game, at all. They have this map that keeps you skipping around to different scenes, which is fine to see different variety. However, I kept thinking there was something else that I needed to do, before quickly going to another location. It seemed rather short-lived for the mystery problem solving in this game. The mini-game puzzles are also rather easy, even for me, which says a lot. LOL! The game itself ended rather quickly considering they show you this super large map to visit many locations. If you're looking for a relaxing game, mainly for hidden objects only, this would be fine, for that purpose. It does ask if you want normal mode or expert mode. So, for more of a challenge you probably should go with expert. I don't think anyone would have a problem getting through this game rather quickly, even on that mode! The only reason I'd recommend this game, is because some people may actual like this sort of thing, but I wasn't very impressed. Maybe I was just expecting more out of it.
December 22, 2011
not bad
i enjoy the first the dark cat but this one story is quiet good as the first
April 18, 2012
Good and bad
If you are a Hidden objects game lover, then this game is for you, because that's pretty much all it is. I prefer balance of puzzles, HOs, and adventure, so I would NOT recommend this game. The sound track was pretty cool, made me feel like I was in France. Premature Burial was the best one in the series.
April 1, 2012
Relaxing game
I thought this game was fun and relaxing. The puzzles were pretty easy tho but thats what made it so relaxing I suppose. The music was not annoying either. :)
November 29, 2011
Too short
This is my first game in the Dark Tales series. This review is based on the SE. I was disappointed in the length of this game. I finished this in a day. The visuals/graphics were excellent. The storyline was just ok and the puzzles themselves were easy. A bit too easy. I look forward in playing the next games and hope they are better.
April 26, 2012
Just OK
Based on the completed game. First the pluses: Terrific graphic detail in each of the scenes. Good thing this game is not timed because there is so much beautiful to look at. The settings are absolutely LUSH, and I loved that part of the game. The story was a good adaptation of the Edgar Allen Poe. As I've read everything he ever wrote, I knew the outcome, but that was OK. It was fun finding out how the game did it. And the culprit is just horrifying when you finally find him! In between. HOS were many, many, many, often more than one in a scene. Some required you to finish one before you could finish another. You are also not allowed to leave a setting until you have finished everything there is to do there. Which is good because of the hint system (see "Not so good" below). No voice overs, just text in the many interactions with the characters, who are not drawn with the loving detail of the settings. Most of the puzzles were doable, except the one with the wolf, where I spent at least 10 minutes trying to figure out the logic and then skipped. I didn't even want to check the walk-through for that one! Now, the not so good. The hint system is awful. Only works in the HOS, so if you get stuck anywhere else, you random click until you find the "eye." Eyes and hands won't let you proceed if you don't have the needed item in inventory, but you get no help in figuring out what the missing item might be or where you might find it. (As I said above, the only help was that you can't leave a scene until you've discovered everything it has to offer.) I had to refer to walk-through about 12 times. . . The things to discover in the HOS are tiny. Many require the hint to find because they are so small. Maybe that's just my 13" screen, but these were tough. I do think that most HOS advanced the game, so I am less critical of how many there are. The third down is how exact you must be with your mouse placement in order to find an HO or get an eye or hand. Even with the sparkles in the easiest mode, I couldn't locate many things until after trying a lot of times. Oh, yeah, and then there's the "map" which isn't really a map at all, just another lush setting that you can look at and enjoy. But be careful scrolling down too close to the bottom of the screen, you will lose the location you need to go to. And that brings me to my final complaint (and I have this about a lot of games): If you move your cursor too quickly and too close to the bottom of the screen you got the menu, and because I was swirling around a lot looking for the next clue, I got the menu A LOT! But overall, I guess I recommend this game, although not wholeheartedly. (I have all 5 of these games. I hope the others are better. . .)
November 2, 2014
Loosely based on the Poe short story
If you know the story, this will be a disappointment. It's merely the framework for an unending series of HOS -- two, three or more per room. A handful of extremely simple games and far too much direction in the "Normal" mode, but not nearly enough in the "Hard." Lots of reading. A few glitches with the games -- a "striped tie" turns out to be a solid blue tie, a few puzzle pieces refused to take -- but nothing serious. The changes to the story do not improve it. Mademoiselle L'Espanaye is Madame L'Espanaye's sister, rather than her daughter. So how do they have the same last name? L'Espanaye is Madame's married name. And Madame L'Espanaye is given a 5-year old sobbing son; very cliched. I won't spoil it for those who do want to play, but will simply say that the case bears no resemblance whatsoever to that in the story. No interviewing of witnesses, no clues found at the scene.
June 18, 2013
Finished Review
Having played the other Dark Tales: Edgar Allan Poe's hidden object games I beleive this must have been the first attempt. I was easy to play and not a long game. I was a little disappointed because had I tried this one first I would never have played the other two which are excellent HO games. If you get stumped at the table with the microscope put the snail shell at the middle of the pitcher not up at the top like you are dropping it in or you will be there forever. LOL GL Have fun.
October 27, 2012
The Apple logo is a trademark of Apple Computer, Inc.