The Fall trilogy
After waking up in a mysterious temple, you realize you have lost your memory, and must find a way out! Use your Adventure game skills to piece together your past and solve a variety of challenges and minigames. Dive deep into the world of The Fall Trilogy and discover helpful clues and items that will lead you to freedom. Can you find your way out of the temple and discover your past life?
Mysterious atmosphere
Tricky puzzles
Escape from the temple!
Game System Requirements:
OS:

Windows XP/Vista/7/8

CPU:

800 Mhz

RAM:

1280 MB

DirectX:

9.0

Hard Drive:

139 MB
Game Manager System Requirements:
Browser:

Internet Explorer 7 or later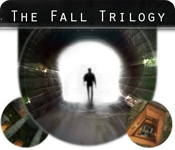 NEW299
The Big Fish Guarantee:
Quality tested and virus free.
No ads, no adware, no spyware.

Reviews at a Glance

The Fall trilogy
0
out of
5 (
0
Reviews
Review
)
Customer Reviews
I played the 3 "The Fall Trilogy" FANTASTIC!!!!
I was waiting to be on vacation to play the same day one after the other "The Fall Trilogy". What a fantastic trilogy in deed. I recommend to start from Chapter I, then II and finally III. Nice graphics, puzzles, and interesting story! Any way...it seems "will continue". I highly recommend to buy all three.
December 28, 2011
Nice Trilogy
I enjoyed the 3 dimensional play with great graphics, nice challenge, not to difficult although I did need the walk through at times. It did have me curious enough to buy all 3 chapters. I did enjoy these 3 chapters, however, someone compared these 3 games to Tomb Raider. I would agree to some extent but, I'm sure that same person would agree with me that it's not a PlayStation game all the same, it has it's limits compared to PlayStation's Lara Croft. I do recommend these 3 Chapters.
April 9, 2012
Challenging and Fun
If you're tired of hog's this is the game for you.The puzzles are challenging and fun with the added bonus of being able to play the puzzles in easy mode to get you through the game the first time.
January 2, 2012
EXCELLENT
I thought i'd bought and played this game years ago on my previous PC but it turns out that i'd only played the demo. I played the whole game in advanced mode. This is an adventure game with no HOS but you do have to find missing items to use on the numerous and sometimes challenging puzzles along the way. A big fandabbydosey thumbs up from me.
March 22, 2013
WHERE HAVE YOU BEEN ALL MY LIFE?
I'm only a couple of hours in and absolutely LOVE this. Highly recommended for adventurers. NO hos. Yay! Gotta go, want to get back to it :)
May 9, 2014
Entertaining
Great game, great grafic, great fun
November 20, 2011
For puzzle fans who like a bit of an adventure it's a must try
This is a unique and different game, you play as a man who has lost his memory and doesn't know why he is in the middle of a jungle and he is trying to get back to his wife and child. It is part of a trilogy so don't go expecting a 100% tied up storyline or you will be disappointed. It's also not a standard hidden object puzzle adventure so if you are looking for that then pass on this. You have the option of playing this in 360 or using arrows, this is good as it immerses you more into the game and you have to remember to look up as well as down. The puzzles are challenging but not too hard. There is an option in the trilogy to play puzzles in an easier or hard mode - I love this and wish more developers would do this. This has the feel of tomb raider/indiana jones. The whole game is set in this 'jungle' so don't expect different scenery. The hidden object scenes isn't what you are used to but more find 15 same items, or find related pairs and there aren't that many of them. This is a game for puzzle adventure fans. At the beginning you will find you think you can do something but realise you need to accomplish something else first so you have to go and find that first. You explore a lot at the beginning to get a feel of the layout and where things are (it does open to more areas later). If you are looking for something different, a good storyline, nice puzzles (if not that original) then do try this. About the other games in the series - The 2nd game in the series is set in a very modern, office type setting and didn't like it as much. This game is the best in the series and then the 3rd and then the 2nd game (in that order). I played all of them as I wanted to know how the story ends!
January 7, 2012
Puzzles that require a little more thought
The most distinctive aspect of this game is the ability to look all around you--not just 360 degrees, but also up and down. I usually dislike 3D environments because I feel they aren't as pretty as 2D art, but in this case they did a good job with the lush jungle temple setting. In some ways this is a short game as there aren't that many total locations to explore. However each of the puzzles, while not having anything that stood out as unique, were more complex than most puzzles in this genre and thus took longer to complete than average. I appreciated this added challenge, and I ended up taking a decent amount of time to complete the game. You have to enjoy puzzles to like this game as other than "Find X of an item" scenes where you have to make use of the full freedom of movement to find everything, it's just puzzles. If you do like them, check this game out.
July 11, 2012
Tricked into Playing a HOG!
I thought, from the outset, that tis was going to be an adventure game, a la "The Curse of Blackmoor Manor," or " "The Tree of Life." Wow! Was I ever fooled! This is nothing more than a HIDDEN OBJECT GAME with some very interesting puzzles thrown into the mix. I WILL SAY, in defense of this game, that the puzzles, jigsaws, cryptic, etc, were ususally associated with the game, so you weren't just running off to look for a pear or a brooch. Nevertheless, the endless searching gets to you, when all you're looking for is a plot somewhere! This game REALLY HAD NO PLOT. Let's be honest. And yet, it is a wonderful game for those who like to search and hunt and play games. As for myself, I prefer the heavier, much more challenging fare that's offerred in the Large File Section. I also want a plot -- a good plot -- to follow. I tried the one-hour free version of "Fall Trilogy: Chapter Two.," and, although I liked the modern atmosphere, I was almost immediately sent on a hunt for 20 elevator access cards. Thanks, but, no thanks! I recommend this game for puzzle and HOG addicts, only.
August 23, 2012
Not to my taste
The one hour trial version was very interesting and caught my attention as being a very challenging game. Once I got the game, the puzzles did prove to be very challenging and worth the effort to solve them. The music and sound effects were in keeping with what I would expect in a game. Due to my background, I prefer to deal in a series of logical progressions that challenge your mind an keeps your interest. In several games, I have found these qualities to be very high. Unfortunately, this game did not keep my attention. Several sections of hidden objects were enticing and fun. Then I noticed they became more of an exercise in eye strain and frustration than genuine search and find. The storyline had possibilities, though it failed miserably as the subject was eaten up with other distractions with the exception of a remembered wife, child, etc.. My review is very subjective and from my view point and should be considered accordingly. This may be the game for you but, it wasn't for me!
May 6, 2012