Nancy Drew: Warnings at Waverly Academy
Nancy Drew must go undercover at a prestigious girls' boarding school to discover the culprit behind threatening notes and dangerous accidents! The school's valedictorians are under siege, and only Nancy can figure out who it is! Is there a secret someone wants to protect or are the malicious pranks intended to scare away the competition—permanently? Solve the mystery before the threats turn deadly and you're expelled from the case in Nancy Drew: Warnings at Waverly Academy!
Gorgeous graphics
Perplexing puzzles
Discover the culprit!
Game System Requirements:
OS:

Windows XP/Vista/7/8

CPU:

1.0 GHz

RAM:

128 MB

DirectX:

8.0

Hard Drive:

1119 MB
Game Manager System Requirements:
Browser:

Internet Explorer 7 or later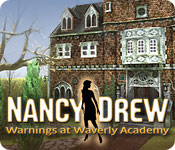 NEW299
The Big Fish Guarantee:
Quality tested and virus free.
No ads, no adware, no spyware.

Reviews at a Glance

Nancy Drew: Warnings at Waverly Academy
0
out of
5 (
0
Reviews
Review
)
Customer Reviews
Nancy Drew: Warnings at Waverly Academy
30
30
A favorite ND game
This was my first encounter with a Nancy Drew game, and out of the handful that I've played so far, it's my favorite. There is a LOT of talking with characters during investigation as with all the ND games, so I'm not sure if it would appeal to those who want the instant gratification of standard adventure/puzzle games where you have minimal character iteraction and more exploring and HOs. This has no hidden object scenes and as with all ND games, it goes by the Who Dunnit theme and the puzzles offer moderate to difficult challenges and total immersion in the story while solving the mystery. I'm hooked now and look forward to playing the rest of the series. I personally loved this game, but it may not be everyone's cup of tea.
April 16, 2012
This was fun.
I liked this game. It's really oriented towards young ladies. Learn how to arrange place settings, fill snack orders against the clock, and interrogate your classmates (a lot).
January 26, 2012
My new all time favourite nancy drew game I've played!
This is a perfect nancy drew game; no impossible mini games and they have a reset buttons on a couple, no impossible timed element, a great story, largest amount of characters I think I've seen in a ND game. It's set in a boarding school and you have to find the black cat - a person sending notes to other pupils and things then happen to them. I learned a lot in this game, from music to more about a famous writer. It was all so well done. I love the more modern ND games as there isn't that intrusive old interface, and you get achievements at the end which are fun. If you don't get them all, go back to an old manual save near the end and try again (although one won't work at the end.) It's a perfect balance of great plot but not too much dialogue, great mini-games of all types and hardness and a great pace. Some ND games are more adventure this is more adventure/mini games. MINI-GAMES (spoilers ahead as to type) I'm useless at arcade games but I do love some types and hate others but here they weren't hard (and I played on senior) and loved all of them. There were other non arcade, puzzles as well and some very intelligent (well thought out ones.) As usual you can't skip any puzzle but if you get stuck just go to a walkthrough, there are really no timed ones (thankfully) that you have to do (apart from sometimes the making food one). They were all very doable but you do need to work some out and get a pen and paper. LOVED all of them and the variety of them. Usually there are about 2 mini-games you can repeat as often as you want, here there are four. I just sat for hours playing the first three over and over! 1) A great dart game which anyone can take the rules and apply to any dart game - it's a bit different. 2) Air hockey 3) Making up orders. I appreciated this one as it was varied, mostly it wasn't timed so it was just fun. Sometimes it was (when a teacher orders) but it was just one order. 4) Timed match pair - You didn't have to do this so that was good but it was good. If you play junior you get a to-do list which you tick off and hints from your friends when you phone them. Some puzzles are apparently slightly easier. There is a thing called second chance if you make a fatal mistake but it's auto saved and takes you back to just before you made it which is good. It's manual save so save often. It was so much fun from start to finish, I didn't find any annoying puzzles it was pure fun. The interactions (what you have to do) was very varied and thought out as well as the plot. Have fun playing, I know I did! My favourite up till now has been white wolf, and venice but do think this tops it.
January 6, 2013
Sensational Game & Super Locale!!
I loved this very much because I've wanted a boarding school game for so long! This did not disappoint (in graphics or plot) and the added bonus of sometimes working in the library's computer was clever and fun. Likewise, the interactive games with Leela were cool. The only downside for me was how hard some of the puzzles were but I did locate assistance outside of the game. I was determined to persevere as I wanted to see how the storyline played out. Awesome game! PS. a tip 4 u: Open the display case before photographing the trophy icon pic: I learned this only after many, many tries. One request for the creators: Please, PLEASE make another boarding school mystery <3
December 29, 2012
Couldn't be bothered
I'm a great fan of Nancy Drew: the ones I like best are Shadow at the Water's Edge and Secret of Shadow Ranch. So I bought this one as some people think it's the best ever. Sorry but I thought it was awful. You have to spend ages talking to these vile, spiteful, over-indulged, over-competitive brats in a private college. Do I care? There wasn't enough intrigue in this game to catch my interest and make me persevere. Maybe it's well programmed and has some hard puzzles, but I found the characters unpleasant and boring. I had to win at air-hockey against one of them, and I really couldn't be bothered. I gave up at this point, the only ND game I've ever given up on.
September 18, 2012
The Best Nancy Drew Game I Have Ever Played!
I have played quite a few Nancy Drew games and this is by far my favorite! It has a great story line and many challenging puzzles
July 2, 2012
Nancy Drew's "Warnings at Waverly"
This game was great :) I loved the different room designs, the close interaction with the characters and the minigames were really fun, especially the ones you have to play with the athletic girl. The only thing that kind of bothered me was having to do almost everyone's homework. You'd think girls in such a prestigious school would do it themselves.
May 15, 2012
School of Intrigue!
Played in Junior Mode :) The Good: - Interesting storyline and story background - Lots of characters to interact with - Opportunity to learn about US geography - Variety of puzzles and mini games The Bad: - Redundant music.. it plays over and over and gets boring - Not many places to explore or go to - Ending puzzle is weird and doesn't make any sense - Too many tasks or duties on behalf of other people, so not much snooping going on Still I think it is one of the best new ND games :)
May 10, 2012
Slightly Disappointed
This was the first ND game I've played. This is a good game, but here are some things that seriously disappointed me. I will probably try one more to determine if my disappointments were just related to this particular game or not. NOTE: YOU WILL NEED A PEN AND TWO SHEETS OF PAPER FOR PUZZLE SOLVING! yes.. get ready for hand cramps. Characters: Excellently animated with unique personalities and great voice acting. Disappointing was the fact they were all statically placed. *yawn* Environment: Great! Beautiful but a tiny bit grainy. I was disappointed with how few and small the interactive areas were! Lots of wasted space and potential. Sound effects were good, but the music didn't always seem to fit the situation at times. Storyline: decent. Interesting, but occasionally had BIG holes in it. I was disappointed with the lack of substance and frustrated with the gaps. Puzzles - I really enjoyed the majority of them, but as noted above there was a couple that killed the fun factor due to all the writing down of notes to solve them. Challenge: The biggest challenge was getting past the holes in the story progression. You track down a clue and then.. NOTHING.. literally nothing. You are forced to run around trying to find something/someone that will trigger things to move forward. >:( The last disappointment was the lack of the need for nighttime snooping. :( I really wished there had been a greater need for this as it would have made things much more fun. Glitches / WARNING: When you get a photo assignment - DO NOT UPLOAD ANY OF THEM UNTIL YOU HAVE ALL OF THEM! (Also - take more than one pic with different settings just to avoid pulling your hair out) If you start uploading pics prior to having all of them it can seriously glitch the game and you may be forced to start over. SAVE OFTEN! I recommend at least two save files for before and after key points. This game should come with a bit more direction. Like how to use the computer - perhaps a comment or suggestion from her would have helped a lot.
July 19, 2012
Great Game
This is one of my favorite Nancy Drew games. Of course, I did consult the walkthrough a few times, but with this game it was more due to my lack of patience than the fact that I had no idea what came next. I ran into some minor frustration when I couldn't find something I needed to move the game forward, but the forums helped and I was able to figure it out. I loved that the mini games are not just completely random, so it is possible to win them and it makes them more fun to play.
June 10, 2012