Nancy Drew: Warnings at Waverly Academy
Nancy Drew must go undercover at a prestigious girls' boarding school to discover the culprit behind threatening notes and dangerous accidents! The school's valedictorians are under siege, and only Nancy can figure out who it is! Is there a secret someone wants to protect or are the malicious pranks intended to scare away the competition—permanently? Solve the mystery before the threats turn deadly and you're expelled from the case in Nancy Drew: Warnings at Waverly Academy!
Gorgeous graphics
Perplexing puzzles
Discover the culprit!
Game System Requirements:
OS:

Windows XP/Vista/7/8

CPU:

1.0 GHz

RAM:

128 MB

DirectX:

8.0

Hard Drive:

1119 MB
Game Manager System Requirements:
Browser:

Internet Explorer 7 or later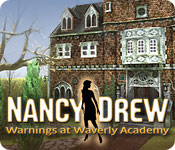 NEW299
The Big Fish Guarantee:
Quality tested and virus free.
No ads, no adware, no spyware.

Reviews at a Glance

Nancy Drew: Warnings at Waverly Academy
0
out of
5 (
0
Reviews
Review
)
Customer Reviews
Nancy Drew: Warnings at Waverly Academy
30
30
Great distraction
This was a great thinking game. I sometimes found myself ahead of the story, but the puzzles themselves were challenging enough. I liked that you can save the story at different points and reload old versions to replay scenes or clues. Worth the money and time.
February 16, 2012
Games are supposed to be fun
We played it as a senior detective -- big mistake, but we're avid game players so thought that would be fine. To complete some puzzles, you have to do them again and again before the game accepts them (e.g.,take the same photos over and over). If you do a puzzle correctly, you're not told, so you have to exit to see if you did okay. You have to wander hinder and yon over and over -- needs a map. We didn't care "who done it" after a while and didn't finish the game.
February 27, 2012
FOR ADVANCED NANCY DREW PLAYERS ONLY
BEGGINER NOT FOR YOU AT ALL...
June 9, 2012
I loved it
The second time was as good as the first. I want to play it over and over again
January 21, 2012
Really fun huge challenge at Waverly Academy! Great Game!
I loved this very long game, I did read it was hard and it is, but fun from start to finish! I played it on Junior level and couldn't imagine ever finishing it as Senior? This was only my 3rd ND game I've ever played so some will easily finish it faster than I did! With all games I prefer to just dive in and try it my way before needing to use walkthroughs! I found with ND games it?s hard to get back on track even with the walkthrough when you play that way but It?s no fun and not worth buying just to be told step by step how to play any game for me.. I read a review that said you?ll need 2 sheets of paper and a pen, I have to laugh now. I needed an entire notebook, printer and a Map! I finished this game after days and days off and on of fun and some major frustration! You?re enrolled at Waverly Academy to solve a mystery and perform a mission as in all ND games. You don?t play as Nancy Drew in case someone googles your name, you?re name when enrolled is Becca Sawyer I found the interactions with the girls fun and just the right amount of characters and these girls are some interesting characters. Corine is your constantly writing room-mate.. Mel is the Goth Cello player next door. Rachel is the shy girl. Izzy is the over achiever. Leela is the Athlete. All girls are harboring ?Secrets? at Waverly! Paige is just a voice you never see except in shadow with a flashlight when she busts you for being out of your room after hours. Having to keep an eye on your cell phone clock started out to be an irritant but you get used to it! There is a lot of running around the College inside and out but once you figure out left right up down it?s not hard to get to places fast since it?s a small college! One area is too dark and could have been a little brighter for me. Some puzzles were extremely difficult especially if you?re not familiar with Roman numerals, don?t read music, play the piano and are geographically (illiterate like me# the ?map? was a real lol! The most frustrating was the lamp shades/ piano playing. I kept stopping, saving reading and re-reading the walkthrough and it all sounded backwards! Ned?s ?hints? when Nancy calls him I found to be worthless! He tells Nancy to look up a book in the library card catalog, the book name he gives her doesn't exist! I had to refer to the walkthrough to find out the right name for the book! You?re new so you get the job as Snack Boss at first I thought it was stupid then I found myself enjoying it and opened shop a few times when I didn't have to! Played Scram with Leela after I really didn't have to anymore just for the fun of it. There is a major twist you really can't call predictable at all it hit me with a real wow, In a good way for some added interesting factor! All in all it was as hard as they come but very fun to take on! I got this game with a free credit but anyone who?s wondering It?s well worth buying. Depending on skill level #I?m far from expert) It defiantly gives you hours to days of play time and worth full price! I see today it?s in the point and click game sale, to bad this review won?t be posted! I hope everyone enjoys it as much as I did! So absolutely..
March 2, 2013
Favorite ND game
I loved this game so much so that I have played it through 5 times already! (over a long period of time of course!). I love the mini games in this one, and played Scram, air hockey and the lunch counter over and over after I saved the game at those spots. Also found it fun to keep taking the pictures and keep getting told they were wrong (did it on purpose to have a longer game experience!). The match game in the library was fun too, although I had a hard time trying to keep the high score. I too kept wondering how such supposedly "smart" girls kept assigning me their work...I think I should be the Valedictorian by now! I did check a W/T to get through the piano puzzle, and still don't fully understand how one could figure it out without help. Surprised at who the 'bad girl' was at the end, I had someone else pegged the whole time. All in all, very enjoyable, awesome graphics, fun game play compared to some ND games that I bought and never finished because they were too difficult.
December 27, 2012
Good... but not great
This was my first Nancy Drew game, and while I enjoyed the game, I was annoyed that so many of the puzzles required looking at a walkthrough. Also I felt like there wasn't enough clues to let you know where to go next - well in the beginning anyway. For Nancy Drew followers you may be used to who the character thinks, but I just felt like I had no idea what was expected until the end of the game. The puzzles were hard. I loved the way I got caught out of the bedroom so many times and received demerit points... that was clever and the small amount of rooms to investigate meant I knew where I was all the time without use of a map which was great. Overall, I liked it, but I didn't love it. Not sure if I would play it again.
November 14, 2012
Welcome to Waverly
Makes one feel like they are at the School, esp. doing the prodjects, keeps one on his/her toes as far as learning goes. Best Game Ever. Make more Waverly Academy games, like Waverly Academy II, and who got Val.
November 7, 2012
So much fun and challenging
This was my first ND game and I truly enjoyed. I loved talking to the characters; they are really wonderful and acting was excellent. Exploring the school was very fun. It was challenging, but never boring. Unlike many HOG where puzzles are just tools to open doors or to get more items, the puzzles in ND games are more nicely integrated into the stories. Very immersible game.
September 19, 2012
This was a great ND game
This game was fantastic! it definatly made one of my top 5 favorite ND games. The graphics were very good. The storyline was fun and unexpecting. There were lots of twists and turns along playing the game and very exciting!!!! Some of the people were kind of annoying and the story line was kinda based on a typical teenage lifebut that was a fun part about it too. I like how there were many charaters you could talk too and i always get a kick out of what Nancy says whenever she goes to the bathroom:) Theres lots of sluething and sneaking. I hope you enjoy this game as much as i did!!!! -maggie
August 5, 2012