Nancy Drew: Warnings at Waverly Academy
Nancy Drew must go undercover at a prestigious girls' boarding school to discover the culprit behind threatening notes and dangerous accidents! The school's valedictorians are under siege, and only Nancy can figure out who it is! Is there a secret someone wants to protect or are the malicious pranks intended to scare away the competition—permanently? Solve the mystery before the threats turn deadly and you're expelled from the case in Nancy Drew: Warnings at Waverly Academy!
Gorgeous graphics
Perplexing puzzles
Discover the culprit!
Game System Requirements:
OS:

Windows XP/Vista/7/8

CPU:

1.0 GHz

RAM:

128 MB

DirectX:

8.0

Hard Drive:

1119 MB
Game Manager System Requirements:
Browser:

Internet Explorer 7 or later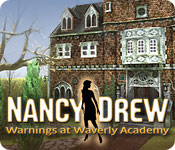 NEW299
The Big Fish Guarantee:
Quality tested and virus free.
No ads, no adware, no spyware.

Reviews at a Glance

Nancy Drew: Warnings at Waverly Academy
0
out of
5 (
0
Reviews
Review
)
Customer Reviews
Nancy Drew: Warnings at Waverly Academy
30
30
My favourite Nancy Drew game
Review after finishing the game: The Story: Nancy infiltrates a college (as done in the books too) to find out who is getting a bit too bonkers about a scholarship the school hands out to the top student. The Good: + graphics, videos + challenges start out easy and become harder later on + twists and turns + excellent quality for voice-overs + air hockey + logic trainer + lunch game!!! + merit and demerit system... The Neutral: o ...which is easy to avoid - you really have to mess up to be expelled o some challenges can be avoided easily, e.g. to avoid Paige set the clock to 11:01 instead of 11:00 o I have played scarier Nancy Drew games o if you got a bad memory the Simon says challenge can be annoying o Like the Moon Lake game, no real surprise who the culprit is. The Bad: - You still have to take notes for some riddles (music notes) - Had to consult the walkthrough on the silverware puzzle - the forks and spoons were just too pixely to distinguish one from the other, especially since some were fairly even in size. - Two puzzles in the basement not logical for me. Hint: Listen to Nancy's comments after the credits, they are really funny. Bottom Line: Great Nancy Drew game, which can be really challenging. If you are into school stuff, definitely check out this game! Not for beginners though.
December 7, 2011
Exceeds Expectations
Given that it's based on a kids' character, I didn't expect too much from this, but the reviews convinced me to, reluctantly, give it a go. Boy am I glad I did. The visuals and sound are terrific. The game's a fairly big file #almost a gig if memory serves# but you can see why in the graphics. Stunningly unique human characters, great cutscenes, well-designed areas. The voice-overs are well-done, though I did get tired of not being able to skip at times #that I figured out anyways# because, yes, it IS possible to go horribly wrong, but the game autosaves plenty so there's not too much repetition. The game fell down only a tiny bit because of the lack of clear instruction - I either didn't read or simply forgot that the cell phone alarm is how you sleep #setting it causes you to nap til it goes off# and spent my entire first night awake, setting myself back a fair few demerit points by wandering aimlessly around. But a quick glance at a walkthrough enlightened me. I had to use said walkthrough a couple time, but not enough as to make it a pain. The minigames are SO much fun :D I spent over an hour manning the snack shop just because I was enjoying myself so much. The puzzles are doable, but do offer a challenge. On occasion you are timed doing them, but for the most part you can work them out at your leisure - and I was overjoyed to see a variation of Einstein's riddle in there, one of my favourites! Personally, I keep a small notebook by my computer for various game-related notes and for this game I suggest the same for everyone. I took quite a few, most of them just to keep from having to open #and pick the right document out of# my backpack so often. Your important details are recorded somewhere, but I advise organising them yourself. As to length - like I said, I got lost a few times, and spent a long while playing minigames, but I got about six hours of play. And frankly, I'd jump right back in a replay it immediately, if I didn't have a credit that I'm going to spend on another in the series, hehe. You can really take as long as you want playing this, or you can get through it quite quickly, which is a really lovely change. Frankly, I think I have a new favourite series with these, if the others are even remotely as fun as this. Absolutely wonderful, I loved everything!
February 8, 2012
Very Interesting
Nancy Drew games are very fun. This one is especially my personal favorite. It took me over 2 days to finish but it was worth it. I love the ending where you did not see that at all. The challenges were excellent as well as the characters and plot. So overall, it is a decent and well-thought game. -Alophes/ Alexandria.
November 18, 2011
I am Irretrievably In Love with Nancy...
...and I could not be happier with our relationship! I solve mysteries as her, she takes me to places I would never go and not just tolerates, but encourages me to over-analyze anything that comes within a 10 foot radius of my nose. It may seem girlish of me to be so deeply taken after such a brief acquaintence(I mean, it has only been one game!) but I cannot restrain myself! She allows me to do things I have been told not to for as long as I can remember. (Ex: breaking into fellow student's rooms, sneaking around campus at two in the morning, following kleptomaniac squirrels up giant trees...) Needless to say, I hope to continue our romance Nancy, even if you do make me do somewhat ridiculous tasks involving tiny cutlery. I promise to spend more time with you soon my love! Well, when I become less broke that is. Forever yours, Melissa P.S. Can't you find a way to be in more promos?
February 5, 2012
Love this game
This is such a high quality game! The graphics and music are great and the challenges are interesting. Nancy Drew games are very interactive and this one is one of my favorites! The plot is interesting with well-developed characters and it lasts long. You get a great deal by buying this one.
December 2, 2011
Kinf og tough
I really liked this game. I was wrong about the bad guy completely. It was challenging like all the Nancy Drew games but not to the point that you could not finish it.If you get stuck, you can look the solution up online. Once you find it, you may smack your forehead lol Also the game is not short so you get your money worth. I love how big fish charges only 6.99 for this game.
November 27, 2011
Wish I could give it 6 stars!
I am a loyal Nancy Drew, fan, and I have played the other 20 games before it, and the other 5 games after (As of June 2012), of course after playing this one multiple times. I love Nancy Drew, and I think this is one of the best games in the series. It has good, realistic artwork, great puzzles (that are not skippable, just a warning, all of us lazy skippers are gonna have to use some brainpower!), and great storyline, although you sometimes want to yell your thoughts at Nancy, who is very generous and will do anything for anybody, a quality Nancy lets people take advantage of. There is a great twist, a great ending, and quite a bit of snooping. This is the defenition of good detective work, and while there is no trial avalible, you can take a chance on buying without playing. You will not be dissapointed!
June 25, 2012
This is not for a beginner
This is my first time playing Nancy Drew series. Boy, the puzzles are KILLING me! I have to check the hints every five mins, and it annoying. Playing with hints is no fun, maybe I'll play it again later. Graphics are good, but what annoys me are the voices. It takes forever to finish the conversation, and I can't just skip it. I like the surprise in the credits. Maybe I can look forward to another Nancy Drew series.
April 7, 2012
Entertaining Adventure Game
I really enjoyed this game. As a longtime fan of Nancy Drew games, it didn't disappoint. I liked the characters, story line, engaging tasks, level of difficulty and length. Sometimes the dialogue was a little tedious, but for the most part you expect that in a Nancy Drew game, so not a huge minus.
November 21, 2011
FIRST CLASS NANCY DREW WHO DUNNIT!!!
Outstanding! Fun, exciting, challening and creative Nancy Drew who dunnit with the usual unusual surprise ending and very cool mini-games. As a Nancy Drew lover for many years--from reading all the novels to now playing the games, Warnings at Waverly Academy is a truly great game now gladly added to the Collection. Enjoy! -Mama Mia-
February 21, 2012