Heroes of Hellas 2: Olympia
Build a city from the ashes of a fallen civilization and rule your people with wisdom and justice in Heroes of Hellas 2: Olympia! A mix of gripping Match 3 gameplay and city building fun, Heroes of Hellas 2 challenges you to drag your mouse across chains of identical items to remove obstacles, activate bonus items and collect valuable objects. Between levels, you can play one of eight minigames and spend the gold you earn on upgrades for your city!
Unique gameplay
Immersive atmosphere
Rebuild Olympia!
Game System Requirements:
OS:

Windows XP/Vista/7/8

CPU:

600 Mhz

RAM:

128 MB

DirectX:

8.0

Hard Drive:

171 MB
Game Manager System Requirements:
Browser:

Internet Explorer 7 or later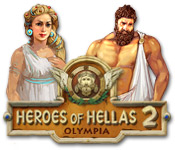 NEW299
The Big Fish Guarantee:
Quality tested and virus free.
No ads, no adware, no spyware.

Reviews at a Glance

Heroes of Hellas 2: Olympia
0
out of
5 (
0
Reviews
Review
)
Customer Reviews
Heroes of Hellas 2: Olympia
10
10
GREAT MATCH GAME FOR ALL OF THE FAMILY
IT'S WONDEFUL WAY TO PASS THE TIME AWAY.
December 17, 2011
WOW, THIS WAS A CHALLENGING GAME
After having completed the original Heroes of Hellas in timed mode, I took up the challenge to purchase and play this sequel and I have to say that I found it QUITE CHALLENGING. I found the clock to be somewhat adequately slow(?) but still had to stay on my tippy toes in order not to have to replay a level more than 3 times. The puzzles were particularly challenging but thanks to forum member cstdenis who's been kind enough to list the solutions to ALL of them, I was able to not only complete them but to also gain a better understanding as to how to play the Match3 portion of the game. The sense of accomplishment of beating this game in TIMED mode has encouraged me to play the last sequel to this game.
February 19, 2012
Hours and hours of fun
I loved #3, and #2 is every bit as much fun, and challenging. the graphics are great, not quite like in 3 .. but don't let that slow you down ... puzzles are cleverly done, and you get the opportunity to start them over when you blow i t- I like that a lot. I'm eager to start #1 !! Yeah, backwards, but no disappointments. Highly recommend this game - and it's good for family fun, also.
April 10, 2012
Fun Game, Relaxing and Challenging
As a match 3 goes - Hellas 2 has it all - easy game play, lots of exploding things and arrows, puzzles, and city building. Pros: puzzles (some of them quite hard- but skippable), different bonus things for each round so you are building new abilities but can only use 3 each round. Fun graphics. Cons: A little repetitive, and almost too helpful. You don't really get to choose how you build and its sorta pointless - people complain about food, the next thing build is food, etc. The ending is abrupt and kinda a let down. Overall a great game, good music, great way to spend time.
March 31, 2013
Hello Heroes
WOW, what a game! Hidden object games are my favorite, but I wanted to try something new for a change. After two days of demoing various Match 3 games, I came across this little known jewel. I got a lot more than I ever expected. Heroes is much more than a match 3. There is a town to build. As the town grows, the people need to be fed, given culture and protection. Necklace pieces to collect, play a puzzle and get your hero. There are 8 heroes, each with a different power to use in the match 3 segments. Then there are achievements for completing various goals. These are kept in there own room. The color is bright, music nice. And a long game. It took over 8 hours for me to finish.
December 4, 2014
Explosive chain matching
The original Heroes of Hellas was one of the first games I bought, and I love the whole series. At first the puzzles in "2" irritated me, but as I got the hang of them the need to think them out made a nice change to the more random main game - though I won't say you can't use a bit of strategy there, especially by creating coins in the right places. My only real niggle is that I like to use as few Heroes as possible, so making the use of Heroes a neccessary task on some levels is annoying. Still, I keep replaying it!!
November 22, 2014
Pretty easy but lots of fun
This is far, far easier than Heroes of Hellas, but the lack of challenge is made up for in the fun factor and visual effects. Lots of bang for your buck and some interesting new angles. The minigames are easier to do as I play in a window and the objects were easier to spot in the bigger window.
December 11, 2011
Fun and relaxing without pressure.
Just a fun Match 3 game with building rewards. A break from my usual challenging Hidden Object games.
November 16, 2011
A Bigger Hero - A Guy's Review
*review based on completing the full game in normal mode* Well, after playing the first Heroes of Hellas, I will have to say that this was much more entertaining. So a big step in the right direction There is a whole lot more going on this time. Next to building your palace, this time you get to build a whole city, which was actually surprisingly enjoyable. There's many achievements to collect as well. Not only that, but there is much more variety to the boards and goals of each level in the M3 game, which made it less monotonous than what we had in the first installment. Most of them are time based, but there are some puzzle ones that are based on number of moves instead. Next to that there are mosaic puzzles and fragment puzzles between the various "heroes". All this helps keeping the game interesting, and for the motivation to continue. That part was excellent in this game. I complained about the power ups being too random in the first game, and at least some of them are equally random in this game. I don't care for that at all. Both the game itself and said power ups is too much based on randomness, and less on skill. That could have been done much better also here. The graphics are colorful, crisp and nice. A bit corny and stiff maybe, but nothing too bad. The little voice-overs done in the game is actually quite good. They try to make a little story out of it, but it really isn't much at all to brag about on that part. Music didn't feel intrusive, but I suspect most will turn it down eventually. There are 3 different levels of difficulty (easy, normal, hard). I only played on normal setting so I do not know the differences. Most likely based on time and how many elements needs collecting to charge a power-up. Even with the randomness of it all, I found the game quite entertaining, especially with everything going on. I had a blast. I would recommend it to everyone who likes some goals to their M3 games and it could also be a good starter game for people unfamiliar to the genre. As for advanced players, I do not think this game offers much. There is nothing based on skill here. I wouldn't really know though, as I am definitely not an advanced M3 player myself. Uncertain about it? Then try before you buy! TJ
November 20, 2012
An M3 of luck and not skill
After playing a bit of the demo I saw that if you bought the game the timer would go away. They lied. The timer is a permanent feature and an extremely annoying one. As a timed game, I could rate it no higher than a 3. The higher levels can just barely be finished in 6 minutes on normal mode and there is no possibility that this game is relaxing. Limiting my playing time, I finished it in just over a week. Limiting playing time is necessary if you want to be able to sleep at nights. If you fail at a level, which is certain because the game will make sure you do, just replay a few times until the game gives you what you need. Skill is a minor element here and luck, plain luck, is well over 50% of the M3 games. The game will determine whether you win or lose and skill has no place. The puzzles are not timed, however, and are the game?s best feature. One, 7 -11, I think, was really tough, and I had to get a hint from the forum. The puzzles are simply skill and problem solving. The art is cartoonish but the animation is fascinating. You build a silly little city and it has characters which walk around in it the whole time. The city building is not interesting, but the animation certainly is. As an untimed game this could have been really great, but as a timed game where luck is king, it falls flat. I can?t recommend it.
June 23, 2012