Rhiannon: Curse of the Four Branches
Jump into this Adventure game and explore a haunted farmstead in Wales called Ty Pryderi! Chris has been asked to house-sit, and is while the Sullivan's take their daughter Rhiannon away for a break. Rhiannon has been severely psychologically affected by strange supernatural happenings at Ty Pryderi, however, her parents think it is just teenage angst. Discover dark secrets in Rhiannon: Curse of the Four Branches!
Spooky atmosphere
Perplexing puzzles
Explore a haunted farmstead!
Game System Requirements:
OS:

Windows XP/Vista/7/8

CPU:

1.6 GHz

RAM:

512 MB

DirectX:

9.0

Hard Drive:

914 MB
Game Manager System Requirements:
Browser:

Internet Explorer 7 or later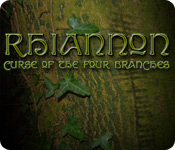 NEW299
The Big Fish Guarantee:
Quality tested and virus free.
No ads, no adware, no spyware.

Reviews at a Glance

Rhiannon: Curse of the Four Branches
0
out of
5 (
0
Reviews
Review
)
Customer Reviews
Rhiannon: Curse of the Four Branches
55
55
Complex and Lengthy!
While many games seem to rush you through to the end, Rhiannon: Curse of the Four Branches doesn't do that. Settle in for a long while for this game - it is very lengthy, even if you resort to some walk-throughs. The frustrating part for me was being able to pick up an object, but not be able to put it inventory until you were close to needing it. That meant literally writing notes about where I saw something - otherwise, four hours later I was searching every area again! The story line involves a lot of old Welsh legends, and while it is important to the game, you don't have to immerse yourself in tons of reading on background history and lore to keep moving forward in the game. The pace of the game is slower than many adventure games currently out. This allows the necessary time to explore and discover things; No one is tied up and about to die if you don't hurry and find that clue like some games. You are also not going to interact with other people - it's just you, the farmhouse, outbuildings on the property, and lots of acreage and tree groves to root through. There are no hints or help, other than your task notebook. It IS helpful to keep your own notes in a real life notebook, as I mentioned earlier. This game was what I had been looking for: complex, well-thought out and very lengthy!
February 25, 2012
Good story, nice mystery, not easy, must like details
Rhiannon is my first big file adventure and so I gave myself time to get the hang of it. I got better at it by "Chapter Earth" It is comprised of an intro and 4 chapters. Walking your character through the game- you never see your character in the mirrors in the game at the sinks and running water- There is no reason for this - you just don't. There is must reading of three diaries and a recipe and letters and two books on trees and reports on land purchase and floride not in water and others- picking up magazes read those covers- in this game Some of everything you read will matter and a lot will not but read it and over time the game lets you pick up AND inventory- But it is a clue just to pick things up before you inventory them- look at the objects and Think about the game and where it logically leads to. The game is mostly logical but not always linear 1,2,3 but can be 2,1,7,8- I mean the way it progresses - NOT enough- music- sound effects- long streaches of no sound effects while you are Walking around- The creators of this game should fix that.The Walkthrough helps online are often wrong about moves in this game- Some say that the three stones when combined are a map of where to go in game to find next place/thing, but it is NOT a map- clue- look at the roman numerals--And also, Finding the claw is one of the trickiest multi task moves in this game- read all pages and sometimes just go back and flip through and don't forget to visit Rhiannon's computer to look for new messages/attachments throughout the game, It will not tell you to. Feed the cat and flush the rodents- The first letter says to feed the cat- I think it moves the game along- Revisit places new things will activate even to just pick up- and piano notes-have pad mk notes
October 18, 2012
Was worth the Money
This is definitely a unique game. While it does have a tendency to drag, all in all a Rhiannon was worth the time. It does get complicated sometimes so a walkthrough really helps a lot. I play a lot of adventure, first and third person games, and for a first person game, this was worth the money...any higher price and I would pass.
January 6, 2012
Very Creepy Game
Very creepy game to play, but it was fun, too. Worth a try!
January 3, 2012
Fun but strategy guide needed througout
I downloaded this game after playing all the nancy drew games to death and thought I would try something new and was instantly drawn to this game because of the reviews and also it is set in my home country of Wales. The gameplay is very challenging and I needed to refer to strategy guides for most of the game and the storyline is really good, Graphics and sound are good and loved the scenery (as you can expect). I recommend this game to people who enjoy a challenging game and get bored by the usual HO games.
January 16, 2014
3.5 - a star removed for navigation and controls
When you realise that this game was made by three people if you are like me, it makes you appreciate it more. The plot is made up of local folklore and the detail gone into integrating that into the game is very good and you can tell this game is a labour of love. For those that love plot there is a lot in this game and it really drives it. It?s set around a home and outbuildings so it?s not a game where you progress into new areas never to go back to old ones. After you explore and discover an area on foot if you have the big fish version and not the CD one, your map at the bottom becomes interactive and you are instantly transported to that area if you click on it. Having a map is a great help in knowing where everything is as well as cutting down on the backtracking and I really really appreciate having it in this type of game. I do wish that the rooms in the home and other places later would have had this transporter feature. There is also notes at the bottom of the page (again if you have the BF version or premium one) which helps you in your goals and to know what to do next. I don?t think it?s a very hard adventure game (good!) with puzzles - (they aren?t that many - more interactions) if you have patience examining everything and going back to areas, and use your task list and write a lot of things down then you shouldn?t need a walkthrough that much? My patience waned a couple of times (as I prefer not going back to old areas) so I looked at the walkthrough. Now the not so good ? The controls of this game is clunky at best and very annoying at worst. Navigation is by arrows and isn?t a 360 game, which I usually am glad of but the arrows here were very confusing. I missed a room in the home because you had to be exact where you put it. When I was trying to pick up something I couldn?t because I wasn?t in the right spot or facing the wrong way and didn?t realise I could pick it up as the active curser icon wouldn?t work. Also when I was walking down a path looking for things, nothing was visible and had to remember to walk back it the other way or some items you would miss. And if your curser wasn?t in the exact spot it wouldn?t go into active mode indicating you could do something and I had to backtrack loads due to this and it was very annoying. Another pet peeve of mine is not being able to pick up an item when you come across it. Here this was a LOT and you had to write down where things were so you could get it later when the game allowed you to pick it up. They were clever in unfolding the story bit by bit but in doing it that way and not having one journal in keeping you up to date re plot with what you found, I ended up being lost with the plot. There was more than one Rhiannon and I just couldn?t keep track of it all so would have loved a synopsis in one journal, especially if you play a bit and leave it I couldn?t remember it or the names of the people involved. I did have a couple of glitches but nothing I couldn?t play past by going back to an old save as it?s a manual save game, so if you save often and in different places you should be OK. It could be that it is because I have windows 7, 64 bit with nvidia card. The navigation and controls really spoiled the enjoyment of this game for me but the transporter map REALLY helped me out mostly with this. The DEV has been amazing in spending a lot of time helping others out in the game forum and that says a lot! They are working on another game and will take into consideration the controls and navigation, if they do that for the next game then it should be a wee gem of a game. It?s not one of my favourite games but despite the annoyances I did mostly enjoy it and look forward to their next game.
June 12, 2012
Enjoyable but tough to crack!
I enjoyed this game just because it was different to many other Big Fish games BUT I found it very frustrating to play! I kept coming to points of the game and having no idea what to do next, where to look and for what, or I knew what I needed to do and was unable to do it - as I had missed a part of the prior sequence of events . I ended up constantly looking at the strategy guide and forums for help, which I hate doing to finish a game! On the positive side it was very spooky indeed and I did start to get the hang of it about half way through
December 27, 2011
Mixed Feelings
On the positive side I loved the setting of this game, especially the outside scenes which looked very real. I could not, however, get into finding objects, combining them with other objects and putting them into certain places. It didn't seem logical to me. While I enjoyed wandering through the scenes very much, I thought the navigation left something to be desired. In some instances it felt like "you can't get there from here", as you often had to hit a certain mark before you could turn and get to where you wanted to go. This was a lot like navigation in the games I used to play 10 years ago. The other frustration was that the game took much too long to save or load my current position. All in all I think it was worth playing, however, and I would like to see more from this developer.
January 22, 2012
Playable but Frustrating
The concept sounded good. So here are my pros and cons: Pros: -Lengthy adventure with a lot of places to visit so you don't feel claustrophobic. -Includes a jump-map so you can click to get to most places which is nice as you do a lot of retracing of steps to find items or clues. - Includes NOTES which often are the only way to know what you are to do next and generally alerts you if you have done what you need to do. -Most of the puzzles were pretty good and once you had an idea of what you were doing, it made sense. -A few scares that were actually well done and unexpected. Cons: - The solutions were rather bizarre with combining modern day items with "elements" to progress. Hard to explain unless you are playing it. - I had a walkthru handy as I often had no idea what to do next. Or let's say "I" knew but I couldn't get my character to know as I had not done something for them to know the next action. -Node movement was generally OK but there were several times I missed seeing something as the node movement was not logical to view the item. BOTTOM LINE: I would recommend buying it and playing. It just wasn't the most logical game but worth playing due to its length and story.
September 2, 2012
WOW...Difficult!
This game has to be the HARDEST game I have ever done!! I was stuck almost immediately. Thank God there is a new walkthrough in the forum, because I would have given up completely. On the plus side, the graphics are stunning. The sound excellent, the storyline really exciting. In my opinion though, this game is just too hard to be fun. I had to save the walkthrough in my favorites for quick reference.
January 14, 2013