Rhiannon: Curse of the Four Branches
Jump into this Adventure game and explore a haunted farmstead in Wales called Ty Pryderi! Chris has been asked to house-sit, and is while the Sullivan's take their daughter Rhiannon away for a break. Rhiannon has been severely psychologically affected by strange supernatural happenings at Ty Pryderi, however, her parents think it is just teenage angst. Discover dark secrets in Rhiannon: Curse of the Four Branches!
Spooky atmosphere
Perplexing puzzles
Explore a haunted farmstead!
Game System Requirements:
OS:

Windows XP/Vista/7/8

CPU:

1.6 GHz

RAM:

512 MB

DirectX:

9.0

Hard Drive:

914 MB
Game Manager System Requirements:
Browser:

Internet Explorer 7 or later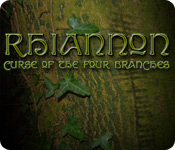 NEW299
The Big Fish Guarantee:
Quality tested and virus free.
No ads, no adware, no spyware.

Reviews at a Glance

Rhiannon: Curse of the Four Branches
0
out of
5 (
0
Reviews
Review
)
Customer Reviews
Rhiannon: Curse of the Four Branches
55
55
Rhiannon curse of the four branches
You have to be a genius to figure this game out. My son and I both have to use the walkthrough because we can't figure it out. I have never found the boiler room yet because I KEEP GOING IN CIRCLES. So, while I got this on a recommendation, I would not recommend it for anyone who has problems with games.
October 16, 2013
I just bought this game but I have to say that so far....
I am not impressed. In the first place it took more than 10 minutes to download to my laptop - it runs on windows7, so I know I have a fast processor. The map provided only adds locations as you visit them and doesn't tell you where you are. So if you get lost, you stay lost because the map doesn't help. In just the first few minutes, I came across 4 objects that I can look at but won't add to my inventory - you can only pick up items you need. The game warns you to take notes on where you saw certain noncollectable items that you will need later. Um, I don't want to use that much brain power to play a game. There are no hints or clues as you go along. You get an intro to the story and you are on your own. Oh, and the game does not automatically save, so if you play, make sure you save before closing. All together a bit too complicated for my tastes.
December 21, 2011
One for fans of Large file games probably, but not for me....
If you want something snappy and sharp as a game - this is not it. This is more for those who want it slow and atmospheric. Atmosphere: I found it as spooky as a damp trump under the duvet. [If you want a creepy HOPA game I recommend Dire Grove] Gameplay: Slow, awkward controls to move around the game, and very tired of finding things I could pick up but not put in my inventory _yet_ but maybe later. If I wanted to read books, I'd rather pick up a paper one, and not get goggle eyes reading pages and pages and pages on a computer game. Don't get me wrong - the stories in there and concept for the game are good, but I was just not feeling it at all. I am happy to use my imagination, and believe you me it is very vivid, but relying on that to carry me through the game (after reading pages of stuff on the screen and not playing the game itself) was heavy going, not helped by getting sick of the controls and sick of not being able to pick up twig x but for some unknown reason pick up twig y... Puzzles: I saw on one review that the type of puzzles/problem in this game is for more experienced players of the genre, and based on this I would be inclined to agree. Taking photos on my mobile phone of the screen with a puzzle key, in order to see side by side the key and puzzle on screen at same time, and scribbling on a bit of paper too, is not my idea of fun. (So I ended up taking a photo of the solution from a walkthrough and applying it hehehehe :) It slightly reminded me of the old 90s game Myst (another game I never finished!) - all scenery and completely 'guess the thing to click on or do next'. If that's the sort of game you like, then this will ring your bell. Subjective decision: Unfortunately for me, this is the second large file game I've tried (Other was Dracula origins), and obviously these are not the games for me. They just feel sooooo slooooooooow and cumbersome in display, movement, game play. I prefer the 'play for 6-8 hours and solve a story' type of game, or lengthy RPG type - so neither recommending or disrecommending this, as it obviously is not falling into my preferred genre type. And if you have a genre preference like mine, then you will likely struggle with playing this game until the end. I didn't.
June 23, 2012
Try before you buy
I've played dozens of the hidden object games. I had expected this one to be similar, and it is, but not by much. While it's not childish like some, it lacks the adventure quality that I was accustomed to. I couldn't get into the game or the story as it was confusing to get around and therefore concentrated on that aspect more than the story line. I want to clarify though, that because of this I didn't go very far into the game, so possibly it gets better but frankly I don't care if it does, this type of play doesn't interest me personally, so I stopped playing. I gave it and excellent rating in the challenging aspect of the game as for some, this is right up their alley for game play. Hints are not given in sparkles and you have to think a little more than other hidden object games. I play all of them on advanced play without hints because it's annoying to be alerted to active zones. So, if you're tired of the easier games and you really want to run on your own without everything going into your inventory and sitting there until needed, taking your own notes and sleuthing - this game is for you and I would recommend it. But try before you buy you may not like the interaction and end up like me, wasting cherished free game credit on it.
June 2, 2012
Too many flaws
I thought that this game would be a welcome challenge and change from the games we normally play, unfortunately I found the interface too confusing and the game itself very slow to progress. While the graphics were very nice and the ambiance of the game was quite creepy, there were still too many critical flaws in the game play engine to make this game worth the money.
December 26, 2011
Regret Buying
Because the demo confines you to the house, I ended up buying the game to explore the rest of the estate. The gameplay didn't get much better or scarier for that matter. In solving tasks, I found that there is a LOT of reading involved. Sometimes you can't complete a task without scrolling through pages of literature. I guess I'm more action oriented so I found all of this reading to be annoying. Overall, this game lacks the scary atmosphere and immersive gameplay that I was hoping for.
September 16, 2012
The most frustrating game ever.
It took me forever to get to the front door in scene 1. You keep walking by it but you have to make left, right right etc in just the right combo to get there. And that was just the beginning. There are items everywhere that you need to take, but you can't take them until you need them, so you have to remember where you saw all these things so you can come back for them later. One of the first things you need to do is collect some items and start a fire. I had everything but the logs and it wouldn't let me pick them up. Even with the walk through I couldn't figure out why. After about 20 trips around the house I finally got the logs. That was it for me. This is not my idea of fun.
March 17, 2012
A pain to play. I've played many games like this and this one is the worst!!
It is too hard to find your way around with this game. Even the map doesn't help. The area of vision for each turn is very small and confusing as to which way to go. I kept going to the same doors over and over because I couldn't figure out where I was. I didn't play the game long before I was dizzy and aggravated and just quit. It is not scary, It is boring. The visual makes you feel closed in and you can't move the view around to see anything...just move forward or right or left. Very few places even let you turn around. You have to go right or left to go back in the direction you came from.
December 21, 2011
couldnt do a thing
what a strange game. i read the reviews and expected it to be like mystery case files. i should have tried it before i bought it. it was dreadful. i had no idea where i was or where i was going for about ten minutes then i gave up. you cant move backwards on this game so you get lost all the time. i would say to try it first before you buy it to see if its the type of game you would like.
December 22, 2011
Terrible waste
This waas not up to my expectations! After playinbg gamess likke Pahellika which is probably one of mmost favorite gamees ttoo put the 2 in the ssaame category is just wronng.
April 28, 2013