Jojo's Fashion Show: World Tour
From Japan to Barcelona, racks full of vibrant clothes and lifelike models await in Jojo's Fashion Show: World Tour. Mother and daughter designers, Jojo and Rosalind Cruz, have finally earned a name in the fashion world. Now Ros is leaving the nest to pursue her own dreams and Jojo must find a replacement in this fast-paced Time Management game. As backstage drama unravels, Jojo quickly discovers that fair-weather friends and ruthless enemies are closer than she ever suspected!
Fast-paced gameplay
Gorgeous fashions
Travel across the globe!
Game System Requirements:
OS:

10.5

CPU:

800 Mhz

RAM:

256 MB

Hard Drive:

212 MB
Game Manager System Requirements:
Browser:

Safari 4.0 or later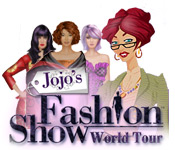 NEW299
The Big Fish Guarantee:
Quality tested and virus free.
No ads, no adware, no spyware.

Reviews at a Glance

Jojo's Fashion Show: World Tour
0
out of
5 (
0
Reviews
Review
)
Customer Reviews
Jojo's Fashion Show: World Tour
42
42
This one is for budding fashionistas!
As I have already said in many of my reviews, nowadays I tend to go for games that offer something different. And this one definitely does. I am not the usual time management games target audience, although I don't mind them per se, so it took me a long time to discover this. But I was hooked from the go. Jojo's Fashion Show World Tour is a time management game where you have to put the right style clothes on models and collect certain number of points to proceed. Additional points are earned by completing "signature outfits", sending your 3 models all out at once, having a "style chain" - several models wearing the same style in a row and completing "fashion do's" - they are slightly random in the beginning, but you'll soon learn a few. You can also earn a few powerups to help you, and - not a small part at all - design your own outfits, which usually score a lot more than anything you find on the "rack" Pros: * Different gameplay - you have to effectively memorise what different styles look like and choose the right clothes off the rack * Interesting storyline - I was totally captivated and often played an additional level or two just to see what is going on * You can design your own clothes - I really enjoyed that. I did study kind of art subject (stage - and costume- design) in the Uni so to have a game where I can use those sleeping skills was very refreshing * Mini-challenges, like halved time; only a few models in a level to get all the "signature outfits"; having to send out pairs (sometimes men and women together - quite hard!) etc * Loads of replay value - there are 100 levels! * Optional/skippable things - you don't have to read the whole dialogue in the beginning of each level, or even design your own clothes * After you beat the game you can see your 8 highest scoring outfits. I am proud to say that with the exception of one (and even that game from the last level, with double points and "supermodel" powerup), all of these were my own designs! :) Cons: * A bit long for my taste. The storyline started feeling a bit dragged out and I really REALLY wanted to finish the game. 80 levels would have been fine. * I was quite irked that in the later levels, when possible to design your own clothes, it would offer an option in the list, like "plaid" or "cream colour" and then not have them as an option to choose from. I am fine with not having accessories or having opposites listed ("high heels" and "flats" for example) - you can only choose one. But to put something on there and then not even have the option to choose it, is a bit naughty. Tips: * Remember, in the second half of the game, to check the fashions by clicking on the name of the style above the model's head. It's especially useful for male models, because their fashions looked much the same to me in the end. * You can only have 6 powerups at a time. Don't waste the good ones - like refreshing (round arrow), supermodel (purple) or swapping styles on models (blue with two-way arrow) - needlessly, but do use up the other ones from time to time to keep some space free for new ones * Some styles can be mixed, and they might score a fair bit more than you would think. You can use the magnifying glass powerup to check all the clothes on the rack * Before refreshing check you don't have any clothes on the rack that belong to the signature outfits. Put them on other models for a moment while you refresh, to keep them. * If you don't move the mouse while you check signature outfits (click on them), then you can take your time to check whether you have any necessary clothes on your rack. It pauses the time indefinitely, whereas having your own designer "closet" open doesn't. All in all a great game for people who like clothes. :D I would have given it 5 stars if only it would have been a tad shorter. tuskel, sincerely
June 7, 2012
Light fun but too easy
This a cool idea for the sequel to Jojo's Fashion show, but the developers have dropped the difficulty level way down. It's still a lot of fun, but there is very little challenge in it. I do love the increase in the number of levels and the variety of styles explored. Nice to see the throwback to the old characters too.
April 23, 2013
It was ok
I found the amount of time given was frustrating, there just wasn't enough time. Not enough selection of clothes to choose from either, which was just stupid. Like society, they wanted you to copy their fashion. I didn't see it as a game for creativity, which I thought it was. Might appeal to those who follow trends/fashion or teens. Great concept, poorly executed. I'm glad I played the trial first. Won't be buying.
June 5, 2012
Love Fashion
I love fashion but I didn't like this game much. Not that many choices of colors and styles to dress up your model with.
May 20, 2013
Beatiful designs.
This game is extremely repetitive and I haven't even finished it yet. The clothing designs and colors are beautiful and I love the variety of designs. I absolutely love the creative mode where you can create your own designs for each show. The storyline is almost nonexistent despite each cut-scene before each show. I wish that they would have less and longer cut-scenes. It's not high on my list of favorites.
December 20, 2012
Again, like any fashion game - there are good things and bad things.
I have always had mixed feelings about fashion games. I know I've stated this before in my review of the first jojo game - ( btw why is Jojo 2 not up here , big fish? ) - but I feel it is worth repeating. Anyway , the style has changed here. I have mixed feelings about the graphics of all 3 jojo fashion games. The fashions themselves can be beautiful and I like some character designs or certain things about some character designs. The story this time around....*yawn* just because something is realistic to the fashion world doesn't make it a good story I am really disappointed that the story this time was like watching a silly soap opera. Another thing I hate about all 3 jojo fashion games is being hurried to put together an outfit and I hate it when the game won't agree with me on what looks good. ( Ha! ) Like any fashion game....this can be fun at times and just plain frustrating , silly , and annoying other times. There are certain things I liked from 1 and 2 that are missing in World Tour and there are things in World Tour that should've already been in the series from the start. I wish all three games had been more than just fashion but for what it is , it is not a terrible game. ( It is just not a great game either *sigh* )
October 5, 2012
Cute game...but
Cute game but not for adults. Kids and teens will probably love it. I found the outfits lacked a lot of imagination. You are stuck with only a few choices.
April 1, 2012
Not what I thought
Based on other reviews I thought it would be fun! But it's not. You dress your models and get them out to the runway quickly. There is no time for matching and it really doesn't matter, The scores are based on other factors. I guess fashion is subjective. With that said, I give it a 2.5 I dont hate it but its not for me. On the positive it does let you choose an article of clothing and you can choose colors,embellishments and patterns and then use those clothes on your runway models.
November 9, 2012
From Fab to FLOP
This game FLOPS. Compared to the original, it's terrible. Here are my thoughts: Good Parts: All the original gameplay from Jojo's Fashion Show Design your own outfits- this added a new, rather fun twist to the game. OK Parts: Rotating between Male and Female models- this was new to the game, but I kind of disliked it. I found it much easier to dress female models. Bad Parts: Compared to the original, gameplay was a piece of cake. I always seemed to get 5 star outfits and shows. They could have at least made the game harder. Terrible storyine. Jojo's daughter "leaves the nest" and starts her own fashion shows. Bad graphics- They've tried though, adding life-like models instead of fake, animated models. Nowhere near as fun as the original. I wasn't hooked, I didn't want to come back to this game. Overall, for such a great first installment, the sequel is a total let-down. Glad I tried it before I bought.
May 31, 2012
A Fashion Don't
I was rather disappointed with Jojo's Fashion Show: World Tour. The game started out pretty fun, doing a show in Tokyo. It takes over from the first game a few years later and Jojo's daughter is now running her own fashion line out of Rio. So we start off doing pop fashions in Japan, the Goth Loli, Loli, Tokyo Street, and Kimono Crazy looks, which are really fun, but once we got out of Tokyo, things started to slide a bit. The things we were given to work with to help Jojo make new looks were recycled from previous levels, and often did not even match what we were supposed to put together. Creating outfits for the ladies was much easier than for the guys, and once we got the models in the dressing rooms, we had to be speedy to the "model chain" and "Style chain" bonuses. The bigger the bonus and higher the score for matching what was popular in whichever city we were in, the more powerups and stars we get. Getting a 5-star show is not really all that had, but getting the looks together in such a limited amount of time is frustrating, let alone having to hunt down the proper shoes to match an outfit, and let's not even go there with accessories. They give a nice boost to the score, but put the wrong thing with the wrong outfit, and watch that score go so low. I got thru Tokyo, Amsterdam, London, Djarkarta, and all the way to the Rio show when I realised this game just can't be played by the rules because the devs were cutting costs by not giving us what we needed to play. Rio want's animal prints, and there are none to be found on any of the patterns they give us for Rio, and so on. This game needs an update, and the devs should trying reading their Vogue magazines again before their redesign. Maybe then this game might be worth another look.
June 25, 2012
The Apple logo is a trademark of Apple Computer, Inc.
The Windows logo is a trademark of Microsoft, Inc.