Jojo's Fashion Show: World Tour
From Japan to Barcelona, racks full of vibrant clothes and lifelike models await in Jojo's Fashion Show: World Tour. Mother and daughter designers, Jojo and Rosalind Cruz, have finally earned a name in the fashion world. Now Ros is leaving the nest to pursue her own dreams and Jojo must find a replacement in this fast-paced Time Management game. As backstage drama unravels, Jojo quickly discovers that fair-weather friends and ruthless enemies are closer than she ever suspected!
Fast-paced gameplay
Gorgeous fashions
Travel across the globe!
Game System Requirements:
OS:

10.5

CPU:

800 Mhz

RAM:

256 MB

Hard Drive:

212 MB
Game Manager System Requirements:
Browser:

Safari 4.0 or later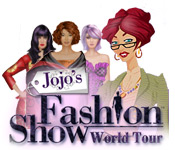 NEW299
The Big Fish Guarantee:
Quality tested and virus free.
No ads, no adware, no spyware.

Reviews at a Glance

Jojo's Fashion Show: World Tour
0
out of
5 (
0
Reviews
Review
)
Customer Reviews
Jojo's Fashion Show: World Tour
49
49
Fast Paced and Challenging Fun
The graphics are great, the game is excellent, it's a frenzied fast-pace to get the models on the runway and trying to remember what piece fits which category. It really challenges your mind. It's a combination between memory and time management. There are a lot of boosts/power-ups too that really add to your score. This game never disappoints. I've owned both JoJo Fashion Show games for years and always go back to them. I wish they'd make more.
December 19, 2014
Designer Clothes
I'm always looking to design my own clothes on games like this & this is the best game to do it
October 3, 2014
Hair, make-up, clothes, accessories - Runway girls!
Now, this is more like it!!!!! I didn't do so well in the original version of this game, but in this one I totally ROCKED it. Just as in the original Jojo's Fashion, the concept of this game is to dress your models in tops, bottoms (jeans, slacks and/or skirts) and shoes of every variety but, now, there are ACCESSORIES. AND, now as well, we have MEN as well as ladies. Create your own closet one outfit at a time from tops to shoes, colors, trim and prints. Styles range from around the world chic to punked out rock, Kimono Frenzy and Gothic. Away from the wispy summers and westerns and modest of the old game. Now, let your style and your whimsy let loose and fly! I had such fun creating clothes (highest points - ahem, ahem - LOL) and dressing my models. And the applause feature makes it sound like you really are getting props for your ... props - LOL. I'm totally considering purchasing this game for several reasons - the fun value, the entertainment value, the feel-good value and the fact that I got my personal "wow" factor when the demo ended. "OH NO - NOT YET!". I recommend this for young and old, guys and gals, moms, dads, grads and grammas (that's me!). So, get your style on and go have fun! Happy Gaming!
August 18, 2014
If you love fashion, this is the game for you
I've tried the other "runway" themed games, without much luck so I was not expecting to be this happy with JoJo's Fashion Show. It's really terrific. My only problem with it, and this is not big but it would be great in a future version, is that the designs you create yourself are too limited. You can't add your accessories and that makes a huge difference in the end product. However even with that small limitation, this game is one I play again and again. It's that good!!
March 19, 2012
This one is for budding fashionistas!
As I have already said in many of my reviews, nowadays I tend to go for games that offer something different. And this one definitely does. I am not the usual time management games target audience, although I don't mind them per se, so it took me a long time to discover this. But I was hooked from the go. Jojo's Fashion Show World Tour is a time management game where you have to put the right style clothes on models and collect certain number of points to proceed. Additional points are earned by completing "signature outfits", sending your 3 models all out at once, having a "style chain" - several models wearing the same style in a row and completing "fashion do's" - they are slightly random in the beginning, but you'll soon learn a few. You can also earn a few powerups to help you, and - not a small part at all - design your own outfits, which usually score a lot more than anything you find on the "rack" Pros: * Different gameplay - you have to effectively memorise what different styles look like and choose the right clothes off the rack * Interesting storyline - I was totally captivated and often played an additional level or two just to see what is going on * You can design your own clothes - I really enjoyed that. I did study kind of art subject (stage - and costume- design) in the Uni so to have a game where I can use those sleeping skills was very refreshing * Mini-challenges, like halved time; only a few models in a level to get all the "signature outfits"; having to send out pairs (sometimes men and women together - quite hard!) etc * Loads of replay value - there are 100 levels! * Optional/skippable things - you don't have to read the whole dialogue in the beginning of each level, or even design your own clothes * After you beat the game you can see your 8 highest scoring outfits. I am proud to say that with the exception of one (and even that game from the last level, with double points and "supermodel" powerup), all of these were my own designs! :) Cons: * A bit long for my taste. The storyline started feeling a bit dragged out and I really REALLY wanted to finish the game. 80 levels would have been fine. * I was quite irked that in the later levels, when possible to design your own clothes, it would offer an option in the list, like "plaid" or "cream colour" and then not have them as an option to choose from. I am fine with not having accessories or having opposites listed ("high heels" and "flats" for example) - you can only choose one. But to put something on there and then not even have the option to choose it, is a bit naughty. Tips: * Remember, in the second half of the game, to check the fashions by clicking on the name of the style above the model's head. It's especially useful for male models, because their fashions looked much the same to me in the end. * You can only have 6 powerups at a time. Don't waste the good ones - like refreshing (round arrow), supermodel (purple) or swapping styles on models (blue with two-way arrow) - needlessly, but do use up the other ones from time to time to keep some space free for new ones * Some styles can be mixed, and they might score a fair bit more than you would think. You can use the magnifying glass powerup to check all the clothes on the rack * Before refreshing check you don't have any clothes on the rack that belong to the signature outfits. Put them on other models for a moment while you refresh, to keep them. * If you don't move the mouse while you check signature outfits (click on them), then you can take your time to check whether you have any necessary clothes on your rack. It pauses the time indefinitely, whereas having your own designer "closet" open doesn't. All in all a great game for people who like clothes. :D I would have given it 5 stars if only it would have been a tad shorter. tuskel, sincerely
June 7, 2012
Love It!
My daughter and I both love to play this game!
December 8, 2014
Light fun but too easy
This a cool idea for the sequel to Jojo's Fashion show, but the developers have dropped the difficulty level way down. It's still a lot of fun, but there is very little challenge in it. I do love the increase in the number of levels and the variety of styles explored. Nice to see the throwback to the old characters too.
April 23, 2013
It was ok
I found the amount of time given was frustrating, there just wasn't enough time. Not enough selection of clothes to choose from either, which was just stupid. Like society, they wanted you to copy their fashion. I didn't see it as a game for creativity, which I thought it was. Might appeal to those who follow trends/fashion or teens. Great concept, poorly executed. I'm glad I played the trial first. Won't be buying.
June 5, 2012
Love Fashion
I love fashion but I didn't like this game much. Not that many choices of colors and styles to dress up your model with.
May 20, 2013
Beatiful designs.
This game is extremely repetitive and I haven't even finished it yet. The clothing designs and colors are beautiful and I love the variety of designs. I absolutely love the creative mode where you can create your own designs for each show. The storyline is almost nonexistent despite each cut-scene before each show. I wish that they would have less and longer cut-scenes. It's not high on my list of favorites.
December 20, 2012
The Apple logo is a trademark of Apple Computer, Inc.
The Windows logo is a trademark of Microsoft, Inc.