Green Moon
Prepare to go on a fantastic journey which will take you from damp prehistoric forests, to the sultry deserts of ancient Egypt, to dirty Wild West saloons, and luxurious medieval castles! Green Moon is a Hidden Object game like no other, combining science with magic and reality with mysticism. Travel to a unique world full of mystery and exciting opportunities as you learn ancient and timeless secrets!
Gorgeous graphics
Multiple minigames
The Green Moon is calling!
Game System Requirements:
OS:

Windows XP/Vista/7/8

CPU:

800 Mhz

RAM:

256 MB

DirectX:

7.0

Hard Drive:

179 MB
Game Manager System Requirements:
Browser:

Internet Explorer 7 or later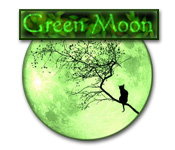 NEW299
The Big Fish Guarantee:
Quality tested and virus free.
No ads, no adware, no spyware.

Reviews at a Glance

Green Moon
0
out of
5 (
0
Reviews
Review
)
Customer Reviews
Still a Stunner After Two Years!
I originally bought this in January, 2010. I played it, was impressed, but like all gamers, I moved on. I recently re-played this game, and was stunned by how beautiful this game was compared to the plethora I've played in the last couple of years. Even though I vaguely remembered where to go to look for things, the game was still interesting, challenging and fun to play. As another reviewer said - there is no handholding. I STILL was stumped in numerous places with this game - And I've played it before! I'll put this down as one of the more challenging adventure-type games I own, as well as one of the best length of play time for the buck!
January 16, 2012
A Hard-core Adventure!
I bought this game when it first came out and seeing today on sale has made me want to replay it. If I were to describe the game in one word: CHALLENGING ! Word of warning: If you are looking for the usual storyline, crowded HOG scenes, Map, journal, standard puzzles and mini-games, sparkles that show you where to go and a hint system that is helpful, this is NOT your game. This game offers you absolutely no hand-holding and you will need of a walk-through. Thanks to Margie B who is absolutely a life-saver; there is a fantastic WT, and trust me folks, no matter how advanced of a player you are, you will use it. I loved the story which may seem a bit out there; I loved the graphics and funny enough, I relly did enjoy the Music. This game was one of the most challenging games I had played back when I was a novice to the adventures genre. I think I will try again and see how much I have improved. I recommed this game for hard-core players and absolutly recommend that you at leat try the demo.
April 19, 2012
Unique and beautiful
One of my all-time favorite games, for it's unique style. Absolutely enchanting and beautiful music (one of the very few games where I keep the music turned on during play and wish I had the soundtrack). Odd characters! Very difficult and confusing game at first--NO HANDHOLDING and you WILL be confused, lol. Normally I never use SGs or walkthroughs but here I had to check the forum/walkthrough a few times. But I loved the challenge!!! Strange and bizarre story that all makes sense at the end, which was very touching and sweet. An immersive experience for the senses and the mind, I loved it and have played more than once.
December 14, 2011
Great game, very challenging
I spend probably five times more time to go through this game than any other I played for the last 10 years. It reminds me of good old times and adventure games. If you are lookin for an easy ride - this is not for you. If you like challenging stuff - by all meand get it. It's rewarding.
February 6, 2012
Only if you like Adventure Games, no HOS here
Pure Adventure, no HO, no sparkles and no hint button?you?re on your own. Music is very Zen like. You teleport to other times in history, to the future and to the moon. In order to achieve this you must learn to mix ingredients, much the same as a laboratory/science class. There is no witchcraft or skeletons, graveyards etc. You start off in your house with approximately 7 rooms and a backyard. Your house is your ?base? and you will be in and out often. Your inventory allows for holding 14 items. There are many items available to pick-up and use. There is no voice overs and limited interaction with other characters. There are mini games, such as cooking recipes for a king (get it wrong and you lose your head). There are 12 tasks to complete to reach the end of the game. Your journal tells you what the task is and what items you need to accomplish it. On occasion it will tell you where you need to go, but most of the time not. It is a long playing game, several days at 4-5 hours per day. There is a walkthrough available. I recommend you copy/paste so you can leave it open in the background for reference. There is a learning curve to these games, but once you get the hang of it you can pretty much roll on. On occasion I did need to refer to the WT, I noticed I did not do things in the order they had written, it did to seem to matter, but my logic and the Dev.?s differed on occasion hence, the walkthrough was beneficial. The ending will make you wonder and consider the possibilities?why green moon? It is an enjoyable game and a nice change from the HO but?.I feel a need for something a little easier after this as it does exercise your gray matter!
June 19, 2012
LOVED THIS GAME!
This game was quite an adventure and I enjoyed every minute! It includes time travel, gathering items, creating potions, puzzles, arcade action, and gorgeous scenery! I would very much like to play a sequel if there is one to be made! Thank you Big Fish for the 2 for 1 sale, as I bought this one during the sale. Thank you Margie B for the excellent walkthrough, as I peeked for much needed assistance with the ships and glasses, and thanks to the forum for providing excellent tips!
April 2, 2012
Stick with it, it?s rewarding!
I tried this game a couple of years ago and couldn?t quite figure it out (not to mention the annoying barking dogs). But, somehow it stuck in the back of mind and I thought I?d try it again when it came up on the daily deal and I?m glad I did! I ended up really enjoying the game, not wanting it to end. Green Moon is more of a true adventure game (yeah!), not a HOG. Once I figured out the mechanics of the game and consulted a walkthrough a few times, I really got into the swing of things and never found it to be boring. There are dozens of scenes to visit that include different environments, the moon or time travel. Each scene only requires finding an object or two, or to perform a task, then you move on to another scene. I thought this kept the game interesting not having to return to the same scene multiple times. The exception is the home base and the moon. The premise of the game is to collect items for various magic potions to use in new scenes. There are no hint or skip buttons, but I found the mini games to be fairly easy, not spending too much time on them. I even enjoyed the one arcade game (the ships) as a little extra excitement. The available walkthrough was very helpful, but if they ever do a sequel a hint system would be nice. Regardless, I would still buy the sequel in a heartbeat. I recommend this game to folks that are maybe a little tired of the dark HOGs and would enjoy a ?lighter? adventure (it?s not like some of the larger file adventure games with lots of dialog and walking around). Oh yeah, the barking dogs only occur at the house and turning down the volume was an easy fix. I wish it was that easy in real life!
May 25, 2012
And now for something TRULY different....
I noticed one of the reviews mentioned this is an "old style" game.... I've only been playing these games a few months, but Green Moon is so very different from anything I've played before and so thoroughly enjoyable, it is hard to believe it's older technology... in fact, it's the first game I gave five stars in every single category. No HO scenes (yay) - just pure adventure with a few very enjoyable minigames - and very interactive. I definitely needed the walkthrough but avoided it as much as possible, because exploring this game and the many, many beautiful areas to visit was just too fun. One thing though, make good use of the "save game" feature.... like before every mini-game... because if you lose, you'll have to go back to the last autosave to continue. You'll save yourself a LOT of grief and frustration if you simply take this step. The game does autosave at the end of every major section so don't bother using your save except for the minigames. Also, if you get stuck in what I call the "topsy turvy dream room" on the moon (like I did), which was not even mentioned on the walkthrough, the only way I could get out of it was to go back to the last save. (btw, sometimes, the latest save is the autosave.) Since inventory space is limited, as you find things, you might want to note where they are rather than picking everything up. OR you can pick things up and drop them at the house (which is your central command pretty much), but you'll even run out of space to drop things -- so a combination of the two worked well for me.... I recommend reading the general information on the walkthrough before playing and then use the rest of it as it suits you.... I LOVED this game!
April 20, 2012
One of my favorites
I loved everything about this game. You have to brew potions to access new powers, and the sections on the moon are amazing. It is beautifully written and the graphics are gorgeous, plus the concept is really cool.
April 22, 2012
NOT for casual gamers
If you are a casual gamer, pass this by, and do not return until you've become expert. If you are an expert, then you are in hog heaven. This is a game in the postgraduate level. No hints whatsover. A vague idea of what do to. No skipping minigames. Some minigames you better save before attempting because failure ends to death of your character and end of the game It is tough, no two ways about it. Visually, it is very attractive. Nothing overly dramatic, just a big puzzle that you have to figure out on your own. So, expert gamers, this is the ultimate adventure game for you.
September 7, 2013
The Apple logo is a trademark of Apple Computer, Inc.