The Clumsys 2: Butterfly Effect
Grandpa Clumsy is up to his old time travelling shenanigans again and has upset history by inadvertently bringing a butterfly back with him from prehistoric times. Who knew a single butterfly not flapping its wings would cause a chain reaction through time changing our modern day into the Stone Age! Helen needs to take matters into her own hands and rediscover all of civilizations greatest discoveries that never happened in The Clumsys 2: Butterfly Effect, a fun Hidden Object game.
Unique gadgets
Fun scenes
Help correct history!
Game System Requirements:
OS:

10.5

CPU:

800 Mhz

RAM:

256 MB

Hard Drive:

172 MB
Game Manager System Requirements:
Browser:

Safari 4.0 or later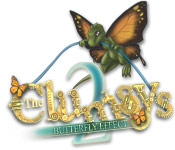 NEW299
The Big Fish Guarantee:
Quality tested and virus free.
No ads, no adware, no spyware.

Reviews at a Glance

The Clumsys 2: Butterfly Effect
0
out of
5 (
0
Reviews
Review
)
Customer Reviews
The Clumsys 2: Butterfly Effect
15
15
New twist on HOS game
This is truly a fun game, once you get the hang of it! It differs from other HO games in several ways. I so welcome games that are not run-of the mill, cookie cutter style. Your father accidentally brings something back from the past from his latest time travel. He asks you to travel throughout history and "fix" inventions and gadgets and errors. How would you like to go snooping around Thomas Edison's room? That is just one of the places you will go. Your time machine takes you to wherever an invention's pieces are scattered over multiple scenes, within scenes. No constant walking back and forth! Sparkles show areas with HO that also have parts for the gadgetsas as well as for inventions, besides just being HO scenes. The mini puzzles within the game are fun as well! You get to look into drawers, cabinets, under things. All in one scene, or parts thereoff. After finding a particular invention's parts, you assemble them according to a picture. It is not difficult to do. After he machine springs into action, the last step for you is to pick up all futuristic items in that scene, You restore history and the time machine takes you to the next time period that needs fixing. You don't just fix inventions and clean up time periods, but you also find and assemble gadgets throughout the game. The musical scores are pleasant and not the least bit annoying. I love the father's accent and kind instructional voice. No lenghty, involved story line, but fun gaming time! Perfectly balanced for my taste. Overall, this games allows you to combine all your Hidden Object hunting skills, your puzzle solving skill and historical adventure skills all in one game. I hope you enjoy this game as much as I did. I love something different that is great fun! What a bargain for the daily deal prize!
May 14, 2012
a rare treat!
i find this game very well thought out and classy! one has to use the brain and the eyes.not many games offer this combination. the graphics are tight, the music is upbeat and lovely. the game offers many surprising and inventive details. the only minus in my book is the heavy accent of the professor. Eventough it is amusing and cute initialy, he conveas too much important information and it becomes difficult to follow him due to the heavy accents .
May 28, 2012
VERY EDUCATIONAL
This was a very enjoyable game, mainly due to the story line. It was neat learning about all the inventions way back to the first boat or the first bread. It was a little hard to get started but once you figured out the structure of the game, it was easy to follow. I know there is a special name for this kind of HO game, because pictures are used instead of the names of the objects, but in this case, it was a perfect fit with the general atmosphere. The scenes themselves were challenging, as proved by my incorrect clicking percent. That was another thing I liked about the game, the status report on how you did after each invention. About the only thing I didn't like was the refueling game, but just because I'm no good at that particular type of puzzle. All in all, a great game that I may be tempted to play again. I will definitely get the other game in this series.
September 12, 2012
the Clumsys 2
This has to be the most complicated game I have ever played! It is also addictive and challenging. I played for 42 minutes, and I still have not finished the first scene! I am buying this game today.
May 14, 2012
The Clumsys 2: Butterfly Effect
This is an interactive hidden object puzzle game. You find items by blue shadow. If the items are black shadow then they'll be found by zooming into another area i.e. drawer, cupboard etc. There may be 1 or more items needed to make one object but it is not what I would consider a FROG in as much as you don't get the full picture of an item and then have to find the parts - you get the shadow of each part and you have to find them individually. You then apply all of the bits to fix a machine. I hope that is making sense. At the end of each "chapter" you have to clear the scenes of items that do not belong in that time period. You don't get a list, or shadow - you just have to look around and work it out yourself. You do get told how many there are to find though. It took me a while to get used to the gameplay but by the end of the hour I was well engrossed. I completed 6 chapters in the hour demo. There are 30 chapters so this is a really good length - approx 5 hours #give or take# depending on difficulty of each chapter.
May 14, 2012
Deal of the Day! Go buy it!
This takes a bit ofgetting used to but is very fun. It is a hidden object game that uses the shadows of fractured machineparts. You are going back in time to assemble important machines (like the light bulb or the first movie projector) by finding the parts scattered through every scene. Each scene has hidden drawers and cabinets that hold yet even more pieces or mini-puzzles, making each Assembly a multi-layed, busy interactive scene. I thought it was kind of fun and the music is nice, ranging from Honky Tonk to classical. My only complaint was that some objects are too dark or too small to find well but the hint system recharges in 15 seconds . Little bursts of sparkles will show you the way if you take too much time. There is a click penalty where the cursor bibrates in place for a few. Historical facts are given to explain the importance of the machine you're rebuilding. When you've accomplished this, The Butterfly Effect happens (see how I worked the name of the game in?)and you then must remove objects from "our time" that appeared in the historical scene you just constructed. I found this a fun time waster, and you have to think to play the game which is always good.
May 14, 2012
Enjoyable...
I found this one to be enjoyable for short periods of time.... meaning, it's one I'll play for a while until I get tired of it, and then come back to later. (I get bored with pure HOs after an hour or so... ;) It's quite a bit different from the normal HO games... Basically, you are traveling through time to fix anomalies caused by a clumsy scientist who inadvertently brought a butterfly from prehistoric times into the present. In each time period, you must first find missing parts of critical inventions and then fix them using the pieces you've found. There are usually 2-3 areas within a scene that you must zoom into in order to find everything needed. After you've repaired the invention, you must find items that do not belong in that particular era (like cell phones before they were invented, etc.). You are given the number of items that must be found or eliminated and are tracked on the time taken and the percentage of faulty clicks, but you are not on the clock -- so no stress. The hints, if needed, fill up quickly. I haven't yet completed the game but, so far, no junk piles! Yay!! :) If you're a fan of HO games, you'll enjoy this one.
May 14, 2012
Fun Game, For those who like to tinker
If you like to tinker, this is a great game for you. The graphics and audio are good, except that some objects are hard to find, even after the hint circles the area. My screen is set at the brightest level already, but that didn't help in several cases. If you get confused about where to put things, the hints help with that, too. When it comes to removing things that don't fit, many of those things are obvious, because we use them today-- calculators and other such electronic devices hadn't been invented yet. Other objects are either too well hidden, or not obviously wrong, but the hints will help you there, too. This game brings back fun memories, because the speaker talks like my teacher. When I was a nerdy girl in high school almost 50 years ago, our science teacher had us each make an old-style radio, and it had to work! We had studied the science of electronics throughout history, how they did the wiring, etc. and we went to work.
May 14, 2012
FRUSTRATING BUT INTERESTING
I have to say that this game was very frustrating for the following reasons: *objects are color on color making it hard to see *all scenes are hazy; again making it hard to see *hint button basically worthless as it does NOT pinpoint the missing object, it only SUGGESTS wherein the object is *hint button remains "STUCK" when you click on it -- meaning that it'll circle the same area EVERY time you click on it DESPITE the fact that you, as a gamer, KNOWS that you CANNOT complete the area that the hint button is wanting you to work on because you STILL NEED that missing object *walkthrough is fine for explaining how to put the inventions together BUT it does NOT show where the hidden objects are *you put together 3 gadgets while playing the game ASSUMING that you're going to be using them in some way to release the butterfly back into its own time period but after putting them together, you never see them again *game ends rather abruptly with NO INTERACTION in returning the butterfly back to its own time period I found this game interesting because of the trivia facts that you learn of how, where, and when inventions were made -- glass, wheel, pulley, etc.
June 1, 2012
Way Too Long
Thought the game would never end. I stopped after the 27th invention because it became so tedious that I just couldn't take it any more; apparently there are 30 inventions. I became anxious for the game to end after the 15th or 16th invention even though I only played about 6 inventions per sitting. Hint system just shows a large circle in which the item is found. Sometimes, the item is very tiny, and was still difficult to find even though it was in the circle. Misclicks: You have to misclick an awful lot to be penalized. I did click all over to find the tiny items, but still got only 3 or 4 penalties in the 27 chapters I completed. Inventions: You don't have to actually assemble the pieces for the inventions. Just find the missing pieces and they will assemble themselves. The pieces will be in the main scene and usually 2 subscenes (which your cursor will point out). Once you find all the pieces, the yellow gears show where one of the pieces goes. Didn't take any brain power. No challenge at all. Still, the premise was good, so 3 stars and a recommendation to buy if you don't mind repetition or can spread out the playing time over a few days. 3 days was enough for me. Good for an advanced beginner.
June 12, 2012
The Apple logo is a trademark of Apple Computer, Inc.
The Windows logo is a trademark of Microsoft, Inc.