Black Circle: A Carol Reed Mystery
As summer arrives, English private detective Carol Reed is asked by a neighbor to look into the discovery of a dead body that mysteriously disappears. Carol must discover Hidden Objects and interview suspects and helpful residents to get to the bottom of this stranger's death. What starts as a routine investigation quickly becomes something more as Carol uncovers broken alliances and a cult long thought to be inactive in Black Circle: A Carol Reed Mystery.
Gorgeous Hidden Object scenes
Immersive atmosphere
Carol Reed is back!
Game System Requirements:
OS:

Windows XP/Vista/7/8

CPU:

1.0 GHz

RAM:

256 MB

DirectX:

9.0

Hard Drive:

452 MB
Game Manager System Requirements:
Browser:

Internet Explorer 7 or later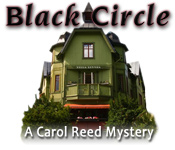 NEW299
The Big Fish Guarantee:
Quality tested and virus free.
No ads, no adware, no spyware.

Reviews at a Glance

Black Circle: A Carol Reed Mystery
0
out of
5 (
0
Reviews
Review
)
Customer Reviews
Black Circle: A Carol Reed Mystery
11
11
Love Carol Reed Games!
This game is great, as are all the other Carol Reed games. They are very different from the standard games and that is what makes them so special. The scenery and storylines are very realistic and wonderful. Start with the older ones and continue to the latest. You will want more. I do. Give them a try!
December 3, 2011
Fantastic puzzler - tricky but not too tough
I loved this - it was much more involved than the previous Carol Reed I'd played (Remedy), although I'd enjoyed that one too. The addition of a notepad with objectives and hints plus clearer graphics etc were great improvements. The puzzles are tricky but unlike some games which require you to try every single item you own in random combinations, this is perfectly logical and, though tricky, it's completely doable as long as you explore each location thoroughly. A great puzzle adventure!
January 25, 2012
Another great game!
I can't stop playing these Carol Reed mysteries! I love them. Such a welcomed change from the hidden object and random puzzle games. Love it!
February 11, 2012
Another mystery solved....
The first time I played a Carol Reed Mystery, I spent about 10 minutes and gave up. However, now being familiar with Carol Reed Mysteries --I believe this is the 4th one I've played -- I completed this game in 3.5 hours, as it was like a reading mystery book I just could not put down. I enjoy exploring the different rooms--especially the bathrooms--of these apartments, homes, etc. as it makes me appreciate what I have even more! The scenery and characters are interesting, too!
January 6, 2012
Relaxing, But Never Boring
This is my second Carol Reed mystery and I?m hooked! When I play these games I leave my world behind and become immersed in the Swedish culture and environment. I love exploring the lush green countryside, gardens, houses, businesses, apartments and abandoned warehouses to name a few. The real life photos are part of what makes these games so appealing. I thought the Black Circle storyline was intriguing and I almost played nonstop until I solved the mystery. This game has a good hint system, just refer to the journal and click on a goal for details. The puzzles are simple and straight forward, no need for a skip button. You still collect inventory items to use, but not a whole lot of them, because I think the game focuses more on exploring the surroundings and solving the mystery. The conversations between people are pertinent and kept to a minimum. If you feel like something a little different and unique, you might try this game. I hope BFG brings in the latest CR release soon, I?ll buy it in an instant!
August 19, 2012
Simply Charming
I love the Carol Reed games. Don't overlook them because of their simplicity. That is part of the charm. Of course, the graphics are just still photo shots, but you feel like you are talking to real characters and the photos of Sweden along with the peaceful music are just simply wonderful and endearing. The mysteries are always intriguing as well. Hope they keep making more of these.
July 24, 2013
I felt soooo sneaky!
We need more games like this! Bought this game, finished it in 1 evening. Too short, BUT, I loved it. Everything about it was superb! A must buy!
April 28, 2013
Murder Mystery for Realists!
This is my first foray into the Carol Reed series, and I have to say this game is pretty impressive, for an Indie. What makes it so different from many of the HO/adventure games we are used to is the use of digitally manipulated photographs. In doing this, the developer injected a concrete sense of realism into the game, appealing to the hidden voyeur in some of us. Absolutely NO hand-drawn animation here whatsoever, so if real-life settings aren't your thing, I'd suggest looking elsewhere. This seems to be a game-breaking thing for many of us Big Fishies, so you have been warned! There are no HO scenes but there are puzzles, although they pose very little challenge. The real challenge lies in figuring out where to go, who to speak to next and how to use the various inventory tools found along the course of Carol's investigation. You're given a map that transports you to each place, along with a journal with an incorporated hint system. The music is fitting and appropriate for almost every location. There's nothing like unsettling music to accompany that sense of dread anyone with a pulse would get while venturing deep into an abandoned mine, or decrepit factory. The voice acting, however, is terribly bad. I mean TERRIBLY bad. This too is another element that can be game-breaking for many people, so if awful voice acting grates on you, skip this one. If there were decent voice acting the game would have been even more immersive; I forgave this because the beautiful, crisp photography made up for that shortcoming. Again, the pictures of actual locations adds to the realism of the game, for sure. It was simply a treat in and of itself to see real-life places in Sweden. I also think that's what makes certain areas even more creepy: That dark, abandoned foundry you're investigating in-game, in all it's dilapidated, nightmare-inducing glory, REALLY does in fact exist, and has likely sent many an urban explorer packing. You can't say that about locations in other games that are hand-drawn. If you enjoy murder mysteries, beautiful digital photography and need a break from the usual junk-piled, HO games, give this one a try. The game is a little dated (2009, and it shows in certain aspects) but I think it still manages to hold up well. Keep an eye out for creator/developer Mikael Nyqvist's cameo. I'll only say that it involves a blonde wig. For those who like their games with a side of easter eggs, well, there's a couple of those too (hint: the developer's company name, MDNA, is short for Madonna, and there are references to both the pop star as well as the religious figure). Enjoy.
May 12, 2014
Not my cup of tea
I can't say I like Carol Reed games. I am a photographer, so I like watching photographs, but not in a computer game. There is really nothing to it. And although the storyline may be interesting, the handtaking really annoys me: "What should I do next? Go see there... or go interview him/her", etc. The worst thing is, that without this taking by the hand, you wouldn't get an inch further in the story. A long time ago, I had bought a Carol Reed mystery and I got so frustrated aimlessly turning around in a kind of warehouse, full of rooms and crammed with so much useless stuff - I even wonder where they found such a place to take pictures off - that after a few fruitless tries, I abandonned the game altogether. Now, with the notebook, it is possible to finish the game, but you don't get much satisfaction out of it. I won't say that I do or do not recommend the game, I suppose some folks may like it, but I prefer reading a detective novel. No more Carol Reed "mysteries" for me.
July 22, 2012
ok
average. not enough interaction with objects and/or puzzles. nice graphics
June 7, 2014