Fiona Finch and the Finest Flowers
Fiona is trying to forget her past by totally immersing herself in the world of gardening. Fiona is out to win the Finest Flowers competition and needs your help! Travel to Fiona's home town of Beeville, and dive into the fiery competition in this fast-paced Time Management game. Grow gorgeous geraniums, terrific tulips, vibrant violets, and walk away with the grand prize in Fiona Finch and the Finest Flowers!
Fast-paced gameplay
Unique upgrades
Grow the Finest Flowers!
Game System Requirements:
OS:

Windows XP/Vista/7/8

CPU:

1.0 GHz

RAM:

256 MB

DirectX:

9.0

Hard Drive:

128 MB
Game Manager System Requirements:
Browser:

Internet Explorer 7 or later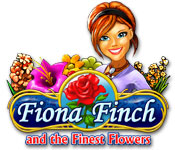 NEW299
The Big Fish Guarantee:
Quality tested and virus free.
No ads, no adware, no spyware.

Reviews at a Glance

Fiona Finch and the Finest Flowers
0
out of
5 (
0
Reviews
Review
)
Customer Reviews
Fiona Finch and the Finest Flowers
24
24
Hidden gem!
This is an amazing, fun Farming game that I just can't get enough of. I happened upon it randomly as I was looking for something to buy to get my 6 credits for the month, and I absolutely love it. Every once in awhile, I see if the developer is creating something new - but alas, they are not (as of right now, at least). It combines both timed and relaxed elements, with different levels of play, and a mini-game that makes sense - unlike so many TM-genre mini-games. The plot is a bit meandering, but still enjoyable to experience. If you love Farming games, you will love this game, period. It has all the typical elements - growing flowers, using machines to make food, and filling orders. Try it and you won't be disappointed!
November 29, 2011
no green thumb needed to grow these gorgeous flowers!
in this time management strategy game, you are the charmingly-named Fiona Finch, and you are immersing yourself into gardening, beekeeping and home-baked foods to forget a tragic past event. Your goal is to win the Finest Flowers competition held annually in Fiona's fanciful home town, Beeville. The competition is extra special this year because it is offering an especially large grand prize in honour of its one-hundred-year anniversary. graphics: colourful and adorable. the scenery is a delightful little fantasy that i would like to immerse myself into, and the flowers -- !! gorgeous. and adorable. and the bees -- OMG, they are so SO adorable!! music and sound effects: bright and light, not at all like the typical "hurry hurry rush rush" score that accompanies so many TM games. voiceovers are well-done and the narrator has a lovely voice to listen to. storyline: the story line is a bit unfocused, but real life tends to be like that too. i actually enjoy the story and am interested to learn how it develops throughout the game. gameplay: it's a bit complex if you've never played a game like this before, so definitely do use the tutorial (which is excellent) to make sure you are familiar with all the details of gameplay. basically, you are growing flowers, keeping bees and making baked goods to sell to the public, and purchasing necessary equipment and supplies. fortunately, you can queue tasks -- LOTS of them! -- and the task queue appears as tiny icons in the upper left of the screen so you can keep tabs on them. There are timed and relaxed aspects to this game, and the mini-games actually contribute to the story development. this game also has a unique feature, Fiona's "hybrid machine" that creates new plant varieties. (i know it?s a bit far-fetched, but it?s all good fun.) the game also features smooth loading with no stutters or freezes. my interaction: one hour free demo, and i purchased this game the minute my free demo ran out. this game is similar to the "ranch rush" series of time management games, all of which i own (and enjoy), but it has elements that are unique and set it apart from them (the hybrid machine, and an interesting story line, for starters). in my opinion, these special details make this game even more enjoyable than any of the ?ranch rushes -- and that?s saying a lot! overall, this game is totally engaging and is fun for the entire family. if you enjoy time management and strategy games, then you will definitely love this one! thank you big fish for offering this game as the ?daily deal? -- which in the case of this game, should be known as the ?daily steal?!
June 21, 2012
Sweet way to grow a garden
I love the sound effects, music, and graphics. Reminds me of My Life as a Farmer, which I have recently enjoyed. Like the added element of crossbreeding new species of flowers. Story isn't intrusive. Goals and instructions are clear and grow naturally as levels add challenges that make sense.
January 15, 2012
Perfect game for beginners - no timer on levels
If you are a beginner or just not that fast this is the perfect TM game for you. It?s not one of those games that kick you out of a level because you don?t make a certain time as there is no timed levels. The time aspect comes with feeding, watering plants as well as the few customer requests that come in but I sometimes ignored the requests and didn?t get penalised if I did that or didn?t manage to complete a order, and if a plant dies just replant a new one! The level ends when you reach the goals in a level; money and a certain number of plants some which you have to make by crossbreeding in each level. Also when you reach certain monetary goals new things open up for you to buy or upgrade. This isn?t just about flowers although that part is fun as well as crossbreeding them, but you grow grapes, apricot tree, blackberry bushes which you can make juice, cakes and jams from, as well as having honey and making gingerbread. There is also a perfume maker, a flower wrapping machine for your flowers. There is a story book mode which has 7 levels (different gardens) and I love that after you have completed your level goal you can go back in to each garden and it becomes a sandbox mode but your money doesn?t carry over into other levels. The story is simple but nice and gives it a good link between gardens/levels. Just when I thought the game was over I discovered ?the free gardening? mode. This isn?t just a sandbox mode as there are goals and awards through the 7 different levels in this area, as well as the storybook levels. The only difference between the two areas is that all upgrades and tools are available to you if you earn enough money to buy them. There are awards throughout the game and to get them all you have to play the ?free gardening? mode. The one thing I missed or couldn?t figure out if I can do it was to move an item or cancel a patch of soil if I put it in the wrong place. I loved the graphics, the added dimension of the food as well as the flowers, and no timed levels so I can actually finish a TM game! So for those of you that are new, or just want a very relaxing laid back game this is for you. I gave it 3/5 for hardness as if I can finish it anybody can, and with a good tutorial you aren?t lost as to what to do.
November 10, 2012
Sit back and watch the garden grow!
I enjoy this garden because I have a better chance at getting these plants to grow than in my own garden. Very relaxing getaway from the kids and craziness of life, even the orders aren't too bad if you time them correctly you won't get stressed.
November 11, 2011
please made Fiona finch and the finest flower 2 vision
please make Fiona finch and the finest flowers 2........please it was an amazing game... please make another vision ,,pleaseeeeeeeeeeeeeeeeeeeeee
August 15, 2012
Wow
This is the best game ever. Love the fact that you could combine two flowers to make another one. LOVE IT. Please make Fiona Finch and the Finest Flowers 2
December 22, 2011
You'll want to grow your very own garden in your own backyard!
LOVE LOVE LOVE this game. I keep hoping for a sequel to it because I still continue to play this one. I've played it over and over and over again and never get tiredof it. It's fun and very relaxing and soothing. I play it before I go to sleep and it helps me wind down. I recommend this game and I hope there'll be a SEQUEL!
September 10, 2012
Fun Fun Fun!!
I love this game. I've been playing it for hours. Basically you grow flowers and sell them. You also grow fruit to make into cakes, juices, jams and raisins. You receive orders that you can optionally fill. This is just a fun, relaxing game. Try it!
June 28, 2012
Best Game Ever!
This is a fun "farming" game. You plant and grow flowers as well as make jams, honey, raisins, etc. There is no time limit for each level, so there is no pressure to hurry. You can do it and have fun instead. There is no price to plant or for seeds, so you can plant as much as you have room for. I bought this game about a month ago and I've played it through at least 7 times. It is close to being the perfect game. The only drawback is the created good are not worth enough to do them except when an order comes in.
January 23, 2013
The Apple logo is a trademark of Apple Computer, Inc.