Nick Chase and the Deadly Diamond
Nick Chase is back in an all-new adventure and is ready for action!! After a mysterious package arrives at his favorite bar, Nick has a new case! Discover who delivered the ancient artifact, and what exactly the curse of the Deadly Diamond is, as you explore gorgeous Hidden Object scenes and crack the case. Solve perplexing puzzles to track down valuable clues in Nice Chase and the Deadly Diamond!
Incredible characters
Immersive atmosphere
Game System Requirements:
OS:

Windows XP/Vista/7/8

CPU:

800 Mhz

RAM:

512 MB

DirectX:

7.0

Hard Drive:

156 MB
Game Manager System Requirements:
Browser:

Internet Explorer 7 or later
Mild Language
Mild Violence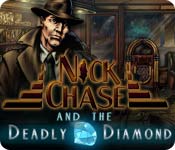 NEW299
The Big Fish Guarantee:
Quality tested and virus free.
No ads, no adware, no spyware.

Reviews at a Glance

Nick Chase and the Deadly Diamond
0
out of
5 (
0
Reviews
Review
)
Customer Reviews
Nick Chase and the Deadly Diamond
12
12
As good as it gets!
Both Nick Chase episodes have been top notch games. They are old classic private eye stories (think Humphrey Bogart film noir) with wonderful graphic novel style illustrations. The music is appropriate to the scene, yet unobtrusive. There is a nice balance between adventure elements (I'm an old adventure gamer), puzzles, and hidden object scenes. There is a definite story line, not just a series of puzzles or HOS. No spoken dialog, but the text is easy to read and well-written #no poor translations or typos that I noticed). As with the first episode, this one is a story unto itself--that is, you don't need to play them in order to know what's going on, and there is a nice, tidy ending with no cliffhangers. I can't wait for the next one!
December 19, 2011
As Good as the Original
I actually played this game before the original Nick Chase (very early in my gaming life). I played this on an iPad and will buy it again if it ever comes out in Mac format. This game is special and not just cuz it got me hooked on adventure/puzzle/HOG games, but because it's like watching a old film noir movie. Exceptional story line the pushed forward with excellent puzzles and HOGs. I just wish it were longer. You'll love the story, the acting (the guy who does the voice over for Nick Chase should win awards), the feeling created by the artists. I can't praise this enough and I urge you to enjoy it as well. This is money wisely spend,
July 28, 2012
Very enjoyable!
I love how they made it like a comic book for the cut scenes Sometimes it was hard to find some of the objects in darker scenes. I really liked the level of challenge. The puzzles were very fun and weren't too easy. I love playing as Nick Chase as he fights to outwit his unknown enemy. Overall a good game. I recommend it.
August 26, 2013
Review of a finished game...
The style of this game is incredible. Every thing about it will want you to play. This game is a comic book style. Move your cursor slowly and when you come across something you need, the magnifying glass twirls. You have to use your brain for this one. game on gamers...
June 20, 2014
Great game
Loved the comic book feel. The HO scenes were pretty easy, but I again liked the graphic novel look. Some of the puzzles were tricky just because you had to really scour the scene carefully to find all the parts/places to interact with. Some of the puzzles were a little different than the usual, but most were much like other games but with a twist graphically. The story was good and made sense. Very enjoyable game.
December 28, 2011
PLESANTLY SURPRISED!!!!!
My review is based on the trial, only because I was afraid that there wasnt enough game left to validate a purchase. Im on bed rest and have spent enough $ on BFG but will definately be looking for this one in the Daily Deals. It was a fun comic gumshoe adventure game with just the right amount of HOS and puzzles. Nothing to challenging or original but fun just the same. I didnt think I would enjoy it with the comic graphics but that added to the fun laid back feel. Its definitely worth a look at.
July 5, 2012
Full screen hate that.
I would have enjoyed more. It says full screen but it is totally not. Some good games are spoiled with. You say full screen that give it to us.
October 22, 2014
A Good Short Story
An enjoyable game, but kinda short. Certainly worth buying on discount ... but I'm not sure it's worth full price, simply because it's over too soon. I liked the graphics and the puzzles were not overly hard.
October 7, 2014
It Was Ok.
Storyline: Nick Chase is in his favorite bar, an obviously run-down bar - just sayin'. The bartender gives him a package someone left for our Mr. Chase. He opens the package with an artifact in it and thus goes the hunt to find out what the curse of the Deadly Diamond, Graphics: Very old-school. Could be hand-painted. Could add more color than to have everything sepia-toned. Sound: Sound effects were ok. Especially when the hint/gun goes off. I was shot before so that kind of unnerved me and, therefore, I tried very hard NOT to use it. There were no voiceovers - you have to read everything. There is a hint button in the form of an old revolver's ammo case - which will hold 6 bullets (or hints). You have to find these bullets/hints wherever you go. Sometimes even in an HOG, but not always. There is a random click penalty. Having said that, I detest, absolutely dislike, ANY game that has a limited number of hints and makes you find more or get more in some other fashion (i.e., shoot the burglar or shoot the ghost or find the bullets). I believe it takes away from the game play and what happens when you're stuck and no bullets/hints are available? Tough luck, sonny. You have a diary of sorts. Really, a notepad that you click on to find out your current objective. On the main menu bar there is a wallet - click on it and you will see that there are extras. Surprising for an SE. They comprise: 1. A strategy guide - although I didn't see it in game play, nor did I find any way to access it during game play. I did not need it. 2. Nick Chase, A Detective Story. Self-explanatory. 3. Game credits. This was an interesting game that had LOTS and LOTS to do in every scene. There were no sparkles indicating HOGs. HOGs: Yes, there were several types - from find "x" number of such and such an item (such as fuses), to silhouettes of items to a written list of items. I found these especially difficult because either items were lost in a miasma of other items or the color was monochromatic. Mini Games: Yes, quite a few and not only fresh and innovative but also quite fun and not difficult at all. Clearly, this Glam-ma enjoyed to a degree the free demo; however, as mentioned above, I dislike having a limited number of hints - irks me. Between that issue and the loud BANG when the gun/hint goes off, I will not be purchasing this game. But, please do try the free trial - it may just be a mystery you can sink your teeth into. If this review was helpful, please click on the "yes" button below. If not, walk away - kidding! There is also a "no" button. Just remember - I am a kind, sweet, grandma who loves to bake cookies with her grandchildren - do you REALLY want to click "no"? LOL. Happy Gaming!
May 18, 2014
Enjoyable game but missed the voice of Nick
After playing the first in this series, I looked forward to hearing Nick's voice again, but alas, that didn't happen. No voices at all but the game was longer and had more HOS then the first episode. There was some good puzzles also and the usual comic book drawing scenes were excellent. Hired to help protect a large diamond, the game has several twists and introduced several characters to help Nick.
April 30, 2014