Mystery Case Files: Huntsville ™
Do you have a keen eye for detail? See if you can locate enough hidden clues to solve the crimes and become a Master Detective. Mystery Case Files: Huntsville™ provides players with a collection of intriguing mysteries and brain-teasers to solve. There are picture puzzles to ponder, strange crime scenes to explore, and much, much, more! With thousands of hidden clues it's a new game each time you play Huntsville™!
Game System Requirements:
OS:

Windows ME/Windows 2000/Windows XP/Windows Vista/Windows 7/Windows 8

CPU:

600 Mhz

RAM:

128 MB

DirectX:

6.0

Hard Drive:

42 MB
Game Manager System Requirements:
Browser:

Internet Explorer 7 or later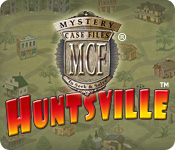 NEW299
The Big Fish Guarantee:
Quality tested and virus free.
No ads, no adware, no spyware.

Reviews at a Glance

Mystery Case Files: Huntsville ™
0
out of
5 (
0
Reviews
Review
)
Customer Reviews
Mystery Case Files: Huntsville ?
55
55
A very challenging, pure HO game
This review is based on a playthrough through case #6 (a little less than half). I normally wait until I complete a game to do a review, but I'm not sure I'll ever finish one, and I've gotten a lot more info now than just doing a demo, so here goes: THE GOOD: The HOS takes up the screen - no worrying about clicking near the bottom and leaving the scene, or opening up inventory, or any ot that. The scenes are clear, and fairly well lit. Graphics aren't sharp by today's standards (which is what I have to compare it too, since you'd be spending today's money if you buy it), but I've seen worse. You can make out the items 90% of the time once you find. There are some though that even after selecting the 'Hint' I still can't see. There is no real story, just some humorous "case info" to set up the scene, and a 'what the criminal was really doing' after. You get a new title at each level. THE BAD: No relaxed mode. Ravenhearst is timed, but at least gives you a mode with a lot more time for each scene. The time control here is _tight_. Every time you 'retry' the case, you do the same scenes but with different objects in the list. You slowly expand the scenes you'll visit but you'll keep coming back to ones you've done many times. Eventually you learn where everything is - if you play long enough or have a great memory. With whatever time you have left you have to put together a 'swap the tiles' picture of the crime scene with the 'culprit' included, so a few things may be moved around. If you don't finish the picture in time, you start the level all over again from the beginning, with different objects to find in the same scenes. THE UGLY: The scenes aren't terrible junkpiles, but the graphics just don't cut it by today's standards. It stretches to fill widescreen, which distorts the image, and just a general 'fuzziness' about it. It doesn't have the "focus" issues Ravenhearst has though. BOTTOM LINE: There aren't a lot of 'pure' HO games coming out these days, but you can do a lot better than this one. I picked it up on a half-off MCF sale, so I got the only two in the series I didn't have so I can get a MCF trinket to put in my game trinket drawer.
March 20, 2014
"Oh What A Relief It Is"
I decided to buy all the MCF games last month during a sale. This game was unusual. I was not expecting hidden-object city here. There were 4-5 cases in the beginning and they gave me some trouble. After figuring out the mess, I breezed through rest. The final boss took me four times. The game was boring and did not live up to expectations. The time limits were the biggest issues. That "threw me off" in the beginning, but the rest was not bad. If your a hidden-object fanatic, this will be your "cup of tea". If not, I would suggest something else.
August 21, 2013
A little disappointing
This was the very first game I bought from Big Fish a few years ago, and I just recently rediscovered it. Its not bad for a HOG, but I think because I've played such better games since then, this one is hard to recommend these days. It is fun, but again, compared to what's out there now, it doesn't hold up well. The graphics are just terrible Full Screen. Windowed, it looks far better, but you sacrifice the playing field. Its a HOG so you know you what you are getting. I'd say save your dough for the better games out there.
July 8, 2013
Boooring!
I expected so much more from this game as it was a MCF game and boy was I disappointed! Some of the 'crimes' were ridiculous while others were stupid. Same HO scenes over and over and over--the locations on the map (maybe 20 overall) were different with each case, but repeated over and over. Some objects on list were different, but the scenes themselves were not--so repetitive it quickly became boring. On the plus side, the crimes were quickly solved and some were humorous/clever. No real challenges, just funny or witty names of criminals vs crimes. In each case, the last location/scene of HO would include a puzzle to put together that showed the culprit. Based on this 'solving' of the case, you were rewarded with an upgrade in your crime solving status. Like I said--NO CHALLENGE, no real mystery or crime, no whodunit, just HO. Maybe your cup of tea, but was not mine! I do not want to be frustrated, but also don't want to be nodding off at my keyboard or memorizing the HO scenes!
January 28, 2012
Where It All Began
BASED ON COMPLETED GAME FIRST IMPRESSIONS The first of the most talked about HOPA series on Big Fish, Huntsville was released in 2005. So do not think this is a game which would compare with anything available today. It was wonderful for its time. And is a must have for collectors, but really is too old now for anyone else. I think there?s one lesson to be learned for developers today, though. Laugh!! Perhaps one of the reasons the early Mystery Case Files were such a hit was that they were funny. SIGHTS & SOUNDS I guess there are worse games, visually speaking, out there even today, but this game is just too difficult to see. The graphics are both blurry and grainy, and many items are tiny or partially hidden. The HOP scenes are very cluttered. The music is decidedly repetitious, and I hate it, but it has become the ?signature? tune for the MCF series ? at least, most of them. WHAT?S HAPPENING? You are the new detective, and you have 14 cases to solve, from theft to counterfeiting to malicious damage. Each case stands free of the others, and must be attempted in order. GAMEPLAY In order to investigate your cases, you must search for clues in various locations indicated on the map. You choose the order. There you will find a dozen or so objects listed in the panel on the right. You get 3 hints, and have a limited time to find all the items. At the end of each level, you have a ?swap tiles? puzzle to complete the picture and see who the guilty party is. You then move on to the next case, after receiving your new detective ranking. The levels/cases get harder each time, with more hidden objects, more locations, and less time. COMBINED IMPACT I can?t like the game. It is just too old both in style and in quality of production. For those who remember the days when this was first released, I think it would be a great trip down memory lane, but otherwise...
January 21, 2014
Mystery Case Files: Huntsville
I did not like playing Huntsville. There were not enought hints, if you needed them. The crime picture at the end after the first two crimes scenes are finished did not match the picture that was there. It had a women in it and the picture that you follow did not.
March 11, 2012
Two things to do and that's IT
Boring game. You find hidden objects in the same scenes over and over again - sometimes the SAME things 3 or 4 times in a row. Whoopee. Then for a break, you get to put together one kind of puzzle: a swap-position mixed-up scene. I don't think I can stand it another minute.
July 23, 2012
Not enough time to be enjoyable
I tried 3 times to finish the very first round of the Huntsville game and failed. I guess I just don't have the skill level for this game. To me, it's not enjoyable when I have to rush so fast. I've played all the other Mystery Case Files games and liked them very much. This one didn't work for me. If you love to hurry, hurry, hurry - - then this game might be for you. Be aware though that lots of the items are "very" well hidden and they take lots of time to find. This game is very similar to the Prime Suspects game, which itself kind of hurries you along. But I did manage to finish that one. Oh well - - you can't win them all. :-(
July 27, 2013
Just a boring game
First I can say that the graphics and sound was ok. In Huntsville there was nothing interesting it was simply a hidden object scene and a crime computer at the end of each cases. There were no puzzles and it was not at all challenging. It was very simple.
May 12, 2013
Worst MCF of them all
I cannot stand timed HO games. Timed HO games takes the fun out of them. You don't get a lot of time during each scene Some HO's are really hard to find If you click too many times, you lose the very little time you already have You only get three hints What would have been good is time bonuses-for each scene you manage to complete, you get a time bonus. I haven't even finished this game because I keep running out of time. If you like a challenge and timed games, then this could be for you. But I really wouldn't recommend this game. Its awful.
November 21, 2012
The Apple logo is a trademark of Apple Computer, Inc.