Green Moon
Prepare to go on a fantastic journey which will take you from damp prehistoric forests, to the sultry deserts of ancient Egypt, to dirty Wild West saloons, and luxurious medieval castles! Green Moon is a Hidden Object game like no other, combining science with magic and reality with mysticism. Travel to a unique world full of mystery and exciting opportunities as you learn ancient and timeless secrets!
Gorgeous graphics
Multiple minigames
The Green Moon is calling!
Game System Requirements:
OS:

10.4

CPU:

800 Mhz

RAM:

256 MB

Hard Drive:

173 MB
Game Manager System Requirements:
Browser:

Safari 4.0 or later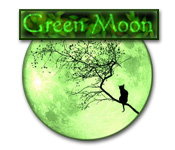 NEW299
The Big Fish Guarantee:
Quality tested and virus free.
No ads, no adware, no spyware.

Reviews at a Glance

Green Moon
0
out of
5 (
0
Reviews
Review
)
Customer Reviews
A good adventure game with nice puzzles
This is a really enjoyable game. It is a lot of pick-ups and interactions type game. This is made more of a challenge as you have a limited amount of slots which you can carry items. You make up magic concotions which you can use to travel to lots of different places and time. The latter is a good addition as you can only do things in a certain time period so it makes the game slightly more difficult. There are a lot of different environments to explore and really fun minigames (and are not hard) It's not one of those tear your hair out hard adventure games. It's just a perfect balance. In fact I think this is a good adventure game for someone who wants more of a challenge than IHOGs but who is used to inventory items type games. The only time I was a bit lost, was wondering what to do next as there was so many places to explore near the end but I like that! For a good length game (it took me a long time to finish it) fun mini puzzles, amazing choice of different environments I don't think you will be disappointed.
November 23, 2011
Still a Stunner After Two Years!
I originally bought this in January, 2010. I played it, was impressed, but like all gamers, I moved on. I recently re-played this game, and was stunned by how beautiful this game was compared to the plethora I've played in the last couple of years. Even though I vaguely remembered where to go to look for things, the game was still interesting, challenging and fun to play. As another reviewer said - there is no handholding. I STILL was stumped in numerous places with this game - And I've played it before! I'll put this down as one of the more challenging adventure-type games I own, as well as one of the best length of play time for the buck!
January 16, 2012
A Hard-core Adventure!
I bought this game when it first came out and seeing today on sale has made me want to replay it. If I were to describe the game in one word: CHALLENGING ! Word of warning: If you are looking for the usual storyline, crowded HOG scenes, Map, journal, standard puzzles and mini-games, sparkles that show you where to go and a hint system that is helpful, this is NOT your game. This game offers you absolutely no hand-holding and you will need of a walk-through. Thanks to Margie B who is absolutely a life-saver; there is a fantastic WT, and trust me folks, no matter how advanced of a player you are, you will use it. I loved the story which may seem a bit out there; I loved the graphics and funny enough, I relly did enjoy the Music. This game was one of the most challenging games I had played back when I was a novice to the adventures genre. I think I will try again and see how much I have improved. I recommed this game for hard-core players and absolutly recommend that you at leat try the demo.
April 19, 2012
Unique and beautiful
One of my all-time favorite games, for it's unique style. Absolutely enchanting and beautiful music (one of the very few games where I keep the music turned on during play and wish I had the soundtrack). Odd characters! Very difficult and confusing game at first--NO HANDHOLDING and you WILL be confused, lol. Normally I never use SGs or walkthroughs but here I had to check the forum/walkthrough a few times. But I loved the challenge!!! Strange and bizarre story that all makes sense at the end, which was very touching and sweet. An immersive experience for the senses and the mind, I loved it and have played more than once.
December 14, 2011
Pleasant but shallow adventure
This was one of those games that seemed promising at first only to gradually become less and less interesting the more I played. The game has an interesting premise. You, as one of the "children of the moon", mix potions to gain magical powers, which you can use to perform various tasks with the ultimate goal of making the moon "green". Unfortunately the story sufferes from a severe lack of detail. You find a book early on in the game which has a single page of information about the "children of the moon", and that is all you will learn about that topic throughout the entire game. The book also contains short descriptions of tasks you must do, without giving any more detail about why you are doing these tasks. As you gain control of magic to travel through space and time various new locations become available, also without any motivation about why you would want to travel to those locations in particular (although sometimes you can guess the reason). The one page of information on the "children on the moon" in the book you find at the start of the game and what I told you, and what you can guess from the title, about the task being to make the moon "green" is all there is to the story unfortunately. The actual gameplay mainly consists of looking for the various objects that are needed to make the magical potions. This is fun at first.but quickly becomes repetitive. It is also not very challenging since many of the objects you need to find are simply lying around in plain sight. Sometimes you need to play a mini game or perform a task (the task generally involve finding another object) to get an object from a character. I found the mini games to be quite easy. Some of the objects you need to find need to be created by doing something to an existing object, and some objects are given a description such that it requires some puzzling to figure out which object fits the description. These kind of challenges made the gameplay a bit more interesting, but they were underused and too easy for my taste. The graphics and music were fairly good and gave the game a pleasant atmosphere. The main negative aspect of the graphics is the almost total lack of character animation. Characters mostly stand or sit absolutely still, as if they were frozen in a certain pose, which in some cases looks quite unnatural. The game involves travelling to a wide variety of different locations and different time periods. Unfortunately, the only thing you can do at many of these locations is pick up one or a few objects. Characters that you meet either don't talk to you at all, simply tell where to find someone else or give you some task to do in order to obtain an object. The characters completely lack any personality or background that you can learn. Therefore, travelling to different locations across a number of different time periods is not nearly as exciting as it sounds. In conclusion, while the pleasant atmosphere, the attractiveness of the environmental premise and the inital appeal of the task of mixing magic potions made the game enjoyable enough to not be outright bad the lack of any depth in terms of story and/or character development and the repetetiveness of the object hunting prevented the game from being good enough that I would recommend it to anyone.
February 27, 2012
Great game, very challenging
I spend probably five times more time to go through this game than any other I played for the last 10 years. It reminds me of good old times and adventure games. If you are lookin for an easy ride - this is not for you. If you like challenging stuff - by all meand get it. It's rewarding.
February 6, 2012
LOVED THIS GAME!
This game was quite an adventure and I enjoyed every minute! It includes time travel, gathering items, creating potions, puzzles, arcade action, and gorgeous scenery! I would very much like to play a sequel if there is one to be made! Thank you Big Fish for the 2 for 1 sale, as I bought this one during the sale. Thank you Margie B for the excellent walkthrough, as I peeked for much needed assistance with the ships and glasses, and thanks to the forum for providing excellent tips!
April 2, 2012
Only if you like Adventure Games, no HOS here
Pure Adventure, no HO, no sparkles and no hint button?you?re on your own. Music is very Zen like. You teleport to other times in history, to the future and to the moon. In order to achieve this you must learn to mix ingredients, much the same as a laboratory/science class. There is no witchcraft or skeletons, graveyards etc. You start off in your house with approximately 7 rooms and a backyard. Your house is your ?base? and you will be in and out often. Your inventory allows for holding 14 items. There are many items available to pick-up and use. There is no voice overs and limited interaction with other characters. There are mini games, such as cooking recipes for a king (get it wrong and you lose your head). There are 12 tasks to complete to reach the end of the game. Your journal tells you what the task is and what items you need to accomplish it. On occasion it will tell you where you need to go, but most of the time not. It is a long playing game, several days at 4-5 hours per day. There is a walkthrough available. I recommend you copy/paste so you can leave it open in the background for reference. There is a learning curve to these games, but once you get the hang of it you can pretty much roll on. On occasion I did need to refer to the WT, I noticed I did not do things in the order they had written, it did to seem to matter, but my logic and the Dev.?s differed on occasion hence, the walkthrough was beneficial. The ending will make you wonder and consider the possibilities?why green moon? It is an enjoyable game and a nice change from the HO but?.I feel a need for something a little easier after this as it does exercise your gray matter!
June 19, 2012
Frustratingly good.
This is definatly the kind of game that is beautifully done and you need to be kinda brilliant to solve. What was so frustrating is you don't know what you have to do next about 98 percent of the time. I had to keep going back to the walk though to figure it out. If you want a serious challange this is the game for you. Good luck!
February 19, 2012
Sorry, have to pass on this one!
Well, I played the trial version for 30 minutes and that was enough for me. No help/hints, no reason for what you were doing or why. I found this game very frustrating and confusing. I'm certainly no expert, but the graphics looked plain and uninteresting. The game may have gotten better, but I could not figure out how to do 3 rooms let alone travel to the moon! With no help, I was lost. I just finished "Song of the Phoenix" and it was wonderful as was all of the other games I've purchased, including several $2.99 and I have games and enjoyed them very much. This time I felt I should have been paid the $2.99 for the time I spent on this game! I have many games, and I greatly enjoy all of them, but this one I will pass on (quickly). Certainly don't purchase without playing the trial version. Thanks for letting me express my feelings. Maybe I just had a bad day! ha.
April 19, 2012
The Apple logo is a trademark of Apple Computer, Inc.
The Windows logo is a trademark of Microsoft, Inc.