Green Moon
Prepare to go on a fantastic journey which will take you from damp prehistoric forests, to the sultry deserts of ancient Egypt, to dirty Wild West saloons, and luxurious medieval castles! Green Moon is a Hidden Object game like no other, combining science with magic and reality with mysticism. Travel to a unique world full of mystery and exciting opportunities as you learn ancient and timeless secrets!
Gorgeous graphics
Multiple minigames
The Green Moon is calling!
Game System Requirements:
OS:

10.4

CPU:

800 Mhz

RAM:

256 MB

Hard Drive:

173 MB
Game Manager System Requirements:
Browser:

Safari 4.0 or later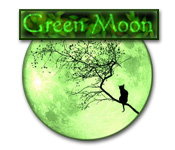 NEW299
The Big Fish Guarantee:
Quality tested and virus free.
No ads, no adware, no spyware.

Reviews at a Glance

Green Moon
0
out of
5 (
0
Reviews
Review
)
Customer Reviews
Among the best games I played in the last months
Green Moon was very fun to play. With an interesting storyline, the game enriches the usual paradigm travel-collect-solve with some good ideas like - magic abilities that you acquire through an alchemistic ritual - travels in space and in time - pleasant and well-balanced puzzles, neither too difficult nor too trivial Graphics was nothing special, but the background music was nice and always adequate to the surrounding environment. The only thing I didn't appreciate was the sensible acceleration that the game took near the end, as if the programmers were in a hurry, or budget was all spent. Apart from this, if you want to see something new, give Green Moon a chance
April 29, 2012
A long and complex game
After finishing City of Fools, I just HAD to come back to Green Moon. And yes, it IS a great adventure game, but oh so complex, due to the fact that the dev's really did nothing to make life easier for the player... no map, no notebook, no hint button, no nothing to tell you in which direction to look, what to use and how to use it. Moreover, there are tons of objects to be found, but you can only carry 14 of them around, so you are left with no choice but to drop some in order to pick others up, without even knowing where and when you are going to need them. After playing the game twice, I still feel that you cannot do without de BF walkthrough, unless you want to spend weeks searching around and trying everything out - which is exactly what playing Myst was all about. Nevertheless, Green Moon is a great game which any lover of adventure games should try his hand at. My advice: keep a record, save your game now and then - on thop of the autosaves - don't loose heart... and in the end, you will be rewarded with a message that all of us should take at heart: why want to turn the moon into the beautiful planet that we all share, instead of taking care of our own homestead?
August 12, 2012
Liked Time Travel but got tired of Travelling
I enjoyed the game but not a 5 level. The actions were fun and I enjoyed travelling to different times and places initially. But after awhile I got tired of having to have a specific inventory item and leaving one location, grabbing the item from another and returning. You have limited inventory slots so you can't just pack up your "steamer trunk" and pull out what you need where you need it. But all in all it was worth playing....frankly I've paid ten times as much for PC games that were not as well crafted or as graphically pleasing. Worth the money!
July 28, 2012
Pleasant but shallow adventure
This was one of those games that seemed promising at first only to gradually become less and less interesting the more I played. The game has an interesting premise. You, as one of the "children of the moon", mix potions to gain magical powers, which you can use to perform various tasks with the ultimate goal of making the moon "green". Unfortunately the story sufferes from a severe lack of detail. You find a book early on in the game which has a single page of information about the "children of the moon", and that is all you will learn about that topic throughout the entire game. The book also contains short descriptions of tasks you must do, without giving any more detail about why you are doing these tasks. As you gain control of magic to travel through space and time various new locations become available, also without any motivation about why you would want to travel to those locations in particular (although sometimes you can guess the reason). The one page of information on the "children on the moon" in the book you find at the start of the game and what I told you, and what you can guess from the title, about the task being to make the moon "green" is all there is to the story unfortunately. The actual gameplay mainly consists of looking for the various objects that are needed to make the magical potions. This is fun at first.but quickly becomes repetitive. It is also not very challenging since many of the objects you need to find are simply lying around in plain sight. Sometimes you need to play a mini game or perform a task (the task generally involve finding another object) to get an object from a character. I found the mini games to be quite easy. Some of the objects you need to find need to be created by doing something to an existing object, and some objects are given a description such that it requires some puzzling to figure out which object fits the description. These kind of challenges made the gameplay a bit more interesting, but they were underused and too easy for my taste. The graphics and music were fairly good and gave the game a pleasant atmosphere. The main negative aspect of the graphics is the almost total lack of character animation. Characters mostly stand or sit absolutely still, as if they were frozen in a certain pose, which in some cases looks quite unnatural. The game involves travelling to a wide variety of different locations and different time periods. Unfortunately, the only thing you can do at many of these locations is pick up one or a few objects. Characters that you meet either don't talk to you at all, simply tell where to find someone else or give you some task to do in order to obtain an object. The characters completely lack any personality or background that you can learn. Therefore, travelling to different locations across a number of different time periods is not nearly as exciting as it sounds. In conclusion, while the pleasant atmosphere, the attractiveness of the environmental premise and the inital appeal of the task of mixing magic potions made the game enjoyable enough to not be outright bad the lack of any depth in terms of story and/or character development and the repetetiveness of the object hunting prevented the game from being good enough that I would recommend it to anyone.
February 27, 2012
It was good until .....
Shooting 30 ships! Please, that is a bit of overkill. I love the puzzles and making the formulas but an ARCADE game? I unfortunately cannot make it beyond this point. What a shame. So if you do not like Arcade shoot 'em up style games then bypass this one. Someone probably mentioned the arcade part but I didn't read all the comments and was simply happy that this one was NOT a HOG. :(
January 3, 2013
Interesting Indeed
I enjoy roll playing games yet Green Moon is ok...it took away from the fun when I had to keep returning to the walkthough to get help. Right now I'm stuck on task 8. I have everything done except the last stone. I cant seem to pass the king's cooking standards. I cook all the dishes correctlly and still get my head cut off. Is there any way to skip this part?
June 14, 2013
Sorry, have to pass on this one!
Well, I played the trial version for 30 minutes and that was enough for me. No help/hints, no reason for what you were doing or why. I found this game very frustrating and confusing. I'm certainly no expert, but the graphics looked plain and uninteresting. The game may have gotten better, but I could not figure out how to do 3 rooms let alone travel to the moon! With no help, I was lost. I just finished "Song of the Phoenix" and it was wonderful as was all of the other games I've purchased, including several $2.99 and I have games and enjoyed them very much. This time I felt I should have been paid the $2.99 for the time I spent on this game! I have many games, and I greatly enjoy all of them, but this one I will pass on (quickly). Certainly don't purchase without playing the trial version. Thanks for letting me express my feelings. Maybe I just had a bad day! ha.
April 19, 2012
NOT AN HO GAME
By no stretch of the imagination can this be called a HO game. Not sure exactly what you would call it; maybe an adventure game. Regardless of what it was supposed to be, the sinking of the Greek ships sunk the game for me. After trying for several hours, I left it for the next day, gave it one more try, then uninstalled it. There is no way to skip this mini-game and it is not worth all the time needed to finally get it right, if you ever do. The game was sort of interesting, kind of different at the beginning, but I sure wasted a lot of time on it that I could have used having more fun with a different game.
August 5, 2012
Not for me
Not for me. Not much in the way of explanation of what you are supposed to do, so you are left on your own. You go around picking up things and have to figure out what you are supposed to do with them without knowing why. Not enjoyable.
April 19, 2012
Green Moon
Found this game very boring, it almost put me to sleep right from the start. Walk through was hard to follow. I wound NOT recommend this game :(
April 19, 2012
The Apple logo is a trademark of Apple Computer, Inc.
The Windows logo is a trademark of Microsoft, Inc.