Nightfall Mysteries: Curse of the Opera
Take on the role of a lowly stagehand in an opera company tasked with solving a deadly mystery! The Opera troupe is invited by the reclusive Count Vladd Vansig III to his small hamlet to perform a special Opera for him. Strangely, there are no villagers to speak of except for the Count and his caretaker. Over the course of the night, people go missing and are killed! Use your Hidden Object skills to find out the identity of the killer and escape the village alive in Nightfall Mysteries Curse of the Opera!
Spooky atmosphere
Dangerous mystery
Solve the case!
Game System Requirements:
OS:

10.4

CPU:

800 Mhz

RAM:

256 MB

Hard Drive:

200 MB
Game Manager System Requirements:
Browser:

Safari 4.0 or later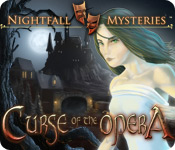 NEW299
The Big Fish Guarantee:
Quality tested and virus free.
No ads, no adware, no spyware.

Reviews at a Glance

Nightfall Mysteries: Curse of the Opera
0
out of
5 (
0
Reviews
Review
)
Customer Reviews
Nightfall Mysteries: Curse of the Opera
69
69
My least favorite of the whole trilogy
The only reason why I went ahead and paid for the full game is because I wanted to own the whole series. Not my best idea. I won't go into too many details about the poor graphics and the weird ending, since so many other reviews have. I will say that the music was OK, though.
May 20, 2013
Who will leave the game alive?
Ok, I read some of the reviews, and I have not played the game through fully, I like to take my time with a game and savor it when I like it....so I cannot say whether I like the ending or not, but with seeing several so-so reviews, I am afraid many folks will pass up an enjoyable game at a great sale price. I played the demo of this game when I was a newbie, and I got stuck and very frustrated early on, but I played the first sequel and very much liked it although the game style is quite different than the first one. I am sorry to say the Third sequel didn't catch me, but I will be looking for it on sale, because Elephant makes a very respectable and better than average game. When I came back to the demo this time around, as a far more experienced player, I found it challenging, but very doable. This version has great voiceovers and animation.and The characters are richly drawn and acted. Some of the HiOS had items very smalls ome were too light and very hard to find, but not impossible and the hint button recharges quickly. The "penalty" for over clicking isn't bad and only seems to occur if you click on the same object too often, but there is no screaming banshee. Sometimes there are a lot of comments to enjoy if you explore the scenes before and after dialogue and games, which I personally love. It took me a little bit to find out how to find these without random clicking, but it was worth it. there is a map, and though it doesn't take you to any destinations by clicking on it, you can see where you are and what areas are closed. The artistry of the game is not really crisp and clear, which is what I prefer, but it has a pleasant painterly quality and it is not impossible to see and find what you are looking for. There are mini games but not enough in my opinion, and not enough variety in the HOGs which are somewhat of the junkyard variety, but are better than some of the garbled layer over layerr over layer hogs I have seen. I think it is mostly the story line that will keep a gamer happy, but this is not so bad to pass it up on a good deal.
March 7, 2012
oh those HOG's...
i liked the game..except for those tiny HOG's that had nothing to do with the theme of the scene. (a fried egg on a dresser mirror is worse than a sucker and a guitar in a cemetary lol)..stick to the theme so we dont get distracted from the point of the story, and pleeeeaaaseee no HOG's in EVERY scene! geeze give us chance to walk through a door or down a street w/o an HOG every two seconds...
February 4, 2012
It was... Okay... But not my thing.
I am not saying it was bad, or good, but I simply didn't enjoy it that much. Too many HOG scenes, barely any puzzles, and an extent of limited gameplay. The storyline was fair; I could understand the point, but I think that some things were a little off at times. I would suggest that this game is only thought of after playing the demo and enjoying, not to be bought without an idea of what you're going into. I think someone would like this game, just not me.
March 5, 2012
Okay as a Sequel, Better as a Stand Alone
I played the first Nightfall Mysteries Game about the Asylum and was excited to try out the sequel. Knowing the back story already, it wasn't difficult to figure out what was going on with the character histories. I will say that I wasn't a fan of the heroes, from the first one, this second time around. This was part of my rating for the game. I also wish they had kept the same look of the characters. I missed the eerie spookiness that was in the first one. The graphics were more cartoonish in the sequel and while some of the music sounded creepy, it mostly reminded me of the Haunted House ride at Disneyland. Even the found object sound in the HO scenes sounded like Tinkerbell. "Look, Tink has found a dagger!" The length was good but I will say several of the objects in the HO scenes are annoyingly well hidden that even after using a hint, you're still left thinking, "Really?! Really?!!" Also, the puzzles start easy but get more complicated with no help from hints ("I think I need to use the marbles"). Yeah, thanks, Sherlock. Then there's the downright "Where in the heck did you even get that number from" puzzle on the Count's Safe. Not a fun challenge; an aggravating one. Perhaps it was just over the top revenge taken too far that left me wishing the entire lot of characters had perished, but this just wasn't near as good as the first and left a Blech taste in my mouth. Get if you're curious about the continuing storyline to the series but use a credit or wait for a DD on this one. Overall Grade: C
March 12, 2012
Eyestrain is probable
I bought this game at the sale price, so I'm not too upset. It isn't the worst game I've played, but it is certainly far from the best. If you adore hidden object games, this is for you, although some of the items are unrecognizable. The "cow" silhouette is actually a sheep, and the "acrodian"...well, you can figure it out! And I absolutely hate puzzles that have you filling bottles of liquid at different levels. In all, the storyline wasn't too bad, but the Rube Goldberg ending was out of left field. Try the game; you might like it.
February 4, 2012
Not bad for a first game
This game was not bad for a first attempt. The storyline could have been better and the ending was lacking.
March 19, 2012
Not Great/Not Bad!
Strangest game I've ever played! Too many HOS for my liking, just one after the other for no real reason when in fact half the items could of been picked up from anywhere in the game rather that HOS on every corner! and not forgetting to mention the items were tiny and often too dark,so thankfully the hint button charges after 15 seconds. The story was ok but the ending, err what ending? a bit silly really, it's like it was rushed because it was so abrupt and didn't explain much really. Glad it's over tbh.
March 11, 2012
Think 'Madame Fate' with some adventure thrown in
This review is based on a complete playthrough of the game. I played Asylum first, which gave me a pretty good idea of what was going on. Without giving anything away, what I knew didn't "ruin" the story for me, but I was a bit put off as this is a very different type of game. It took me a while to 'adjust'. The difference is akin to Return to Ravenhearst vs the original Ravenhearst. This is a Hidden Object Game with a little bit of moving around and some puzzles thrown in. The puzzles are either unique creations (like the Madame Fate Rube Goldberg machines), or else ones we've seen before (Towers of Hanoi, the Water Jugs) with an added layer of difficulty added. This is a very challenging game if you stay away from the hint/skip button and work your brain finding and solving everything yourself. It took me about six and a half hours, and I skipped at least two or three puzzles and used the hint quite a bit in the HOS. You're getting a very long game here. On to the review: THE GOOD: Loads of different HOS. If you don't like the HO part of HOPA's, this isn't the game for you. Most of what you do is move from one scene to the next - when you find everything, rather than simply give you the object for your inventory, you have to find one more thing and use it in the scene to get your 'reward. You have a 'journal' that includes the map, your current 'task list' and normal journal notes stuff (including clues to the puzzles). It was over seventy pages long by the time I finished the game so there's plenty to read to help you understand or keep track of what's happening. The 'puzzles' come with no instructions, though you can use your hint button for some clues on what you're supposed to do. I found them very challenging. One that I skipped I'm probably going to work out on paper (I was just ready for the game to be done at that point) - it was a very good take on an old classic. There is a small degree of freedom in the order you do things. So you may do some HOS with a flashlight since there's no power, or you might have gone and solved all the power issues first. That said, it's a pretty linear game. THE BAD: Unfortunately, there's a lot in this category. No difficulty levels, and you've got full on sparkles everywhere, even telling you which fork in the road you should take. The game 'distorts' to fill a widescreen monitor. There is no hint button outside of HOS and puzzles. In HOS, you can't select a specific item like you could in Asylum. On the plus side it recharges very, very fast though. The HOS: If this is the heart of the game (and it is), then the scenes need to be good ones. These aren't. This is the old, junkpile, objects completely out of scale, some blending completely into the background HOS. My eyes aren't the best, but when I use a hint and examine the circled area and still can't tell if what I'm clicking on is a rat, a gear, or a lightning bolt, there's an issue. The characters are caricatures for the most part. The voice overs were ok, but the dialog was just silly at times. They really could have done a much better job here (they did in Asylum). The 'plot' as it were is pretty thin to say the least. Even knowing what I did from playing Asylum a lot of things just didn't make sense. With a bit of imagination and suspension of disbelief the two stories do work together, it's just that this story was very, very weak - the same thing happens over and over again for each 'chapter'. While the ending did tie things up, it still left an 'unfinished' feeling in my mind. THE UGLY: Items in your task list not disappearing when done, so you've got permanent 'hot spots' on your map. Misspelled words (acrodian) and a few just completely misnamed items, along with the ambiguous, "Which clock do they want?" thing. BOTTOM LINE: I've got to give a review based on 2014 standards, as this is when you'll be spending your money (or later). IMHO this game doesn't hold a candle to Asylum, the 'prequel' game released by the same company in the same year as far as I can tell. If you want a pure HO game, there are better ones out there (like Prime Suspects or Madame Fate). If you want adventure, there are MUCH better games out there. If you're thinking of getting this to 'finish' the story started in Asylum - I say don't bother. It plays out (pun intended) exactly the way you expect it would (albeit with a higher body count). The one thing it's really got going for it is its length. It's a long game by SE standards (and especially by 2014 standards). If you don't mind the random junkpile HOS, this might be a great game for you. I'm on the fence on recommending it, but there was enough to keep me playing till the end, so overall the good outweighs the bad. I'm going to give it a cautious, be sure you try before you buy, recommendation. Two and a half stars rounded to three for it's length.
July 27, 2014
IT'S OK
THIS GAME IS OK. IT WAS TOO EASY FOR ME. THERE ARE LOTS OF HO SCENES. IT WAS KIND OF DARK TO SEE ALL OF THE OBJECTS AND THE STORY LINE WAS JUST OK. I THINK THAT THIS GAME IS GOOD FOR BEGINNERS. IT COULD HAVE BEEN SO MUCH BETTER!
November 21, 2013
The Apple logo is a trademark of Apple Computer, Inc.
The Windows logo is a trademark of Microsoft, Inc.