Magic Match
Magic Match is an opulent puzzle game with an enchanting theme. Explore mystical realms in the Lands of the Arcane with Giggles your helper imp by your side. Earn magical bonus spells as you journey through different stories in this wonderfully engrossing experience! Beautiful cut-scenes present a captivating story, and lots of power-ups and special features will keep you enticed.
100+ levels.
6 magical realms.
3 difficulty levels.
Game System Requirements:
OS:

Windows XP/Vista/7/8

CPU:

600 Mhz

RAM:

128 MB

DirectX:

6.0

Hard Drive:

11 MB
Game Manager System Requirements:
Browser:

Internet Explorer 7 or later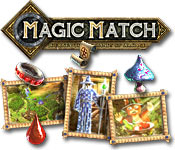 NEW299
The Big Fish Guarantee:
Quality tested and virus free.
No ads, no adware, no spyware.

Reviews at a Glance

Magic Match
0
out of
5 (
0
Reviews
Review
)
Customer Reviews
Good old match game
I bought this game ages & ages ago & just reloaded it thinking it was easy. kinda sorta. you need to match different elemtnt within a time frame, you have a reshuffle & swap you can earn at a cost of accumilated points, once there are no more moves or you cannot use those tools, you Duel the Guardian for additional points. Not always easy since the guardian (computer) can sense where the games it going. It's an easy relaxing game & fun, little grey matter invilved, and the "helper" has some cute saying if you click on him accidently. Bonus plays (think ghost from from another era) and trophies. I just watch out for Level 5 game 5, it's a tough one.
February 20, 2012
A Classic
This is one of the first games I ever played and it certainly does not get old. It dosen't matter how many "Magic Match" they come out with this is the Classic one :) ! I definitely recoment this game it delivers hours and hours of fun and challenge!
February 24, 2012
A Very Good Game!
I loved this game and I don't even like Match 3's! Good Parts: All modes of gameplay were brilliant but I particularly liked Duel Mode. It was very fun to battle against myself or a friend and magic points and amount of components to find could be adjusted to your liking. The fun factor was brilliant. I was obsessed with this game. Being able to cast spells to aid you in the game. Swap spell allowed you to switch the places f any 2 components while the reshuffle spell changed the board. Giggles was just adorable. I loved his squeaky voice! The option of a tutorial was included and the tutorials were very helpful. Good Graphics The rewards you got for completing a level. The bonus level was very fun and exciting OK Parts: Would've liked a bit of a storyline included with the game. Bad Parts: The songs were weird and annoying. Although a study was included, I did not see the point of it. I thought it was worthless and just took up space. As you can see, there's virtually nothing not to like about this game. I ran down the trial just like that and I guarentee you'll love it!!
July 8, 2012
addictive
the more you play the game the harder it gets. I quit a few times only to find I had to come back and play more. I love this game and cannot leave it alone.
January 16, 2013
I love this game!
Owning over 100 M3 games, I can declare that there are not many that I really love, but this is one of them! The color and graphics are wonderfully vivid and bright, the music is soothing-something I find very rare in any game-the gremlin can be a bit irritating; however, you do have the option to turn off HIS sound alone, then you?ll get speech bubbles you can read. The storyline is sung rather than spoken as you change locations, and the voice and intonation are funny. The game board is tipped at an angle, so it makes finding the matches even more challenging. The timer is generous and time is added for each locked square you unlock. If you hesitate too long you are given a subtle hint of matches still available. I do love that the icons change as you progress through the levels. I'm still working at the lowest level of difficulty, so I'm not yet getting the choices of spells, but look forward to it in the future as I improve. I've already purchased the next level of this game because this one is so much fun! Enjoy!
January 15, 2013
ADDICTIVE
This is the first pc game i ever played totaly addictive and recomend everyone shoud give it a go giggles is funny and anoying but game would not be the same without him loved whole aspects of the game
June 3, 2013
Singing, Rhymes, Giggles your tutor and, oh yeah, it's a match 3!
This game is totally AWESOME! Prepare for adjective overload! Where do I start? Let's see ... how about the opening scene is musical! HAH! Someone, with an incredible voice, sings you the story in rhymes. That got me hooked right off. Next, Giggles the tutor. You can turn him off but I LOVED him and he was so not annoying. But, he was helpful when new "components" showed up because he explained them to you ... in script. AND, you get to play your bonus level with him .. getting through a PAC-MAN type game board collecting diamonds. But, don't let him get caught by a ghost. I did, once, and I apologized to him, out load. It's THAT CUTE! Then, almost every other level I was being promoted - with accompanying horns!! Who knew that could make me feel so darn PROUD! I wanted to continue just to find out exactly what I would be at the end of 100 levels of playing. It's not an easy game by far. It's not a swap match 3 game, but you drag your cursor across as many like items you can possibly muster. You don't even have to clear the board of tiles - it helps though - the more blue tiles you clear the more coins you have to "reshuffle" when Giggles hollers "we're stuck!" Yeah, that's cute too. Every 6 levels you start a new stage - AND you get another part of the story SUNG in RHYME to you AGAIN! CUTENESS OVERLOAD! Sigh. Now, I'm just too wrung out to even talk about the boxes and frozen items and bonuses so just try the free hour long demo and find that out for yourself - lol. Happy Gaming!
July 16, 2014
fun game
I already purchased this game but it doesn't show up under purchase history. I don't want to buy it again. What should I do?
September 4, 2012
Addictive retro game
This game has been out for some time, but I had recently rediscovered it after losing it awhile back. Magic Match is one very addictive game, and it will keep you going for hours, and even days. You start out as a wizard on a little quest in an enchanted forest with a furry companion not unlike an Ewok. This annoying little dude is Giggles, and he is about the only annoying about this game, except for the bard that sings a silly little ditty between areas as you go on your quest. This is not the typical match 3 game, as you will be collecting components on the grid to cast spells and make potions. With each new area you come into, the objects on the grid change, and there are more barriers added to make your gameplay increasingly difficult, but they always stay on theme. In the forest, hunt the grid for big blue mushrooms and bugs and such. In the tropics, for pirate treasure and hulu masks on a volcanic island, so the terrain does change along the way. In some places, Giggles takes over the grid and plays his own version of Pac-Man. To really enjoy this game, you have to remember that is was created back in the early 2000s-late 1990s, and click the option to mute Giggles. It makes the gameplay so much better, but the bard's silly songs are few, and far between, so just listen as you give your eyes a break from the grid. You will soon find yourself competing with others in your house and trying for a better score in Magic Match.
September 27, 2012
Great
Very Challenging. Improves eye/hand coordination
June 13, 2014