Awakening: The Dreamless Castle
After Awakening in a mysterious castle it's up to you to collect clues and valuable items needed to solve perplexing puzzles and escape! Listen to your fairy friend as she guides you towards the exit. Play fun minigames and solve clever locks to make it to the next room in the castle. Use your Hidden Object skills to search for the next hint and discover a young Princess' destiny in Awakening: The Dreamless Castle.
Gorgeous graphics
Escape the castle!
Game System Requirements:
OS:

Windows XP/Vista/7/8

CPU:

1.0 GHz

RAM:

512 MB

DirectX:

8.0

Hard Drive:

137 MB
Game Manager System Requirements:
Browser:

Internet Explorer 7 or later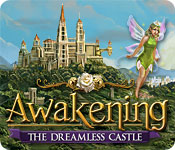 NEW299
The Big Fish Guarantee:
Quality tested and virus free.
No ads, no adware, no spyware.

Reviews at a Glance

Awakening: The Dreamless Castle
0
out of
5 (
0
Reviews
Review
)
Customer Reviews
Awakening: The Dreamless Castle
135
135
an objective 3 out of 5 stars, but for fun and puzzles 4 stars
This is a charming little game from boomzap, what I call a filler game, an easier game to be played between harder games. It is by far the easiest in the series but I found it to be the most enjoyable. If you play the others you can see that this is the first in the series and they have progressed in length, graphics and hardness. I love the graphics and the fairytale story, it is certainly a game that you could give to your young daughter to play. I love how the puzzles were one after another but they were sadly super easy, but they were a bit different, there wasn?t a pipe or gear puzzle to be found. If you love hidden object games then this isn?t for you as they are few and far between and a different kind (thankfully!) from the normal junk pile you usually see, but they were really well done. It was short 3hrs for me and I?m not a fast player, but I didn?t feel cheated. I love at the end in the main menu how there is a mah-jong game you can play and apparently there is a further part of the story upon completing it (non vital). I don?t like the game, but I appreciate the thought of putting it in. It may appear dated compared with modern HOPAs but for a fun, different lighthearted game with loads of puzzles it?s a very good B- from me. A laid back easier, relaxing Sunday a?noon game or for your kids.
March 14, 2012
OK game for a younger crowd
This game is best for teenage girls or younger. It was a bit too juvenile and "girly" for me with a few too many hearts, flowers and unicorns. The scenes are beautifully done and the story is interesting. However if you like hidden object games this is not for you. There are very few hidden object scenes. This is mostly collecting objects and solving mini puzzles. Unfortunately, the mini puzzles are not very challenging and some require no thought at all. If you are looking to chill out and not work too hard they are good for that. There are many jigsaw puzzle mini puzzles such as moving tiles to complete the picture so if you favor those you'll enjoy the number in this game. The Fairie "hints" are completely useless. The music gets a bit annoying so I turned it off about half way through the game. Overall, it's a beautiful game but does not score high on difficulty level and is too juvenile for my taste.
December 2, 2011
Not a Whole Lot Going On
I much prefer the Goblin Kingdom to the Dreamless Castle. I think it was a longer game with more challenging puzzles. Nevertheless, this would be a great game for someone younger or if you don't want much of a challenge. Graphics: Nice and "fairytale" like. :o) Whispy and dreamy are good descriptions of it. Music: Worked with the story and wasn't annoying at all. Length: This game is SHORT! It took me less than 2 hours to complete and I didn't use any skips or hints. Challenge: Not at all. There are only a few HO scenes, this game is mostly puzzles and task solving. Fortunately, there isn't a whole lot of back and forth between scenes. Once you complete an area, you're pretty much done with it. Perhaps this is part of the reason the game is so short. Overall: C Recommended for a younger player or if you want something mindless to pass the time.
March 8, 2012
Light & cheerful to play
This is the first in a trilogy of ?Awakening? games from my favourite developer Boomzap; it has the usual beautiful fairy-tale artwork & bright cheerful clear graphics that I associate with them. Unusually there is a choice of 4 languages & although the few cut scenes still retain spoken English the clues & other writing through the game are in the chosen language. There is no choice of gameplay mode so expect sparkles to abound anywhere of interest, the hint recharges in 60 seconds. This is useful in the hidden object scenes but of limited value in the main scenes; if you clear all the open tasks in a scene & then select the hint it will still point at the one task that you cannot complete until you have found a specific object. This can be a little frustrating as it is not always obvious what your next move is so you might end up wandering through scenes trying to recall what needs to be done. The cursor does tend to be obstinate on some items & it can take several clicks to pick things up, this occurred to me quite a lot; be warned some of the items to collect are very small. There are not many H0 scenes; this game is about solving puzzles for which you usually have to gather a number of items or mini games most of which are easy; they tend to be of the Simon Says; match items; move tiles to create picture; mah-jong type. The game took me around two hours to finish so isn?t very long but it is worth playing & once you finish you can play unlimited Goblinjong which is a mah-jong matching game. As you play the levels of this extra you learn more about the world of Awakening. Too easy for experienced gamers & rather too feminine for the male population but a lovely game to play.
April 30, 2012
Recommended for Children and Novices
I recommend this game, because there are only two choices there, but my recommendation is conditional. For experienced adventure gamers, this is a waste of money. For novices, or for younger gamers, this game might be just the thing. Awakening: The Dreamless Castle is a retelling of the Sleeping Beauty story in the form of an adventure game. The graphics are lovely and the music is pleasant. As the awakened princess you must find your way out of your castle by using objects that you find along the way and solving various puzzles. There is a very generous hint system in the form of a fairy whose job is to help you. I found the puzzles too easy to be very interesting, and the game too short (just over 3 hours). These qualities, however, would make Awakening a good introduction to this type of game for children or novices at this sort of game.
December 9, 2011
Enchanting Fairy Tale
3 1/2 Stars. An enchanting little game that sucks you into a world of magic with faries, goblins, and dragons. Good for kids or adults who like fantasy. It's mostly a puzzle adventure game with maybe 3 or 4 hidden object scenes. Game length was about 2 1/2 hours. It's worth a credit or purchase for those lazy days when you're not looking for a challenge but just want to play.
April 3, 2012
I got it free so it was worth it
so I got this game on a free coupon and thought "hey free why not" right. It wasn't bad it had some fun quality. It was one of my first games from big fish so at the time I found it to be great. It took me about 8 hours to complete and needed some help here and there but you must try cuz the sequel's are great. I hope you like
April 5, 2013
Half of game lmssing?
iPad, Awakening: Dreamless Castle Played half of game-no problems. At Ch. 7, game went into 'Pause'. I cannot resume. Started new game to replay. Still in 'Pause'. D/L & install was only about 3 min. Is it possible I didn;t get the entire game I paid for?
March 6, 2013
Just good enough to keep playing.
At first this game seemed like it would be completely lame but as I played it I stayed intrigued enough to finish the game to it's completion and I only paid two bucks for it. Graphics are older and the plot is weak, but it does have a lot of littel mini games and puzzles and actually takes 2-3 hours to get through going at a pretty steady pace. I think this is a game that would be great for pre-teens.
April 1, 2012
Good for beginners
I think this game would be fine for beginners or young girls, but it is way too simple for anyone who has played these kinds of games before. The HO scenes were clear and the puzzles very easy to solve. I would not recommend this for anyone looking for any kind of challenge. Graphics were fine. Also, though I never have any trouble w/ BF games running, this one was very jerky and slow.
November 28, 2011