Rainbow Web
Beads are randomly scattered over a web, and it is up to you to help break the spell. Much of the gameplay revolves around developing solutions-how to make a line of three or more beads of the same color. You better hurry to break the spell over Rainbow Kingdom.
Brain teaser.
2 gameplay modes.
60 levels.
Break the webs of evil in
Rainbow Web II
Game System Requirements:
OS:

Windows 2000/XP/Vista/7/8

CPU:

600 Mhz

RAM:

128 MB

DirectX:

6.0

Hard Drive:

15 MB
Game Manager System Requirements:
Browser:

Internet Explorer 7 or later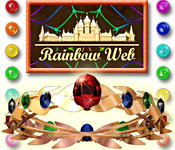 NEW299
The Big Fish Guarantee:
Quality tested and virus free.
No ads, no adware, no spyware.

Reviews at a Glance

Rainbow Web
0
out of
5 (
0
Reviews
Review
)
Customer Reviews
Challenging
Story value is good. Once into it, keeps your interest - you become addicted quickly. Challenge is great - need to be aware where the web lines go.
January 9, 2012
Rainbow games
I played Rainbow Mystery, Rainbow Web, Rainbow 2, and Rainbow 3. I believe they were the most fun of any I have played lately. I believe they are all sugar cube games. Loved them THANKS!
April 15, 2013
Fantastic
I have bought all 3 of this series. Played each series at least 3x's each. Never gets old. Hope there is a new one coming out soon.
February 19, 2014
love this game
I would love it if you could make it available for ipads.I can't stop playing this game .It is my favorite game .
October 4, 2014
TWO GAMES IN ONE
This game is an interesting combination of a hybrid Hangman and Match 3. There is a spider looming over a fairy kingdom and your job is to get rid of the spider and restore the rainbows to the kingdom. The spider theme is reinforced by the fact that the Match 3 game board is actually a spider web. The semi-hangman part of the game comes into play with a phrase that is shown for each puzzle that must be filled in by removing the relevant letters from the web by the Match 3 process. Once all the letters have been removed, you are done with that puzzle. The game moves you from the valley floor to the top of the mountain. Solving the puzzles for each step adds a graphic to the location scene. The last graphic in each set of puzzles is a rainbow. For instance, in one set of puzzles, you are building a bridge over a river. Each puzzle solution adds something to the bridge; flooring, guard rails, lights, etc. Although the location scenes are beautiful, almost picture perfect, the added graphics are rather dark and dull. Even the rainbows are lack lustre. But that is not enough to detract too much from the fun and challenge of the game. To me, good game play always trumps graphics. As you advance through the locations, the puzzles get harder. The phrases get longer, meaning more letters to find. There are more colors added to the bubbles making it harder to find 3 to match. And sometimes there are parts of the web missing, making some letters extremely isolated. At the beginning of each set of puzzles, you have 3 lives available to lose during play if you play the timed mode, which I did. Each time you fail to complete the puzzle in the available time, you lose a life and have to restart the puzzle. If you lose all your lives, you are taken outside the puzzles and you have to click back through the menus to get back to where you were. Thankfully, you are returned to the puzzle you were playing when you ran out of lives, not to the beginning of all the puzzles for that location. This game makes you think and keeps you on your toes. In order to clear all the letters in the available time frame (which is generous), you must think ahead so that you don't miss any matching plays and that you make moves that set up future plays. It takes a lot of concentration, which is why the mediocre graphics are not that big a deal. There is a non-timed choice of play that would be much less challenging. I enjoyed this game so much that I kept playing it until I got too tired to make good moves or my eyes gave out. And I couldn't wait to get back to it. As a result, I am purchasing the other 2 games in this series, hoping they will be as entertaining and challenging. I hope you have as much fun playing this game as I did.
October 5, 2014
Relaxing Match 3 with a difference
This is a small (11.5MB) game that delivers a good story (although spiders get a bad rap -lol) and sustained challenging gameplay. There are no bells and whistles, and I really like that. Its refreshingly quiet, and simple, but it gets challenging quite quickly. There are no power ups or reshuffles to fall back on. You rely entirely on your wits. There is a classic (timed) and relaxed (untimed) mode. The music low in the background is OK, it keeps me alert. Full screen and windowed mode available. I find both quite useful. Graphics are very simple and suit the game. The only thing I don't like is when the game keeps suggesting moves, if it thinks you are taking too long to decide. There is a visual and an audio cue, and I find it annoying and distracting. Sometimes, especially towards the end, I'd soooo like to be able to knock a ball out (with a power up) to help make a match. This is the first in a series of 3 games that all have differing gameplay features. This first game is M3 only, but it doesn't feel too repetitive because each new playing field is different and presents unique challenges. I play late at night because it helps to unwind, and for filling in time between doing stuff. After 6 months its still fun to play.
December 31, 2011
Rainbow Web
I really liked this game. My only complaint is when you run out of moves, rather than automatically reshuffling the board as other games do, this one takes away one of your lives. The beads are produced randomly which the player has no control over. Why are they then penalized for it? Can someone come up with a way to fix that?
March 31, 2013
Fun for all ages
This game is very addicting once you get started. The story line keeps you interested.
November 3, 2012
Really good gameplay
I have played the other Rainbow Web games, dismissing this because of the bad review score - and the really bad graphics meeting you when you open the game. But when I finally gave it a shot, I found out I really like it! I'm in the middle of playing Rainbow Web III now, but to my surprise I find the gameplay better in Rainbow Web I. It is much more of a brainbender, especially since there is no power-ups (I always find them to be a bit like cheating anyway) AND a timer!! Jubii I don't get why people don't like timers, IMO it's much better with the challange. In RW III there are no timer and a hammer to remove pieces. So sad. They could at least give us who wants it the opportunity to have a hard time ;-) In RW I there is no easy way out. Not that this is an extremely hard game, don't worry, especially the first many level go by in a breeze. Later on you will probably be a bit pressed for time or run out, but you have 3 lives to get you through. I really recommend this game to people who want a bit of a brain challenge. The bad things: the graphics. As mentioned above, they are really oldfashioned. Also, unlike the other games in the series, you don't get to choose what to set free from the spiders spell. I miss that a bit, it's always nice to use the points you earn to something - an incentive to get more points. But still, it's really a nice little game.
May 1, 2012
This Game Has It All......................
almost. Storyline: The Evil Spider has shed his web over the Rainbow Kingdom and you, the hero, are the only one who can help bring the Rainbow Kingdom back to its colorful, happy glory. Graphics: Here's where I took away a star. The graphics in the match 3 portion of the game were wonderful. However, where it counted most - when the Rainbow Kingdom was being systemically restored - the colors were drained and dull. Very disappointing. Even the Rainbow, once restored, was dull and sad looking. Sound: Background was lilting and soft. Enjoyable. Game Play: Rainbow Web is a triple threat - it has it all. This is a match 3 game embedded in a word-type game embedded in a game of intense strategy. As in any match 3 game, you must match 3 or more ball colors to remove them from the web. However, there are also balls containing letters that MUST be removed from the web by making match 3s (or more) before time runs out. In order to do this, you must make strategical moves that will enable you to remove all those letters before time is up. One move can impact several different colored balls, as well as balls with letters. You must always be thinking several steps ahead. AMAZING GAME! If not for the poor graphics when rebuilding the Rainbow Kingdom, I would have given this game a solid 5 stars. It is not a purchase for me, only because I don't particularly like games of strategy. I prefer my M3s to be more relaxing. I do hope you will try the free demo. It's an hour of your time and, who knows, you may find that you are the king/queen of strategic, match 3, letter-word type games. HAPPY GAMING TO ALL!
June 16, 2014
The Apple logo is a trademark of Apple Computer, Inc.