Eden's Quest: The Hunt for Akua
Eden Hunt, a world-famous archaeologist, has received a call from a mysterious man, inviting her on a fantastic treasure hunt! Find the ancient treasure of Akua to win a huge sum of money, and finance Eden's future adventures. Take on the other competitors head-on as you track down the hidden treasure. Eden's Quest – The Hunt for Akua takes you around the world on an exciting Adventure!
Tricky puzzles and minigames
Exciting Hidden Object scenes
Find the treasure of Akua!
Game System Requirements:
OS:

Windows XP/Vista/8

CPU:

1.6 GHz

RAM:

512 MB

DirectX:

6.0

Hard Drive:

305 MB
Game Manager System Requirements:
Browser:

Internet Explorer 7 or later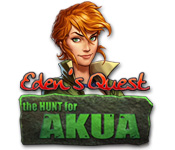 NEW299
The Big Fish Guarantee:
Quality tested and virus free.
No ads, no adware, no spyware.

Reviews at a Glance

Eden's Quest: The Hunt for Akua
0
out of
5 (
0
Reviews
Review
)
Customer Reviews
Eden's Quest: The Hunt for Akua
11
11
One of the few I've played over and over.
For originality, one of the best. Puzzles go from simple to very clever, and some were excellent brain teasers. Exciting story line and well organized from beginning to end. One of my best picks.
November 16, 2011
WOW Great Puzzle Game.
Loved it! Loved it! Loved it!. Intriguing story and a good mixture of logic, mathematical, jigsaw and spot the difference puzzles (some easy/some hard). Kept me enthralled for hours. Make sure you take advantage of playing YoX whenever you can - the extra hint coins are needed. Always look for coins in each scene (either a glint or use your torch/metal detector). You will have to back track alot to find all the totem challenges in each chapter. This is just a puzzle game so if you are looking for more you might find this game a bit boring.
February 5, 2012
Wits will win!
What a delighful game. You are hunting for the ultimate treasure but to get there you have to use your grey cells - brainpower - and all this combination of adventure and wits makes this unique game totally delightful.
April 29, 2012
Definitely NOT a HOG!! (Thank God!!)
This has to be one of the three or four cleverest games on Big Fish. If you are a HOG fan, though, you probably want to skip it. It's all math, logic, and non-linear puzzles with some sliding and jigsaw thrown in for good measure. My rating is 4 stars because it was WAY too short for a serious puzzle lover (and most of the puzzles are on the easy side--hints will rarely be needed). That being said, the story line is fun, the characters are quirky, and the artwork is gorgeous.
February 15, 2012
If you like puzzle variety, you'll love this one!
I LOVE the fact that this game is nothing but puzzles - puzzles - puzzles -- a great variety of different puzzles - some easy, some not so easy -- I wish there were more games with this kind of variety...
February 9, 2012
Great for puzzle fans
I liked the variety and challenge of puzzles in this game - not at all repetitive, although there was a small amount of backtracking to "follow the trail". Would go back and play this one again.
May 25, 2012
What I Know is Fun. It's What I DON'T Know that Concerns Me.
This review is based on completing the "free trial" period on a Mac. I don't know how long I played. I think it was about 30 minutes. This is strictly a puzzle game (I think you figured that out by now). Despite a couple of problems with the strict application of logic, the majority of what I played was fun. It was not really challenging, but it was fun. As for paying for the whole game, I'm not sure. I think I will: Here are a couple of problems I encountered in the trial period: (Spoiler Alert: From a certain perspective, I'm going to spoil here...but this is a game with "problems to solve" not a mystery or a whodunnit that I'm going to ruin for you). A. In at least one logic problem ("what statement can be made that will save you?") and one math-logic problem (how many miles did a bird accompanying a boat fly) there was either not enough information to arrive at the conclusive answer or the answer (what would save you?) was logically impossible. 1. So, regarding which statement will save you from death: A correct answer results in death by drowning and false answer results in death by stabbing. That's really all you need to know. The statements are unimportant because the array of options has already been given. Your answer can only be right, wrong or both right and wrong. The results of a right answer and a wrong answer are both death. Therefore, the results of an answer that is both right and wrong, unless said situation was previously agreed upon to be a disqualifying factor for death, will be death. 2. The other one I THINK I remember is about the distance a bird flies. The boat sails at a speed of 9 MPH for a distance of 9 Miles, the distance between the two points. The boat may or may not be sailing in a straight line but that isn't salient. We know the length and speed she sailed. The bird flies at a speed of 34 MPH. The question was how many miles did the bird fly. There's not enough information to answer that question. We know the bird flew to the same place. We were not told if both the bird and the boat arrived at the same time. The answer, based on the information we are given, is unknowable. For a logic problem to be soluble, the facts must be exact. My concern about the whole game is how many of the problems will fail the test of the rigorous application of logic? B. I don't know what other types of puzzles there are and if they become more difficult. Consequently, I don't know how long the game is. The combination of a game that's short and a logic game that's flawed could be fatal. IF THE GAME can get righted, it would be MORE fun...it certainly would activate a few synapses. Also, if you're not a rigorous logician the game can also be fun: you can draw conclusions, just not fool-proof ones. If the presentation of a logic problem gets your logic juices flowing, you might have several difficulties with the game. Or, from a different perspective, finding the logical inconsistencies in the questions themselves may also provide some pleasure. (I think I just happened on my conclusion. I will buy the game because even the opportunity to conclude that the logic of some of the question or some of the various answers is faulty will be fun as well. I recommend the game with the above caveats.
February 11, 2014
Good Game but Lots of Typos
The game is good, but the writers clearly have a number of issues with using the wrong words, misstating puzzle/riddles, not understanding how grammar affects language, and giving bad information in the hints. There are also some mathematical and logic problems with the answers they create. (Some of the answers you cannot know without the hints at there's simply not enough information in them to get the answer they want you to have. Like that a cost of potion + cost of bottle = total cost PLUS $5, which you get only in hint 3.) It's a good game, but they really need a copy editor to clean up the mess.
November 21, 2012
Puzzles
This was not what I thought it was going to be. This is just a bunch of puzzles. And the directions for the puzzles were often not clear so you had to use hints just to figure out what they were talking about. Feel like I kinda wasted my money. And the HOS were not really HOS.
January 25, 2012
didn't like
Sorry i paid for the download, i hate slider games and couldn't advance due to it.
February 28, 2012
The Apple logo is a trademark of Apple Computer, Inc.