Doors of the Mind: Inner Mysteries
The nightmares began when my father passed away. I havent slept in days, and the nightmares even appear when I am awake. My doctor has recommended a dream specialist, and together we are trying to figure out what these nightmares mean. Jump into Hidden Object action in Doors of the Mind Inner Mysteries.
Dark atmosphere
Spooky gameplay
Explore a world of nightmares!
Game System Requirements:
OS:

Windows XP/Vista/7/8

CPU:

1.2 GHz

RAM:

512 MB

DirectX:

9.0

Hard Drive:

228 MB
Game Manager System Requirements:
Browser:

Internet Explorer 7 or later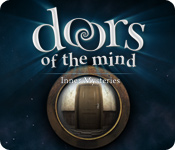 NEW299
The Big Fish Guarantee:
Quality tested and virus free.
No ads, no adware, no spyware.

Reviews at a Glance

Doors of the Mind: Inner Mysteries
0
out of
5 (
0
Reviews
Review
)
Customer Reviews
Doors of the Mind: Inner Mysteries
30
30
Aesthetically Pleasing
I don't usually review the copious amount of mostly "Hidden Object" games I've played. The only other review I've made was to comment on the shortness of another game. But, this game, by other player's review as "short" (if indeed short), then well, it is a shorter game you might love to linger on. I have a particular sensibility (art education that is) and this game has all the variables I love in a story-telling search and find, solve-the-puzzles game. Nothing pushes you to continue and nothing rewards you. It's quiet and lovely. The graphics are beautiful, the sounds accent a strange place in your head, and not all the images are easy to find. The story line keeps you inside your own psyche. And so far the hats all look like candy bon-bons--LoL. I love it.
December 23, 2011
A refreshing change of plot
I have never written a review but I enjoyed this game so much that I just had to write this. This is a perfect HOG because, for once, the jumble surrounding the hidden objects actually fits into the story line. The game is interesting and memorable because it is based on an intriguing concept. This was the first HOG I?ve played that actually made sense on every level. It was short, but it was well made, with clean and pleasant graphics, an interesting plot, and unique, and relaxingly intuitive, if simple, puzzles. The cons: it was a bit short and there is no real exploring or adventure to be had. The game is mostly just fun hidden object scenes with an absorbing back story. The novel set up and plot made this the single best HOG I have ever purchased from Big Fish. I hope to see more (longer) games like this. Five stars!
March 16, 2014
I Love it!
I was always fascinated about the tale of the headless horseman. Now we can get into the game with this fun HOS puzzle. The graphics are AWESOME! The storyline memorable and the puzzles are challenging. Plan to be intrigued for hours of gameplay.
January 7, 2013
Rather Short but Great!
Although I've played this game years ago, I find that it's simple and yet has enough charm to draw in the player. The story is about a woman (the player) who keeps getting haunted by nightmares and in order to find out about what these nightmares are about, went to a psychoanalyst and gets hypnotized to get to the subconscious and thus 'open the doors of the mind'. No dramas like villains who will hinder you from solving what your nightmares are about, just pure unlocking the 'secrets of your 'family'. I think for anyone looking for 'horror' themed HOGs, this isn't recommended but if you're into psychological drama, then this game would be sufficient enough. I remember playing this on my old Macbook so I just hope that the current game could cater to newer Mac specs as well.
January 18, 2015
Step into the Inner Mysteries of your Mind
I picked this title up mainly because it made me think of The Outer Limits, or The Twilight Zone. While the story is not science fiction like those series, the manner of story telling is. I liked this game. I think the biggest flaw in the game is that it was too short. I believe we completed this title under 3 hours. If the gameplay was extended another 2 hours, that would be an improvement. With that being said, the gameplay did balance out well with the story telling and advancing the story. The hidden object scenes were fun and the puzzles were OK. I am a sucker for effects, and I loved the effect the programmers used when the character was entering a door. I would recommend this title, the buyer just needs to know what to expect of this purchase though. While short, I thought the story was solid, and was still a fun time.
December 19, 2011
WOULD HAVE BEEN BETTER IF LONGER WITH TWISTS
GAMEPLAY: Most of the game is made up of HOS: Scenes are somewhat but not overly crowded. Click on a word and you?ll see a silhouette briefly. Items are not always proportionate (ex: a comb could be half the length of a door). Besides the HOS, there are ?put everything in its place? puzzles. If you can?t figure out where something goes, move the cursor around until it changes to a hand. Something will go there. STORYLINE: Hazel undergoes hypnotherapy to discover why she has been having terrible nightmares since her father died (her mother passed away under mysterious circumstances when Hazel was 5). She has little memory of her mother. She goes back to the family mansion and finds that her mother was shot and she and her father moved out suddenly. She discovers that her father was in tremendous debt and selling off many assets. Why not sell the mansion instead of letting it decay into ruin? THE REST: Music unobtrusive. Good animation and sound effects. Abrupt but satisfactory ending. Rather short game, so you might want to wait for a sale or coupon ? I would not pay full price even though I liked it a lot. The premise to the storyline was such that a much longer game could have been developed using the mind and its workings by adding twists and turns to the story. That and the length would be the shortcomings. I have a 27? monitor and was able to play on the entire screen and still get crisp delineation of objects.
November 5, 2012
Just wish it had lasted longer
Like others have already said, this is a very short game but I liked it very much. It's a straight hidden object game but with some variation from the norm which I found to be different and fun. Sometimes you're given pictures to put back into the scene, other times you're shown pictures of what to find in the scenes but they may be completely different in their appearance or orientation. That was a real challenge and I found it refreshing. The nightmarish scenes are hauntingly beautiful and appropriate for the storyline, which was interesting and concluded satisfactorily. The only thing "wrong" with the game is its short length. It can be played in one sitting. Advanced players who need the challenge of a long story with hours of gameplay best avoid this one altogether because you won't get it. Although the hint and skip buttons fill quickly, the puzzles are all doable without having to skip. This game is definitely geared towards those who crave a short easy game played during a lazy afternoon. Sometimes I like these myself as a breather between the harder games that are more taxing. Since I knew this to be a short game, I purchased it on a less than half off sale. It's a good game to use a free game coupon on if you have one that's expiring soon and don't know what else to get.
September 22, 2013
Kind of fun
I actually liked this game, and the whole storyline. I would recommend it based on the HOs and the eerie music. Ha! I love spooky stories, and this one did it for me because of the scenes when she visits the mansion.
July 8, 2012
Doors of the Mind: Inner Mysteries
This game was a pleasant surprise. I was expecting a boring outdated game, but instead I found the game to be entertaining with an unusual perspective connecting your dreams to reality. Hazel has been having nightmares since the death of her father so she seeks the help of a dream therapist. The doctor put's Hazel into a hypnotic trance and tells her to return to the mansion where she lived until her mother died. What her inner mind discovers in that mansion is the truth.....the shocking truth! Each room of the mansion has a Hidden Object Scene. Most of them are list finds but there are also silhouetted shapes as well as returning items you have found into the scene where they belong logically. There are several mini games, again I was impressed, all of them are fun! My favorite games were "Spot the Difference" where you have a split screen with mirrored images, and you click on 10 differences you spot from one picture to the other. I have played games before that dealt with an anguished person seeking medical help for recurrent nightmares, but the manner in which they tie the nightmares into the HOS in this game were very interesting. Keep an open mind and try it for yourself, enjoy!
January 1, 2015
I thoroughly enjoyed this game because of the intriguing story and straight forward game play
This is one of the few games I have played lately that really kept my interest to the end and was enjoyable to play. The story is simple and engaging with puzzles and HOS that compliment the story and actually make sense. The game is short by today's standards but I felt that the story was sufficient to keep me interested so it didn't have that short feeling. The game is geared toward beginners and intermediate with puzzles that are entertaining and the hidden objects are not so obscure as to not be found. The story was complete and the ending made sense and did leave the door open for a sequel. Unfortunately, I have not found one. If one does come along I will be there to buy it.
June 24, 2014
The Apple logo is a trademark of Apple Computer, Inc.