Great Adventures: Lost in Mountains
A world-renowned scientist has gone missing under hazy circumstances! It's up to you and his daughter to find him and keep his powerful formula out of the hands of evil! Dive deep into this detective story and solve mysterious puzzles as you track down the missing doctor in Great Adventures: Lost in Mountains! Keep your characters happy and healthy to complete the journey in this exciting Sim game!
Unique gameplay
Mysterious plot
Find the scientist!
Game System Requirements:
OS:

10.4

CPU:

800 Mhz

RAM:

256 MB

Hard Drive:

183 MB
Game Manager System Requirements:
Browser:

Safari 4.0 or later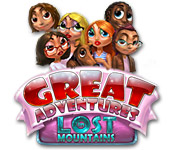 NEW299
The Big Fish Guarantee:
Quality tested and virus free.
No ads, no adware, no spyware.

Reviews at a Glance

Great Adventures: Lost in Mountains
0
out of
5 (
0
Reviews
Review
)
Customer Reviews
Great Adventures: Lost in Mountains
11
11
Cute & Fun
I really enjoy interactive adventure games and this one certainly fits the bill. The graphics are sharp and cartoonish, the storyline is unique and interesting, and the music is calming but may get repetitive to which you can turn it off. The basic premise is to find objects that will open new areas to explore. There is a sim element to the game and you will need to keep up with rudimentary needs like hunger, rest, and fun. It isn't over tasking though and simple to maintain. You have two characters in which to play simultaneously with for tasks that are geared towards one or the others strengths. The game controls are somewhat annoying as it is easy to accidentally click on objects you've already clicked on but it isn't major. The map seems to be relatively large but I haven't completed the game as of yet. Over three hours into the game and it seems like I'm still just getting started. Some tasks are not that easy to figure out but the hint button is regenerated by finding doggy treats and there are tons of them just laying around. The crisp graphics makes for easy searching even for small objects. There is no HO scenes in the game as it is all search in world for single objects or ones to combine. All in all this is actually a very fun game despite some of the unfavorable reviews. It is certainly worth the investment of one free hour!
December 2, 2012
So cute!
I loved this game - it's so different from all the typical doomsday, heavy games out now with all the H/O scenes & talking, etc. Here, you find little things here and there to help you get into the next room, uncovering the next part of the hotel, etc. It's annoying at first, having to feed the characters & let them rest, but soon you find things (bag of chips, etc.) that they can use so that nothing slows down. My niece & nephew love this game, but I do, too - & the best part is how different & original it is. I'm kind of tired of the same old thing sometimes!
February 9, 2014
different kind of adventure game
I love adventure games, I loved the sims. This combines into one game. It looks like the original sims but you don't get as much interaction - you can feed them and they need some sleep but they do that mostly on their own. So don't worry if you don't like sims games or TM games this isn't that! Each character has their own strength and weakness, ( ie one character can't pick anything heavy up while the other has strength so can do so). So make sure you try both characters on things. There is a dog who gives you hints, and if you find him bones will earn more hints. There are butterflies and extra things to collect as well. You start with a small area and by doing things, and discovering things you slowly open up more places to explore and so on. It's not hard and someone younger should find this fun. I enjoyed the take the sims to the next step, laid back easiness type game. I didn't think it was overly short very roughly 4-5hr range maybe an hour shorter if you look at walkthroughs and use a lot of hints. It did end quite abruptly. For a fun, different cute, laid back easier adventure game I give a B++.
January 5, 2012
Fun Advanture Game!
It is a small funny game by finding all required items following the track of an interesting story. It is easy, relaxing, and with nice cartoon figures. Very good for spending a little time during weekday evening without consuming too much time.
July 7, 2012
a very nice adverture game
lots of different thing to do, characters are drawn funny. Not to difficult.
December 10, 2011
Nice Game - just not for me.
I'm not even sure what kind of game to call this ... a SIM???? After entering your profile, click "play" and you will be able to choose 1 of 3 female characters and 1 of 3 male characters. Each character has different traits so choose .... wisely (?). The story line is interesting. Dad is a famous Professor and was at a convention but the hard snowfall has required everyone to be evacuated. He called you and said to get there asap because he was in trouble. The phone went dead .....you could not reach him again! OH NO! Off you go, with ..... your counterpart (partner? husband? ????) in the snow ..... where everyone else is LEAVING! Hmmmm. Then, you FALL off the mountain in your van but land ON YOUR TIRES in a parking spot!!! O-k-a-y then. The graphics are really, really good for this type of game. The music was soothing and relaxing, which I guess is needed because the game play started to stress me out. lol. There are limited sound effects (fridge opening, music playing) and while there are no voice overs, there is a dog that runs everywhere (including providing you with hints that you DON'T need to use your "bones" for) who barks all the time. I would have loved to have named this little guy. The gist of the game appears to be that you go around the entire area looking for dad, among other things. Pick up bones scattered about to earn a hint. Pick up random items because you may need them later (i.e. batteries, glue, etc.). Make sure to find your way to various key locations to eat, rest, and have fun. It's important to keep those "qualities" at a high percentage. Told you this isn't my kind of game. While I enjoyed playing the game, it just wasn't for me. I get all wonky-eyed and dizzy-headed moving characters from room to room and back and forth again and again. And, truly frustrated when I can't find something or it's within easy reach but the door is locked and I haven't got a key! For these reasons, this will not be a purchase for me. However, I highly recommend this game for everyone. It has a lot of entertainment value, is fairly slow-moving (due to all the walking around you do) and who doesn't want to rescue poor dear dad??? Join ..... the dog (?) and head to the snowy mountains for what appears to be a great mystery and adventure! ENJOY!
November 26, 2014
Better for kids than adults, to short
I buy these games on sale. That makes it worth the money. I am in my late 30s so it wasn't the best for me, better for kids. The game is short and not to challenging.
December 20, 2011
It was ok
I am playing and i need a hint but there is no doggy bones left if the doggy bones where unlimited i cant unlock the library for some reason so im trying to find hints but i need to unlock more to get more hints why won't they re spondylitis in the spot that i already un locked?
October 13, 2014
That's It?
Well I had some fun playing the free trial and then once i unlocked the whole game it was over fairly quickly. No other levels or challenges, very disappointing.
April 4, 2012
Bad Knockoff of Artist Colony
When I first downloaded the game, I was expecting something akin to Artist Colony meets Virtual Families, both of which I loved by the way. And in some ways it is. The people you're in charge of have needs ie hunger and sleep. You're supposed to find your way around this resort after you get stuck in a blizzard, but it's so simple a child could do it. It would've only taken me an hour or two to finish if my people hadn't needed to sleep. All in all, don't waste your time or money. It's really not worth it.
May 22, 2012
The Apple logo is a trademark of Apple Computer, Inc.
The Windows logo is a trademark of Microsoft, Inc.