Little Folk of Faery
Discover a small village of fairy creatures and embark on a fascinating adventure where you will help the inhabitants to restore their world. What is behind the mysterious, omnipresent mist? What secret lies behind the wistful spirits who are now roaming the place? With the help of fairy, solve these mysteries though numerous quests and restore your shop's splendor of old in Little Folk of Faery, a fun Time Management game.
Fast-paced gameplay
Cute critters
Restore the Faeries!
Game System Requirements:
OS:

Windows XP/Vista/7/8

CPU:

1.0 GHz

RAM:

512 MB

DirectX:

9.0

Hard Drive:

139 MB
Game Manager System Requirements:
Browser:

Internet Explorer 7 or later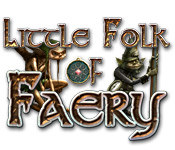 NEW299
The Big Fish Guarantee:
Quality tested and virus free.
No ads, no adware, no spyware.

Reviews at a Glance

Little Folk of Faery
0
out of
5 (
0
Reviews
Review
)
Customer Reviews
Little Folk of Faery
17
17
Beautiful graphics, deep gameplay
This game is a little masterpiece. If you like this type of game (rebuilding a persistent world), be sure to check it out. The faery land and its inhabitants are beautifully rendered in graphics and movement. The characters have a complex mix of strengths and preferences that leads to much more interesting gameplay than is usual in this type of game.
December 1, 2011
An unusual virtual game!
I play a lot of HOGs and TMS but I'm not very found of virtual strategy games normaly. I think the dragging and dropping people around is both boring and feels a bit awkward really. They usually die/get ill while I'm away so I've never bought any virtual game after the trial period. But this one is soo different! The game do go on when you're not there but the faery ppl can't get ill or starve while you're away. The graphic is fantastic and somehow helping the tiny faery people in the Old Curiosity Shop feels perfectly natural. They're not supposed to be more than a couple of inches tall so giving them a lift by dropping them onto different locations feels absolutly natural for once. I also like that the play area isn't too big so you risk to completely loose sight and track of you're villagers. If you play a lot of this kind of game you'll probably enjoy the graphic and the story but might think it's too easy. But it is very special so I think both experienced and new players should give it a try!
May 23, 2012
Get this game.
I really enjoyed this game and I'm glad I purchased it. It's fun, quite beautiful, and the quests aren't so hard that it takes away the fun. It's perfect for relaxing and working with your little faeries -- skilling them up and solving the quests. Great game.
March 13, 2012
Unique Fantasy Game
This is unlike any game I have played before. I think if you like fantasy creatures, you will like this game. It was very cute and well put together. I am very glad I bought it.
June 9, 2012
What a neat Little Game :)
I really, really like this little game. It take a few minutes to catch on, but once you do, it's fun. The graphics are wonderful and such a change, and the little Fae who helps you is not annoying either.....give it a go!
May 29, 2012
Beautiful and Relaxing
I think this is an absolutely delightful game. The graphics are a joy. Sounds pleasant but a bit other-worldly. You need to direct the Little Fairies to learn new skills and complete tasks necessary to restore their world to its former glory. Mainly that means repairing things and keeping the Wistful Spirits at bay. This isn't the kind of game you can play for uninterrupted hours on end. The game continues running even when you aren't playing and many tasks take a while to complete. So, it is best to assign tasks, shut the game down for a while, and come back to it. Host banquets to attract more lost fairies, pick up runes and Ent roots for extra enchantment points. Just exploring the little world is fun. You really can't do anything wrong. There is no timer, so take all the time you want to get everything done. Some have described this as a strategy game. Well, you have to make sure you have some fairies with the right skill levels to complete tasks and some tasks have to be done in a certain order. But, there really isn't much strategy. It is just a relaxing, lovely game. The thing I liked most was the care and thought that went into the game's clever design. So much wonder packed into such a little space. In the past, I haven't been a fan of these types of games. I hated the Villagers game. (My villagers kept dying.) The little folk get along just fine without you. So, no, they aren't going to starve to death because you went away for the weekend. Highly recommend if you are looking for a fail proof, relaxing game.
July 8, 2013
I love this game!
It was done a bit differently than games similar to it, I really liked it. It's in my top 5, along with Totem Tribe and Virtual Villagers.
October 1, 2012
Delightful!!!
My new favorite, run your cursor over the dog, and he rolls over so you can scratch his belly, sounds just like a dog I once had. The fairys making merry at a banquit look so cute dancing. Dealing with wistful spirits reminds me of Virtual Villagers 5, new belivers, distracting the heathens, another favorite of mine. I loved the collections, and it was fun to continue playing after doing all the quests, and winning. Music and sceanery was spectatuluar, Developers, how about a Fairy Life Quest type of game, the fairys can earn 'Pixie dust' to buy flower shaped clothes, and decorations for their mushroom homes! I have 'Life Quest 1 and 2, as well as 'Magic Life'. Thanks Big Fish for these total obsessions, to enchant my retirment. lol
August 29, 2012
plays itself
I loved this game. I could set the characters to work, go away and come back when they had finished. I loved the artwork, and the little world. Hope there will be a sequel.
July 28, 2012
Quite Enamored with This!
The graphics are beautiful and if you like mythical fantasy then you will love the visual appeal of this game. I actually like the sound of this game. It was not harsh and fit this genre perfectly. It doesn't distract nor make you want to turn it off. Storyline: You have inherited an antique gift shop from your grandfather that has a surprise left behind for you. There is a tree growing in the back and at the base of the tree is a tiny village that you must nurture back to it's "former splendour" because of something your grandmother did. Gameplay: You have gnomes, dryads, leprechauns, etc... that have different skills that you need to utilize in order to restore the village. Some faery folk are better in certain skills (nature, knowledge, music or exploration) than others at first but you can train them in all areas if you so choose though you don't really need to. You do have to drag and drop your folk to do certain tasks or to move them around the map. The object is to rebuild the village by lifting the fog around the areas in the map by getting rid of wistful spirits who reside there, bringing back lost villagers by holding banquets (which I totally forgot about and actually made the game harder by not bringing the villagers back which could have helped me and made my game easier, but now I know), rebuilding certain areas that will help your village grow (questing), etc... When you quit the game, your faery folk will still continue the task you assigned them until you open the game again. You can change the game speed to slowest or fastest (5 levels) though. What I would do is train my characters in certain skills or have them build something before I went to bed and by the time I played the game the next day, they were practically leveled up completely or done building. So you don't really have to babysit this game. I found myself looking around at the village as I waited for my villagers to complete the tasks I gave them. You earn Enchantment points by completing quests or completing collectibles. You can use those points to upgrade: Harvest (how fast you harvest food), Movement (how fast you move and how resilent you become to spirits), Enchantment (increases enchantment points you get), Morale (how characters affect others). It may seem like this doesn't help but it does later. If you like games that you don't have to babysit and like to work at your own pace then this game is perfect. And if you forget about your game, they don't die which is a plus. Nothing irks me more than doing all this hard work only to come back (and there's no option to pause the game) and finding my workers had died in the process. Their morale may go down and they may be hungry but they pretty much will take care of themselves. After completing the game I found myself wondering why there wasn't more to do. I have played this two times and am playing a third, which is a first for me.
April 13, 2013