Little Folk of Faery
Discover a small village of fairy creatures and embark on a fascinating adventure where you will help the inhabitants to restore their world. What is behind the mysterious, omnipresent mist? What secret lies behind the wistful spirits who are now roaming the place? With the help of fairy, solve these mysteries though numerous quests and restore your shop's splendor of old in Little Folk of Faery, a fun Time Management game.
Fast-paced gameplay
Cute critters
Restore the Faeries!
Game System Requirements:
OS:

Windows XP/Vista/7/8

CPU:

1.0 GHz

RAM:

512 MB

DirectX:

9.0

Hard Drive:

139 MB
Game Manager System Requirements:
Browser:

Internet Explorer 7 or later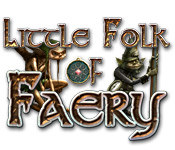 NEW299
The Big Fish Guarantee:
Quality tested and virus free.
No ads, no adware, no spyware.

Reviews at a Glance

Little Folk of Faery
0
out of
5 (
0
Reviews
Review
)
Customer Reviews
Little Folk of Faery
19
19
Quite Enamored with This!
The graphics are beautiful and if you like mythical fantasy then you will love the visual appeal of this game. I actually like the sound of this game. It was not harsh and fit this genre perfectly. It doesn't distract nor make you want to turn it off. Storyline: You have inherited an antique gift shop from your grandfather that has a surprise left behind for you. There is a tree growing in the back and at the base of the tree is a tiny village that you must nurture back to it's "former splendour" because of something your grandmother did. Gameplay: You have gnomes, dryads, leprechauns, etc... that have different skills that you need to utilize in order to restore the village. Some faery folk are better in certain skills (nature, knowledge, music or exploration) than others at first but you can train them in all areas if you so choose though you don't really need to. You do have to drag and drop your folk to do certain tasks or to move them around the map. The object is to rebuild the village by lifting the fog around the areas in the map by getting rid of wistful spirits who reside there, bringing back lost villagers by holding banquets (which I totally forgot about and actually made the game harder by not bringing the villagers back which could have helped me and made my game easier, but now I know), rebuilding certain areas that will help your village grow (questing), etc... When you quit the game, your faery folk will still continue the task you assigned them until you open the game again. You can change the game speed to slowest or fastest (5 levels) though. What I would do is train my characters in certain skills or have them build something before I went to bed and by the time I played the game the next day, they were practically leveled up completely or done building. So you don't really have to babysit this game. I found myself looking around at the village as I waited for my villagers to complete the tasks I gave them. You earn Enchantment points by completing quests or completing collectibles. You can use those points to upgrade: Harvest (how fast you harvest food), Movement (how fast you move and how resilent you become to spirits), Enchantment (increases enchantment points you get), Morale (how characters affect others). It may seem like this doesn't help but it does later. If you like games that you don't have to babysit and like to work at your own pace then this game is perfect. And if you forget about your game, they don't die which is a plus. Nothing irks me more than doing all this hard work only to come back (and there's no option to pause the game) and finding my workers had died in the process. Their morale may go down and they may be hungry but they pretty much will take care of themselves. After completing the game I found myself wondering why there wasn't more to do. I have played this two times and am playing a third, which is a first for me.
April 13, 2013
Beautiful to look at but not very challenging
Like the other reviewers I was entranced by the look of the game. The graphics are truly outstanding and the world beautifully rendered. I did not have any technical issues, unlike one of the other reviewers, no matter how much activity was going on. The thing I found hardest was basically having to leave the game to run on its own. I am more used to playing a game continuously. With this, however, it can be a bit like watching paint dry while the folk carry out the tasks you have set them. You really have to go away and come back when they are finished, with just occasional monitoring to make sure they are still working and not being bothered by the mists. I enjoyed the game a lot but think I prefer something that I can watch and join in continuously. There also was one problem which the developer should address. At the end of the game, after all the quests were finished, I was still collecting the various moonstones, runes and breaths. However, I found that I would collect the same moonstones and breaths multiple times but they would not register in the Tome. This was the only technical glitch I found, other than that, everything else to that point ran smoothly.
October 31, 2012
Lots of fun, but a little too easy
I love virtual and role playing games, wish there were more. Everything was delightful about this game, except they were a little too helpful with the guidance. Would have liked it to be longer.
December 16, 2012
Cute Fantasy Game with Beautiful Graphics
Good points : Lovely graphics , cute and fun characters , great atmosphere for fantasy lovers , sound and other things pretty good... Bad / annoying : often experience graphical glitches when referring to the book in the game that shows you info and what goals you've reached ect. have to keep your tribe small because you will most likely get a game-ruining crash if you try to have over ten or so tribe members keep it around ten or under and you should be fine ...I had to remake my tribe and start all over again because of this one major flaw in the game...the issue with graphical glitches feel a bit minor in comparison to the fact that wanting a lot of members in the tribe will crash your game to the point of having to delete and renew your tribe There's not enough female characters in the game and most of the creatures in the game only had a male version - IMO there should've been more sprites and there should've been more female characters in the game and more characters in general in the game along with some extra goals to strive for and more story after the main story is finished and all the little sticks and things have been collected. I revisit the world from time to time but my little virtual friends don't have much to do anymore so it has become somewhat of a boring place to visit. But what a beautiful bore it is! I wish the place and the inhabitants were real.
October 5, 2012
Beautiful Game, but Slow
I bought this game because of the great reviews. When I begain playing it, I was enamored with the beautiful graphics. I have never seen a Big Fish game quite like it! However, the game play is very slow. This is one of those games that continues even when you close the game. The problem is that if you almost have to close the game and just let it run because your workers move so slow, even after being upgraded! As I was playing this one, I was continually wondering if I was really having any fun. Although this is a visually appealing game, I probably would not buy it again.
July 2, 2012
A little disappointed
In a nutshell: you have to complete the challenges to remove the fog from each area while increasing your villagers skills. Once the fog is removed from the whole village, that is it, game is over. There isn't much to do other than making sure each villagers are doing something. Petting the dog was cute. If you like to sit back and watch a game pretty much play itself, then this is for you.
August 16, 2012
Mixed feelings
Not sure about this game. Yes, it's beautiful and it just draws you in and makes you want to like it, but by the end of the trial i was still lost. I couldn't keep up with the people or what i was suppose to be doing or how from one minute to the next. Maybe it's just me but i don't get the order or flow of things and i really wanted to like this game too.
July 14, 2012
Beautiful but with real-time gameplay
The graphics in this game are stunning, if rather dark. The faeries remind me strongly of characters in the famous 'Flower Fairies' books by Cicely Mary Barker which were published from the 1920s onwards. It came as a shock, however, that the gameplay was in real time, so that the faeries kept doing their thing while I was absent. I dislike the feeling of being obliged to devote my time to fostering the characters in a particular game, so I'm afraid it wasn't long before I left them to it, down in the dark and leafy autumn woods. I recommend you try this out before buying. It may well be your bag. Certainly it's very beautiful-looking - but also quite slow.
June 8, 2014
Hate it!!
Its so lonely!!!! Every time i play the trial version i think I will be liking it this time but no, I get an awkward and phantom feeling. The sounds like aaaaaaaaaa that come between the music makes me feel so terribe!!! I did not like this game.
November 25, 2012