The Three Musketeers: Queen Anne's Diamonds
Take on the role of d'Artagnan in his quest to become a Musketeer! Journey to Paris and protect the Queen's honor. Befriend the famous three Musketeers: Athos, Porthos, and Aramis. When the evil Cardinal Richelieu launches a plot to disgrace the Queen, you'll have to use your wits and skills with the sword to defend her honor. Gather loot, duel enemies, and fire flintlocks in The Three Musketeers: Queen Anne's Diamonds. All for one and one for all!
Classic storyline
Explore France and England
Defend the Queen's honor!
Game System Requirements:
OS:

Windows XP/Vista/7/8

CPU:

800 Mhz

RAM:

256 MB

DirectX:

7.0

Hard Drive:

33 MB
Game Manager System Requirements:
Browser:

Internet Explorer 7 or later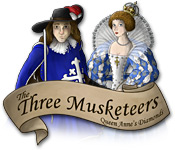 NEW299
The Big Fish Guarantee:
Quality tested and virus free.
No ads, no adware, no spyware.

Reviews at a Glance

The Three Musketeers: Queen Anne's Diamonds
0
out of
5 (
0
Reviews
Review
)
Customer Reviews
The Three Musketeers: Queen Anne's Diamonds
3
3
A Diamond in the Rough
Please be aware that this is actually half a game - the second installment (The Three Musketeers: Milady's Vengeance) carries on from the moment this game ends - therefore the ending to this first installment is a somewhat abrupt and unexpected cliffhanger. You play as d'Artagnan and leave your home village on your knackered old horse to travel to Paris and enlist in the Musketeers. Once there you find yourself in an atmosphere of intrigue, conspiracy and secret love-affairs. Not being particularly acquainted with the story of The Three Musketeers, I can only assume that the game's plot follows that of the book and I was quickly drawn into the story and eager to see how it would progress. This game is perhaps best described as an R.P.G.- Lite. As with any typical Role-Playing Game you explore your surroundings, talk to people, go on missions and quests and engage in combat. You level up and you raid chests, barrels and crates to gain items and money to upgrade your weapons and clothing. However unlike the majority of R.P.G.s, the story isn't open-ended (being based on the book, it has to follow the story) and you have to do most tasks and quests in a certain order. You can't get lost as a set of footprints leads to where you need to go, although you can turn these off for more of a challenge. Also there aren't pages of menus to wade through or a million stats to attend to (just 4 - attack, defence, honour and musket fire-power which all improve as you level up and can be further improved by equipping weapons and clothing) and you don't have to worry about magic or mana or whether you can survive a lightning attack with the hat you're wearing and all the other complications that deter many from playing R.P.G.s. In fact combat is simple yet effective (and authentic) - it's in real-time and is semi-automatic. You click on an opponent to engage them in combat, but then d'Artagnan pretty much fights the duels himself, thrusting and parrying with no user input needed. You have no control over defense and so you will take damage. However you can control your attack somewhat - when an opponent appears to sweat it means he's vulnerable and quickly clicking on him will make d'Artagnan perform a highly effective thrust of his sword. Pressing the O key on your keyboard will dispense a healing ointment for when you are dangerously close to death - a handy noise and flashing life gauge tell you when you're low on health, so keep a finger hovered over that O key, click on the sweaty foes and you'll dispatch them in no time. Many confrontations can be avoided by simply ignoring them or running away, but if you're anything like me, once you've got the hang of combat you'll be riding around looking for trouble. And there's trouble a-plenty if you do go looking - people are being robbed, women are being insulted, ruffians are telling you that you smell - your honour demands satisfaction, so en-garde! Despite the game's linearity there are optional side quests to fulfill and it's worth ignoring the footprints leading to your next mission now and again to ride off and explore towns and villages that you're not asked to visit as part of the game's plot. Who knows? You may find interesting people or a dandy item of clothing to purchase. You can gamble at one of the Paris inns and play tennis at the tennis court. On the whole you're free to wander around most towns and houses between the game's main quests although there are a couple of missions (usually involving escorting people) that have to be done straight away. If you get distracted by a ruffian or simply don't realise that it's a time-sensitive mission you get a gentle game-over with a retry button so it's no big deal - that tennis match will just have to wait until your escort duties are over. Experienced R.P.G. players may find this a tad too simplistic, hand-holding and linear but for anyone who fancies dipping their toes in the genre, this game is a gentle introduction. As it's only half a game it could be a short experience if you slavishly follow the footprints and don't take the time out to explore, so don't be afraid to wander a little and talk to random strangers. There is a lot of humour to be experienced during some conversations and other details like the sound of hooves clopping on cobblestones, the fact that your outward appearance actually reflects the clothes you're wearing (unlike many games where you look the same no matter what clothes or armour you have equipped) and the music add a great deal of atmosphere to the game. It's clear the developers have lavished much love and attention on this project. A couple of small gripes prevent me from giving Queen Anne's Diamonds 5 stars, the main one being that there is only 1 save slot. To be honest it's not a big deal due to the game's overall linearity except at the very end of the game. I wasn't expecting the game to end when it did and after the credits rolled I was dismayed to see a message telling me that if I wanted to finish all the side quests I would have to start the game again. So it would have been nice to have had the chance to go back to an earlier save and finish up that danged tennis quest. But this is a minor quibble and my true score for this game (if I could give it) would be 4.5 stars. Oh what the heck, I'm feeling generous - I'm rounding it up to 5.
January 31, 2013
Refreshing Change, Awesome, Unique, Perfect
I am gushing over this game. I knew within probably 10 minutes or less that I'd be buying it. I've been telling everybody that i know who plays pc/mac games to go and try this out. It is NOT a mass-produced thoughtless, mindless, hastily put together game like everything else out there. Nuff said. Great piece of work & I cant wait to try whatever else is related to this. I hear there are sequels - I HOPE there are sequels!
April 22, 2013
Simple? Yes. Still the Best Game on the Site!
This is the only game I have purchased from Big Fish that I return to again and again. You'll want to buy the 2nd installment as well - Milady's Revenge. The look of the game is simple, but it is VERY different than anything else on this site. The plot is more malleable, with side quests and actual choices to make in the game play. You can also customize your character with fancy clothing you purchase. You can enter all the houses and rummage through people's things looking for food, clothing, and money. It follows the plot of the novel pretty well, too! I can't say enough about this game. As I said - it's the only one I have actually played more than once (3 times so far!). Try the demo, and write a glowing review and hope that someday we see more games of this style here!
September 15, 2014
The Apple logo is a trademark of Apple Computer, Inc.