Royal Envoy Collector's Edition
Take the King's challenge! Save the wonderful land of countless islands, Islandshire, from the merciless forces of nature.

This is a special Collector's Edition early release. The game is scheduled to be released in 2-3 weeks so, the Collector's Edition is for those who can't wait to save Islandshire. As a bonus, Collector's Editions purchases counts toward three stamps on your Monthly Game Club Punch Card!

Experience all the exclusive Collector's Edition extras!
The Collector's Edition includes:
Hours of bonus gameplay!
Magnificent wallpapers
Animated screensaver
Built-in Strategy Guide
Game System Requirements:
OS:

Windows XP/Windows Vista/Windows 7/Windows 8

CPU:

1.6 GHz

RAM:

1024 MB

DirectX:

8.0

Hard Drive:

216 MB
Game Manager System Requirements:
Browser:

Internet Explorer 7 or later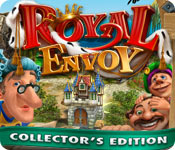 The Big Fish Guarantee:
Quality tested and virus free.
No ads, no adware, no spyware.

Reviews at a Glance

Royal Envoy Collector's Edition
0
out of
5 (
0
Reviews
Review
)
Customer Reviews
Royal Envoy Collector's Edition
40
40
My favorite game
In my opinion Royal Envoy CE defines what a time management game should be. It's got everything in just the right amount. Various components of the game - types of buildings, workers, markets and rent collectors, special projects and challenges, plus the time allotted to complete a level - all these components are perfectly balanced to create an extremely satisfying game experience. Of special importance is the fact that you can keep playing a level after time has run out. You won't get a gold star that way, but you don't have to start over unless you want to. The option is there. Levels are very well designed and exquisitely drawn. The artwork reflects the developer's placing great importance on the aesthetics as well as the gameplay. Foliage is lush in most levels. Not only is it beautifully drawn, but each tree is assigned its own slight swaying motion, as if to a very gentle breeze. Far from being distracting, it's hardly noticeable unless you watch for it. I find it quite lovely. There are tiny butterflies in the shrubbery, little birds fly overhead, and small curious eyes peep out from dark little caves. Amazing attention to detail! The story is cute and funny. Characters are whimsical and fun. They reward you with applause, hopping up and down, and twirling happily around. So cute! It makes you feel good. I found the ending especially funny and laughed out loud. This is definitely a feel-good game. Bonus levels in the CE are more of the same, without the adventure aspect (except the last one!). Difficultly varies but pretty much parallels that of the adventure levels. I relied on the CE bonus walkthrough feature to complete some of the adventure levels, and had to refer to the developer's (Playrix) website to complete a few of the bonus levels. So for me the walkthrough feature is a must. Very glad it's available, however many veteran TM gamers might find it unnecessary. Another bonus feature I especially like is the "Making Of" feature. I don't use the wallpaper but it is very cute. I like the soundtrack a lot, but I generally turn it off during gameplay as it gets too repetitive. (I do this for all games, not just RE). Overall I rate this game SIX OUT OF FIVE STARS. That's because in my opinion it is totally over the top. It's a perfect game. I've played it through several times, even twice in the optional Expert mode, and I still enjoy playing a few levels in Regular mode now and then for sheer enjoyment. It's my favorite game.
November 12, 2011
Best Time Management game EVER!
Great graphics & soundtrack, good mouse control, increasingly challenging with a building (no pun intended) storyline and fun characters. Timelines the toughest I've ever faced but boy did I have fun! Highly recommend this game for those that really want to be challenged.
December 5, 2011
One of the best ever games made:
What a brilliant piece of work this game is. One of the best I've ever come across. The graphics are fantastic, the replay value and challenge is excellent. I have played over and over again, making new players and going through until I've got a gold star in expert level. The added addition of the bonus games just give you a bit more of the same..but what fun. I tried to get my husband to try this game, but he stubbornly refused saying "oh its just one of those building games - I'm not into them." Finally I convinced him to try it and sure enough he is also hooked. I have recommended this game to friends and all that have gotten it love it. Don't assume it is 'just a building game' I have tried all the others build type games and they don't appeal to me at all. This game is just pure challenge and fun as long as you give it a chance to start getting interesting. The first level's are super easy, so you feel it is a bit boring...but oh no..its just getting your ability up ready for the further challenges. The other beauty of this game is that you don't have to get a gold star to continue, you can still advance and as your skills improve and your thought stategy improves you can come back to it, tackle it again and master it. I know you will enjoy it.
November 26, 2011
This is a MUST have Game!
Gwhynot's review said what I intended to say and more. Check out their review Thought the Collector's Edition (CE) was worth having with it's 30 additional levels and other features. If you enjoy Time Management games this is a must have game. I started out with the regular version, but had to have the CE because it's such a great game. Detail in the graphics/animation was awesome! This game will b played over and over again. Enjoy :-)
December 3, 2011
Could not be better
Humor is a very rare thing in Big Fish games, but here it is. When I stuck the surprise, I could not help laughing. But it is funny all the way, the caracters are unik. It is the best game of its kind, I ever played, folowed by build-a-lot-games. Cedric is one of the few personalitys I remember from a game. But Playrix, some russians, have a good sense of humor and nice drawings, whitch you also find in Gardenscapes. Just now I am waiting for Royal Envoy 2 to hit the big fish.
November 15, 2011
Awesome Time Management Game!
I absolutely love playing Royal Envoy 2 - the graphics are great, the cut-scenes funny/cute and the level of challenge is perfect (not too hard but not too easy either). They also have a alrge number of trophies you can win - which adds another level of fun/challenge. If you aren't familiar with this type of game, you have goals that you have to meet for each level before you can move on to the next - these goals generally have to do with building certain types of houses or other buildings, making the people in the community happier, clearing roadways, etc... Overall, I would highly recommend this game to anyone who enjoys time management games - it's really a great one!!!
January 21, 2012
Best Time Mangement Game Ever
This is the most fun time management game I've played. The story line is quirky and unobtrusive to the game, the levels are appropriately challenging and the interface is easy to use and intuitive. I wish there were more games like this out there.
December 3, 2011
Well Recommended
Excellent value for money - you can play for hours and still find something new (or frustrating)! Certainly makes the brain cells tick! Humourous characters and generally good all round family fun! (Not many games you can say that about!). Hope there's more of this on its way.
January 15, 2012
Royal Envoy Collector's Edition
This is a wonderful action and strategy game. The graphics are wonderful and is fast paced. It is challenging but not impossible to complete the levels. I'm looking forward to a sequel of this game
November 14, 2011
The Hidden Object Game Lover LOVES This Time Management Game!
Well, I'm not as obsessed with Time Management Games as I once was, but I'm happy to give them a try. Let me say... ROYAL ENVOY IS AWESOME! It is hands down the best Time Management game I have ever played in my life. For me, it's all about the gameplay, but there is a nice story to go with it. The story goes that you have been chosen by the king to help rebuild Islandshire and you, along with your friend, Cedric, set about on rebuilding the Island. Some nice touches added were the pirates ?asking? for your help with THEIR island, and the game using your name in the story, although the king does not speak your name. I felt that this story was a nice touch to an addictive game. Now, the gameplay. One word to sum it up: AWESOME! I was addicted from the very start, and this addiction just grew and grew and grew. I had so much fun. My free hour went by in a flash. The gameplay is basically a medieval, much more fun, version of the Build-a-Lot franchise. The game involves building and upgrading houses to increase rent and happiness, building buildings (such as markets and sawmills), which decrease the happiness, I must add, collecting rent and so forth. So, you're pretty much looking at a 700x better Build-a-Lot. The game is timed, but not timed. Let me explain this in further detail: There is a gold timer, which gives you a gold star if you manage to complete it before the timer runs out, but if the timer does run out, you can still finish the level, which I loved. It is not important to get a gold star on every level, but an achievement is earned if you do. The game is very challenging. For those looking for a challenging game, this is it. How long does the entire game take? Well, I finished 10 levels in an hour, but I'm sure they'll get longer as the game progresses. There was still at least 5 islands, each with 4 levels, to complete. So I'm estimating at least a 3 hour main game based on my playing time, but there are faster and slower players than me, and this is assuming we don't run in to more pirates in the entire game. The graphics were great, as is expected when it comes to PlayRix. They've done a marvelous job here. The game artwork is superb: crystal clear, visually appealing and not grainy, not even once. The cutscene artwork is also exceptional. The voice-overs were good, but not great. They weren't over done, but weren't bad either. The voices are British with the exception of the pirates, who are American. FEATURES Achievements ?Log book?- this allows you to watch all cutscenes again. Points System- every time you finish a level, you earn points. Points are accumulated by the following factors: Amount of resources Amount of houses built, as well as the upgrades. Whether or not you got the gold star CE EXCLUSIVES Strategy Guide- extremely helpful for those (like me) who can't finish every level in time for the gold star. Lots of bonus play Screensaver Wallpapers This will be the first time management game I have bought in AGES and the first ever PlayRix game I've bought. Usually, PlayRix give good games, but this is a great one. I HIGHLY recommend to anyone, even those who prefer Hidden Object Games. No matter if you get the CE or the SE, you WON'T be disappointed!
September 8, 2013
The Apple logo is a trademark of Apple Computer, Inc.