Dominic Crane's Dreamscape Mystery
Dominic Crane's been having recurring dreams about places he's never been to. He doesn't know what to make of it, and goes to his shrink hoping he will help him figure it out. Jump into this Hidden Object Adventure game and begin a journey through places you'd never imagine. Travel through eerie worlds and navigate through a maze of puzzles to uncover the meaning behind the mysterious dreams, in Dominic Crane's Dreamscape Mystery!
Imaginative atmosphere
Mysterious story
Explore an eerie dreamscape!
Game System Requirements:
OS:

Windows XP/Vista/7/8

CPU:

1.0 GHz

RAM:

512 MB

DirectX:

8.0

Hard Drive:

152 MB
Game Manager System Requirements:
Browser:

Internet Explorer 7 or later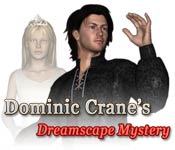 NEW299
The Big Fish Guarantee:
Quality tested and virus free.
No ads, no adware, no spyware.

Reviews at a Glance

Dominic Crane's Dreamscape Mystery
0
out of
5 (
0
Reviews
Review
)
Customer Reviews
Dominic Crane's Dreamscape Mystery
10
10
A game for AZADA lovers
You have 3 or 4 scenes with inventory puzzles and simple H0 scenes. No instructions but easy enough to figure out if you think about what you have in your inventory and what you can do with it. Because the story doesn't really carry on from chapter to chapter it is easy to stop and start this game if you just have a short time to play. I really enjoyed this one!
November 20, 2011
Challenging
At first I found this very frustrating and got stuck on how to move the dragon to get the tape. Kept going to look for help from the forum. After I found out how to do this I realised that if I clicked everywhere (outside of the hidden object scenes) a sparkle would appear. Decided to buy and as it is a medium length game decided only to use hints rarely. Two of the mini games I found hard, and hate to skip as it does not give you chance to see solution and understand it. All in all I am glad I persevered as I use hidden object games to test the old brain I am not usually interested in the story. Again I say well done BFG. 9/10. I did finish it. I recommend people to try to stick with it.
February 8, 2012
Good game with a slightly different twist
Dominic Crane visits his shrink to help him try to understand his dreams of different places he has never been to. At first this game was hard to fathom out, and it wasn't very clear what the object was or what the developers were actually trying to acheive. As other reviewers have written the puzzles gave no clues or hints of what was required but as the game progressed it all suddenly clicked and it all seemed to come together. It developed into a very interesting and rewarding game which did test the old grey cells a bit and was quite challenging in places. There was no voice overs and the written dialogue was just adequate enough to guide you through the game. The graphics were quite clear and colourful and the bulk of the hidden objects did not present much of a problem. The puzzles, however at times did trouble the brain a bit and others were very reasonable. All in all quite a satisfying and rewarding game. I enjoyed it and would recommend it .
December 19, 2012
I enjoyed it!
There's quite a lot to enjoy in this game IMHO and I found it quite relaxing. I liked the episodic setup - it's easy to complete just one chapter if time is limited. As a rule, I get irritated with games that give little or no guidance about what to do (and this one is very thin in the guidance area, as other reviewers have noted) but somehow it was no problem here. Usually it was fairly easy to work it out and when it wasn't, a bit of trial and error did the trick. I liked the quirky nature of some of the scenes - they are dreamscapes after all, so it's fine that some of the solutions to the in-scene problems are quite nutty. The graphics have a very dated look but that's not really a problem - it doesn't hamper the gameplay. I didn't like the music (though at least it was proper music, and wasn't loud and frenetic) but I just turned it down, so that was OK. It's not an all-singing, all-dancing game with lots of action so wouldn't be everyone's cup of tea but if you like puzzles as well as HOS and not too much hand-holding, at least have a go with the trial version.
March 8, 2013
Provides a pleasant moment
With hypnosis, Dominic will understand his dreams. - Lot of HOS - Several enjoyable mini games - Great graphics, very well done; - Good voice over; - Nice music; - Varied locations - Sometimes is challenging (as the pyramid), others are quite easy (like puzzles of landscape or find pairs, etc). - Mini games (and some sparkles in locations) do not have instructions. Sometimes it's obvious what has to be done and sometimes you get a little lost. So, it's necessary to wait a while, and suddenly you find something that leads to the solution ( you hit yourself! ... hints are not very helpful). - Not a long game.
January 30, 2012
Fun if you want to relax
I have played both the Dominic Crane games and enjoyed them both. The graphics are nice and clear, the music is interesting without being obtrusive and it is easy enough to work out what to do with inventory items. It is not the most difficult game I have played but it is one I have played more than once when I want less of a challenge. I like being able to do the mini games without tearing my hair out.
November 27, 2011
Still have not finished it
I just cannot get through this game, Doesnt hold my interest. Good graphics and music, though!
December 10, 2011
Dominic Crane's Dreamscape Mystery
Dominic Crane is an artist who lately has been having recurring dreams. Dominic decides to visit a psychiatrist to find out what these dreams mean. The doctor puts Dominic into a hypnotic trance and voila, you enter one of Dominic's dreams. The goal is to find a key to enter the next dream and when you have located all of the keys, you will solve the dream mystery. You will need to visit each location available in the current dream, and solve various problems, such as fixing electrical wires, finding doorknobs and door keys, and whatever inventory item you need to progress. The inventory items are found within the hidden Object Scenes and because each scene has the same basic color hue, some of the items are difficult to find. There is also a cursor penalty for misclicks, but only a second or two. The items that sparkle in the scenes are the items that require you to use an inventory item such as a pair of scissors needs to be used on the pillow to receive a safe's code. There are also several mini games to solve such as turning several discs to complete a picture, swapping puzzle tiles and rotating jigsaw pieces. Some of the mini games require you to find a clue first such as the number to the safe, and then you have to figure out the rest of the code by reason of deduction. The problem I had with this game is that you don't get any guidance with the mini games, no explanation and no hint, only the option to skip the entire puzzle. The hint system seems to only work in a HOS.
December 16, 2014
The quality of this game is not good
The safe's are hard to solve as well. You can get the number by going through the rooms; but what the heck are you suppose to find the symbols for the legs. The puzzle solution Chapter 2 Stage 3 with the box and the key, where you have to do something with the spindles doesn't give you any directions on what you are suppose to do within the game The Gear puzzle doesn't give you any information on what your trying to do, it's a guess that you hav to take the gears at the bottom and move them into both pictures to make both sides match The Pyramid Puzzle in chapter 4 doesn't provide you any information on what you need to do with the pictures, basically you need to arrange the evolution stages The solution in the pyramid and the basket puzzle, the game doesn'ttell youthat you have to arrange the symbols to match what you saw outside, no directions. The puzzle on the door with the colored circles doesn't tell you that you need to put a certain color somewhere, and that the a certain pattern needs to be put together, no directions, pure guess The computer puzzle doesn't give you any direction on what you need to accomplish, no directions at all; pure guess that you had to not only match the color but category of the items, pure guess The second safe puzzle is just as bad as the first. The solution is again numbers and items; the computer gives you the numbers but where do you get the spinder-eyes=week as clues The hint key is really poor in this game, it doesn't regenerate all the time, and it's really hard to tell if it has or not. Every Hidden Object scene when you complete it doesn't act like you have, it still shows a magnifier glass like there is still more things to find when they aren't. A lot of the hidden scenes are on color pallette, there is no definition to the items, hence several items are blending together when they are placed together. You have to keep clicking to see if what your looking for is in one area Chapter 7 - Rhino. you would think that one balloon would not be enough to float a Rhino,and you would think that you would have to find a rope to lift the Rhino up, but in this game no
November 19, 2011
Seen it, done it, no thanks.
HO scenes not very challenging, just basic. Puzzles have NO instructions. Can take a while to figure out what you're supposed to do. A lot of it is just guesswork. Hints take SO long to refill. Even at a casual level there's nothing to show what you're supposed to do.
October 18, 2012
The Apple logo is a trademark of Apple Computer, Inc.