Art of Murder: Hunt for the Puppeteer
Nicole Bonnet is a young, but experienced, FBI agent following a series of mysterious and brutal murders. A strikingly similar death is discovered across the ocean in Paris, and Nicole must now track a dangerous serial killer across two continents! Find the link between the victims, discover the killer`s motive, and stop the murderer from striking again in Art of Murder: Hunt for the Puppeteer, a dark Large File Adventure game. Warning: Art of Murder: Hunt for the Puppeteer contains some graphic content.
Intriguing storyline
Gorgeous locations
Stop the Puppeteer!
Game System Requirements:
OS:

Windows XP/Vista/7/8

CPU:

1.8 GHz

RAM:

512 MB

DirectX:

9.0

Hard Drive:

2289 MB
Game Manager System Requirements:
Browser:

Internet Explorer 7 or later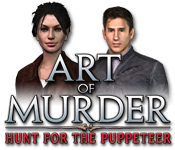 NEW299
The Big Fish Guarantee:
Quality tested and virus free.
No ads, no adware, no spyware.

Reviews at a Glance
Art of Murder: Hunt for the Puppeteer
0
out of
5 (
0
Reviews
Review
)
Customer Reviews
Art of Murder: Hunt for the Puppeteer
14
14
Great Exciting Game
I started to love these types of games after playing the Syberia series. The Art of Murder series is just as interesting to play as you become agent Nicole Bonnet and solve the murders. You get a unique opportunity to think like an agent and use FBI type crime lab equipment. The graphics were great and in each location you felt you were a part of it. Mystery/adventure games have their challenges to solve, but that is also what makes them great to play!
November 18, 2011
Wonderful Adventure Game
This is a third-person POV game. Not my favorite type as I prefer first-person POV, but a great game nonetheless. You play as Nicole Bonnet, an American FBI agent tracking down a criminal that the FBI believes has moved from the USA to Paris, France. The graphics are really good, and the voice acting is satisfactory. While the mouths move, they don't follow along with the actual words being said. Meaning, you'll still see their mouths move even when the character is done talking. This game is a bit dark, but IMO, it is the kind of game best played in the dark. You tend to see everything better that way. This is not an easy game for me, but thankfully there is an excellent walkthrough. While BFG does not provide one, there is a link to one in the forum. There are some humorous parts of dialog, but what I didn't like was the Inspector's blatant disregard for women in authority and Nicole calling him a Frog. Fortunately, that doesn't take away from the game; in fact, the Inspector's disrespect for Nicole does spur her on to do a good job. I do like the fact that the developers did include Sophie LeReux (from the Chronicles of Mysteries series) in a small scene to help out Nicole. Unlike the later AofM games, this one is NOT a hidden object game. It is a true point-and-click adventure game and you will do a lot of walking around. However, the great thing is that if you double click, you can make Nicole run. The game is a bit linear and Nicole won't let you move on to a new chapter (for lack of a better word) until everything is completed. Some may find the murder scenes a bit graphic and/or disturbing, but then again, murder is never pretty. And BFG does issue a warning for this. All-in-all, this is a challenging adventure game with an interesting and will take a while to complete.
April 21, 2012
Wish there were more games like this
This was my first point and click adventure game. Instead of starting with something simple, I dove into this one couple years ago and it took me almost 3 months to finish. Had to resort to a walkthrough a couple times but I mostly could figure out what to do on my own. Before finding this game, I was an avid hidden object game player but I felt as if that genre was going downhill not just with the story lines but game play as well. I started to seek out something with more adventure and less hidden object. I cannot say enough good things about this game. Everything was spot on and it was HARD and I LOVED it. From here I bought almost every game BFG had large file including syberia 1&2 which I highly recommend. I also played all the other Art of Murder titles and am very sad that the developers went to a hidden object genre after having tremendously good adventure games. This is one of the only games Ive played where I was actually nervous and scared by the plot line and everything going on. I began to see myself as Nicole and when she was in danger, I was in danger and Id panic. This game had me at the edge of my chair and I recommend it to anyone who is sick of the same old hidden object games and wants a real challenge. You have to use your brain but its logical things to figure out not the same junk you see in the hidden object games. This game really got me thinking and I was deeply saddened when it was over. Its NOT 360, its a point and click adventure and I've been a member of bfg since 2007 and this hands down is the best game Ive ever purchased.
August 31, 2012
Fun Hidden Object Game
This really challenges the way you process thoughts and memories. Fantastic graphics, I truly loved this game. I wish there were more like this one. I love Bigfishgames. They really stepped up on protecting their customers if there is a problem. I truly appreciate the great games they refer to us. Please play this game, you will not be disappointed.
December 5, 2011
My First Large File Game - Very Thrilling/Engrossing- Review Of Completed Game
You take on the role of Nicole Bonnet, an American FBI agent and must track down a dangerous serial killer known as the "Puppeteer" that the FBI believes has moved from the USA to Paris, France. This is definitely a true point/click adventure game but NO 360 degree movement (woo hoo as I don't like this). You won't find any HOS (Hidden Object Scenes) here. Lots of traveling back/forth and talking with people to get things accomplished. The hint system for me was a hit and miss. Sometimes I found it helpful and sometimes not as it just brings up question marks. You also have to combine items from the inventory to use them which I found to be done by trial and error. There's also a couple of parts in the game that are "timed" and you can't skip them along with one I would consider a puzzle. Other than that no puzzles. Also at times can't "pick up" items until they are actually needed. You also have to save the game as it's not done automatically. OVERALL IMPRESSION: WOW! What a rush! A totally thrilling and engrossing game. The story line right along with the graphics, voice overs and characters especially Nicole just excellent for me. As my title says this is my first large file game I've played all the way through as the ones I've tried in the past were the 360 degree movement and well I can't play those and while I've played a lot of games here on Big Fish mostly HOG's and HOPA 's (Hidden Object Puzzle Adventure) I find this to be a bit different. My reason for putting myself as a "beginner." I was so happy to see this game isn't that along with a group play at the Big Fish and an excellent walk through in case needed which I've rarely consulted one for games but I did have to for this game about 4 times. As for the game length this game was quite long for me. It took me about 12 hours to complete this. Most of it in one setting but not all of it. While I ran into a few frustrating parts (the couple of "timed" parts along with the one puzzle) in this game well I can't help but rate this 5 stars as I found this to be way more fun than frustrating but it was definitely challenging and not an easy game for me. Thanks Big Fish and developer. I sure look forward to seeing more games like this and especially the Art of Murder series here but from what I've read this developer seems to be taking this to the HOG/HOPA level. I sure hope they decide to go back to 'adventure" for this series. As always, give it a whirl and decide for yourself.
August 6, 2013
Nicole Bonnet and City Interactive Create another Success!
My thanks to Robert Ozog, the Leader and Story Director, and City Interactive, for coming up with yet another thriller a la "The Art of Murder: Cards of Destiny." The story once again has Nicole jumping all over the map, from Paris to Marseilles, and from Spain to Cuba, and back again to Marseilles. She is on the trail of another brutal serial killer, but is impeded by a French police inspector and a variety of thugs. She goes through constant life-threatening situations and runs several "death gauntlets." These are timed sequences, featuring climbing dangerous walls, outrunning attack dogs, and climbing out on high ledges. The slider puzzle, which needs to be solved to get into a secret room was a real agony to solve, and it took me about an hour to crack it! If you loved "Cards of Destiny," then you'll LUV "Hunt for the Puppeteer!" Again, THANKS, BIG FISH GAMES!
October 31, 2012
I hope they have more like this one!!!
You play as Nicole Bonnet, an American FBI agent tracking down a criminal that the FBI believes has moved from the USA to Paris, France. This is not an easy game but that is why I like this game it is Challenging. But if you can't get through it there is an excellent walkthrough in the forum. I also like that it is not a hidden object game.
July 8, 2012
BRILLIANT GAME!!!!!
I loved this game. As good as all the other Art of Murder games. It has everything. Brilliant movie like graphics, great storyline, brilliant sound effects. Loved all of it. Quite challenging at times so had to look at walkthrough now and again. Some puzzles took a while to crack but enjoyed doing them.. You feel like you are in on the action with these games and its total immersion. FANTASTIC!!!!!
October 10, 2012
Chilling
Game was excellent. The first scene was a little slow having to go back and forth to the hotel, but after that the game got more intriguing as you got closer to the murderer. There is a murderer on the lose who kills his victims and then arranges the body as a puppet. The ending scene did seem lame, but the rest if the game was great. Puzzles were challenging, but not completly impossible. There was one puzzle in the mansion that was impossible for me to where I had to get a save file from someone else who completed that puzzle (if you look up slider puzzle in the forums, you will see a lot of people who had a lot oftrouble with this puzzle). Graphics were very good too.
March 3, 2013
Excellent Point and Click Adventure Game
If you are or were a fan of the Broken Sword PAC adventure games like I was (I still am), then you will really like this game. This game is 3D so it's closer to the newer BS games like Sleeping Dragon. It doesn't have as much humour as the BS games and the music isn't as inviting , but I still give this game 5 stars. Looking forward to playing the other 2 games by the same developers.
December 16, 2014