The Legend of Crystal Valley
Eve has returned to her childhood home only to find out that her father is missing! Help Eve track down her father and learn all about The Legend of Crystal Valley by solving complex puzzles. This Large File Adventure game will take you deep into Crystal Valley, and introduce you to the inhabitants as you unravel this magical mystery. Can you find Eve's father and figure out his place in Crystal Valley?
Discover a magical world
Tricky puzzles
Find your father!
128 MB AGP Video card with Full DirectX 9 support suggested
Game System Requirements:
OS:

10.4

CPU:

800 Mhz

RAM:

256 MB

Hard Drive:

552 MB
Game Manager System Requirements:
Browser:

Safari 4.0 or later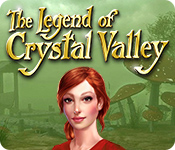 NEW299
The Big Fish Guarantee:
Quality tested and virus free.
No ads, no adware, no spyware.

Reviews at a Glance

The Legend of Crystal Valley
0
out of
5 (
0
Reviews
Review
)
Customer Reviews
The Legend of Crystal Valley
8
8
Adorably Cheesy
I grew up on LucasArts and now play every Telltale, Daedalic, and Wadjet Eye game I get my hands on, but this is seriously one of my favorite adventure games from the past 10 years. Endearingly cheesy story and plot, and a surprise with nearly every click--everyone in this game is a raving lunatic, and I'm in love with it. It's fast paced, the puzzles are simple, and its dual item-combination and spell-casting mechanics are creative; but more importantly, I got a sense that the developers had the freedom to just go all-out and write down every single crazy idea and line of text they could think up. Kudos to everyone involved.
December 6, 2012
Excellent
This game was excellent. Big Fish!!!! Where are your other point and click games. You need a separate list for these types of game, away from the hidden object games. This game was really great to play.
February 23, 2014
Much better than expected!
I played this game and it went over my expectations. The game is a fun game-challenging, but not annoying/frustration/too hard challenging. The music in this game, I LOVED. Throughout the game, the music changes a few different times (it never gets annoying) and it's BEAUTIFUL. Some beautiful guitar playing. And you always go forward in the game, which I liked very much! I Loved the atmosphere too. The storyline was amazing to me and def. had a twist! There is however no voices in this game, but it didn't make me dislike the game. This game is sort of like Dreamfall: the longest journey, only the mini game to that. Great game (and this is NOT a hidden object game).
January 30, 2012
There is no ending
The game itself was great. As someone else said, it wasn't hidden object so that in itself was an awesome change. The story line was great as were the graphics and the puzzles were good too. The one huge problem that I had with the game was the ending....or lack thereof. After hours of great storyline the game just suddenly ends. The ending cut scene is about 3 seconds long and does not explain the strory at all. Unless there is a sequel that is planned, the ending makes no sense and is a huge disappointment. It's as if the developer just got tired and said "the end".
July 6, 2012
A Decent Adventure Game
Catela Games has given us a "decent," if not "great," adventure game, with average graphics, and excellent cut-scenes, but with NO voice-overs. Too bad. The voices could have made the game much more interesting. The music is done fairly well, and the game had a good sci-fi storyline. Yet, the game was too easy, with a paucity of puzzles, which proved to be quite easy. There was really A LOT of dialogue, which could have been trimmed down, but, all in all, the game proved to be interesting enough to play all the way to the very abrupt ending.
September 28, 2013
Disappointing after promising beginning
Way too much pointless, repetitive dialogue, no voices for the most part. Ends rather suddenly without much explanation. A few interesting puzzles; I wish there were more further on in the game that required thought in the way that the statue puzzle does. The things that were cool were almost too obvious, and then there were others that were too easy to overlook, going from place to place looking for something you hadn't yet interacted with, when it turned out that it was in fact something you had already looked at that you needed, but you needed to look at it multiple times for a description to show up that hinted at how you might use it. I'm not going to click on every (most likely useless given the percentages of things you use and those you just look at) single object 3 or 4 times to just get the same description most of the time! But apparently in this game they expect you to do just that... I simply can't recommend this game because it's relatively short (if you can figure out which objects you need to investigate), the storyline seems intricate at first, and then it's a letdown with no explanation really tying it all together. Leaves me with the feeling that they started off with a really ambitious, complex story, and then suddenly they ran into a project completion deadline and had to cut short the end rather than really explain all the complexity they had come up with. Several characters and plot elements were indicated as being very important, and at the end it's just "eh, none of that matters now, have a Coke and a smile." There could have been a lot more humor incorporated other than "what, you mean I have to bargain with you too, and go do some errand before you'll help me?" I also had an object that I never used to complete the game; if this was the case for several objects, it would make sense to have teasers...but not for one single object I got near the beginning.
December 21, 2011
Perfect game for beginners
This is a pleasant mystical adventure game by Cateia games (hotel, where angels cry, captain brawe) made in 2009 but it does feel like an older game. The plot was intricate, well thought out and got some humour and it is very much plot driven with quite a bit of dialogue in it. What was weird to me was there was voiceover at the very beginning and with the tutorial and then suddenly none for the whole rest of the game. I kept changing the controls in options as it felt like there should be especially with some cutscenes but there aren?t any. The ending although I liked was abrupt and not wanting to spoil anything I didn?t think it would be that as the rest of the game didn?t make me feel it would be that. It does feel like there could be a sequel to explore the story further but there is a end to the game, you aren?t left hanging as in ?to be continued.? I loved the detail and humour in the story from cats, how pyramids were built to what happened to ?melvis.? As ever if you don?t like the type of mystical storyline then you won?t like this game. The graphics are a weird mix between some nice scenes and the feel of a much older game and movement could do with a bit more finesse. You play as Eve who gets a letter from here Dad asking her to meet him back at the farm and thus the adventure begins. This is an easy adventure game and a shortish one ? it was the time of a short HOPA (4hrs 15mins ? if you look at your saves it tells you the time you?ve played.) so don?t go expecting a large file usually long type game. There are but a handful of puzzles in this game, all easy if you remember to take notes during the game for one. So this is an excellent adventure game for beginners and also a tutorial at the beginning of the game explaining things. Game mechanics ? -Top right is inventory and menu or you can access the inventory by right clicking. -Manual save, which if you right click you can save it from your inventory area or the menu. So remember to save often. - Can't skip puzzle but they are not hard and only a few -Later in the game you get spells to use, which you access from your inventory (hit magic tab) to access it. -Sometimes clicking on it and then on item to use it on didn?t work and I had to double click on it in the inventory. Some items I had to double click in inventory to use them as well. -Combine things in inventory by clicking and dragging things onto each other. -Diary tab in inventory which conversations are recorded so you can go back if you need to refresh your memory. -Double clicking on blue curser mostly worked to instantly move her but you can also use spacebar for her to run. -Click on go back button in conversations to open up all dialogue. There are loads of different types of adventure games, even the games by this developer are very different, just as there are loads of different types of books. I have quite a wide range of taste in games and sometimes I want something easier, relaxing and don?t mind that it?s not as long as a LF game. While the movement, graphics and the ending could all be improved, I really enjoyed the change of pace. It?s not one of the best by any means but it doesn?t have to be for me to appreciate and have fun with it. It?s a good game if you have a coupon code so try it out. TIME ? 4hrs 15mins. (I rate hardness for LF games differently than HOPAs I would say it's about the same hardness as most HOPAs)
October 23, 2012
Uninspired gameplay in a fascinating fantasy world
The Legend of Crystal Valley has some of the elements of a good adventure game. In particular it has an interesting game world and a good story. Unfortunately the actual gameplay is not that good, it is too easy and just not that fun. The graphics are sort of a mixed bag. Backgrounds are always good and sometimes very impressive. Character animations on the other hand are inadequate. For example when you pick an object up you can clearly see that the character never touches the object. The music is quite good and always appropriate to the situation. There is no voice acting, but frankly I prefer no voice acting to bad voice acting anyway. The puzzles are perhaps the weakest aspect of the game. They were much too easy for my taste. This is probably the easiest game I've played here on Big Fish and the only reason I give it a two instead of a one for challenge is that it is a story driven game where easier puzzles are sometimes appropriate (i.e. in a more puzzle centered game like Myst or Safecracker too easy puzzles would have been much more of a problem). Still, easy puzzles would make the game appropriate for beginners, what is worse is that the puzzles are not particularly fun to solve. There is a complete lack of creativity, with many fetch tasks where you are asked to bring a certain object to someone and puzzles I have seen many times before (but with a lower level of difficulty than in other games). The game world is probably the best aspect of the game. It is inspired by Slavic folklore and feels exotic yet familiar. Exploring this world and learning more about it by talking to other characters is the best part of the game. The actual story progression is not quite as interesting as the world and the ending felt anticlimactic. Unfortunately, apart from when you learn something new about the game world the dialogues are not that well written and feel more like you are questioning other characters than as proper conversations. Unfortunately, the gameplay is just not that fun. With the easy uninspired puzzles the main motivation to keep playing is to learn more about the game world. There are occasional insights into the game worlds mythology to be gained that keep the game interesting enough to keep you playing, but apart from that the gameplay mostly consists of performing simple tasks and interacting with othe characters to get from area to area and given the unispired puzzles and not so good dialogues this is not all that fun. All in all this is a game set in a fascinating exotic fantasy world that could have been very good if it had had better puzzles and dialogues and/or if gameplay had been more focused on the aspects of the game that were good (i.e. exploring and learning more about the fantasy world). Unfortunately, despite the interesting world, the game is not that fun and while it is not an outright bad game, there are many better games out there and in the end I cannot recommend it.
November 19, 2012
The Apple logo is a trademark of Apple Computer, Inc.
The Windows logo is a trademark of Microsoft, Inc.