Virtual Villagers: The Tree of Life
Continue the story of the mysterious island of Isola, and the tribe of lost refugees. The island's chief is worried that life is slowly diminishing on the island and has selected a tribe of explorers to find the source of Isola's troubles. They discover, and inevitably populate, the hidden eastern shore of the island. Uncover fantastic mysteries, unravel the story of Isola, and save the Tree of Life in Virtual Villagers 4!
Explore the coast of Isola
Exciting new puzzles
Save the Tree of Life!
Game System Requirements:
OS:

Windows XP/Vista/7

CPU:

1.0 GHz

RAM:

512 MB

DirectX:

7.0

Hard Drive:

81 MB
Game Manager System Requirements:
Browser:

Internet Explorer 7 or later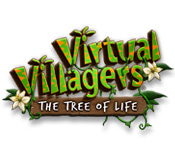 NEW299
The Big Fish Guarantee:
Quality tested and virus free.
No ads, no adware, no spyware.

Reviews at a Glance

Virtual Villagers: The Tree of Life
0
out of
5 (
0
Reviews
Review
)
Customer Reviews
Virtual Villagers: The Tree of Life
24
24
Wonderful Strategy Game!
The Virtual Villagers games are my favorite game series. The Tree of Life game is a wonderful strategy game. The graphics and sounds are quite good, particularly the music. As with the rest of this series, there are many objects to collect, tasks to do in order to gain points and keep the villagers going, and specific tasks to accomplish to reach the ultimate goal of saving and healing the Tree of Life. It is challenging and takes time, and it's a great stress-reliever; a fun little virtual world to escape into. Good family game, too. If you like virtual life type games and strategy games, you will enjoy this one. If you like the Virtual Villager games, you will love this!
December 28, 2011
A great, interesting, and mysterious game!
I have completed this game about a year ago I think. LOL. But from what I remember it took me probably 4-6 months to complete all the puzzles required to finish the game. It would have been less time if it was extremely addicting. ;D Don't get me wrong, it was a fun game. I just have to give the fun factor 4 bars, just like I probably would give to all of the virtual villagers games' series. The reason is because villagers always have to work and gain skill, which obviously is repetitive as fans of the game already know. Despite all of that, I like the fact that there is always a new plot on each of these games. Or something alters, such as where old plants, farming spots used to be. I think it's because they are always in a new part of Isola. The graphics are great, nothing too big. I like the new wind chimes they have added, really cute. :3 I forgot about the music but maybe it's not too bad. Ok so in this game, your villagers are working together to save the tree of life, that is in this part of the island. When you start off, the tree is lifeless (obviously). And you just have to have some villagers research, so you can gather tech points. And use your tech to buy science tech, so you can accumulate those points faster! lol. xD And just keep completing puzzles and upgrading various tech so you can help your little tree there. ;D I forgot what I did in the game, but I remember that overall the game was easy to complete. It's time-consuming but easy (if that makes sense). I used a walkthrough though because I had no idea what I was supposed to do because I was new to the game. I'm not saying that the walkthrough made it less easy, because you still have to work towards each puzzle. I recommend a walkthrough. ;) After you are done with the game, you can witness more villagers dying. lol. Um, increase population. You can name your villagers too, (if you didn't know that.) You still have achievements you can do. And probably other stuff I'm forgetting. ;D Or you can start over, and be a cool expert. :P This game is cute, it has a cool and interesting plot and storyline. I enjoyed it, and I think fans of virtual lands or worlds will enjoy it on their own level. And it's great because there are many things to do. I shall see when I will return to my village people, lol! You should buy the game if you're a fan. I am so I'm collecting them (the games of the series) haha. ;3 And it's not really a waste because you can come back to the game anytime. And there are different game speeds. Ok so I hope I was helpful, happy village-ing! :)
November 27, 2011
I love it!
I tried the first two virtual villagers games being skeptical but I loved the challenge. This is even better! More collectibles to find, beautiful graphics of the forest, a new storyline.. and a whole new technology! I loved bringing the tree back to life. it took a while but it was so much fun! If you loved the other virtual villagers games you'll no doubt love this one!
March 15, 2012
GOOD FOR LOSING STRESS!
My favourite game series ! Great and extremely addicting!
January 12, 2012
Chapter 4 some new some not good and fun game
Same graphics and people similar sound new place new trails. Enjoy this one a lot. No faction choice this time. Great new feature bottom right screen. You can use the arrows to view all your people and their current actions one at a time. if you click on their picture you zoom straight ti their spot. If no one highlighted click the right arrow and you see the youngest person. Click left arrow and you see oldest person. One thing they fixed... you can always train and master out a builder. Even when all buildings are built you put a villager in the stream and they keep it clear gaining skill. Your children can collect lab gear, wind pipes, fish scales, and mausoleum pieces. There is no more doubling up on kids to get two collectibles. If you drop a kid to close to another one they go play leaving the collectible or even losing it. Fishing is back. Hey you get a fire pit in this edition. It's not great, but it it definitely a good game.
December 10, 2011
Heal that Tree!
If you don't use the walk through, this game is challenging. I had to use my brain! Overall, I enjoyed taking care of my Villagers, but after I solved every puzzle I quickly lost interest. Try to figure out the game without cheating! It's tough.
March 14, 2012
Truly a challenge to solve all of the puzzles!
While at work I couldn't wait to get home to see how the villagers were progressing and see if I could solve the next puzzle. Lots of fun!
April 19, 2012
good
you had to think of what will come next and how to do it.
December 25, 2011
THE BEST GAME EVER!!!!
THIS GAME IS THE BEST GAME EVER YOU HAVE TO TRY IT!!! till i ran out of min it was the best time of my life.
May 18, 2012
Nice
il found this game very interesting at first, but i was stuck. I searched the net for walkthrough and ruined the game. All the suspense was gon and it became so boring that i removed it. ALL I WANTED TO TELL YOU THAT DON'T USE WALKTHROUGHS!!! ALL THE INTEREST WILL GO AND YOU WILL WASTE YOUR MONEY.
December 2, 2012