Deadtime Stories
Sinister thrills await in this gorgeously dark and unsettling telling of a real-life ghost story from New Orleans' shadowy history. Free trapped spirits, cast spells and unlock fragments hidden in the paranormal world to reveal the story of a misguided voodoo queen. Use your wits as you dive into a spooky world in Deadtime Stories, a haunting Hidden Object Adventure game. Discover the history and secrets of 19th century New Orleans!
Gorgeous artwork
Immersive atmosphere
Sinister thrills await you!
Game System Requirements:
OS:

Windows XP/Vista/7/8

CPU:

1.0 GHz

RAM:

512 MB

DirectX:

9.0

Hard Drive:

130 MB
Game Manager System Requirements:
Browser:

Internet Explorer 7 or later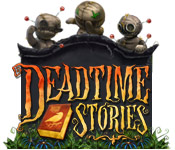 NEW299
The Big Fish Guarantee:
Quality tested and virus free.
No ads, no adware, no spyware.

Reviews at a Glance

Deadtime Stories
0
out of
5 (
0
Reviews
Review
)
Customer Reviews
An enchanting evening........left me wanting a sequel!!
POSITIVES:- Sound effects and graphics were of the highest quality Engrossing storyline and intriguing mystery to solve SUPERB voice acting......could not fault at all. Clever puzzles which were indeed different to any others ive encountered to date. Fast loading times in between scenes. Involves you in the world of voodoo......you get to find spell ingredients, cast spells and dispell spirits using the potions that you made. Interesting characters MINUS POINTS:- Little bit of a misleading title...........the plural 'storieS' makes you think there was more than one main story to play..............unfortunately theres only the one, but its a good one, its just a shame that there wasnt a couple more. Quite a short game, can be finished in a couple of hours. Great game for beginners, but wont pose much of a challenge to experience gamers. Would have loved to have seen more puzzles, and more little things to do such as collecting items for extra bonuses, or had some mini games included. This would have made it fantastic. A couple of times the music seemed a bit out of place as it didnt fit the mood. Quite a linear story and scenes. HOG scenes were very easy. CONCLUSION Dont let the minus points put you off getting this game, especially if its reduced or you choose it for free. Its an EXCELLENT quality game and i loved it; only wish it was much longer and a bit more of a challenge but hopefully there will be a sequel that addresses that.
February 3, 2012
A keeper!
Lots of different character tales with a common story weaving them together. Great graphics. Colorful and clear. Ambience is really well done. Loved the feel to this game. Soundtrack fits and is not intrusive. Mini games are inventive and fun. This is a game that scored on all levels for me. Well done! (original review May 4, 10)
November 26, 2011
One of my favorite all time games!
This game was beautifully crafted, from the graphics to the voice-overs. The story line was fabulous, the game play challenging and interesting. It had a great mix of hidden object as well as puzzles--a good enough balance to please HOG lovers while not boring non-HOG lovers. I keep hoping they will make a sequel to this game.
December 20, 2011
Sometimes the old ones surprise you
Yesterday I realised I had trialed or played every recent release. So I went trawling for something to play and found this. Downloaded the demo and presumed I would be disappointed. How wrong I was - this game is intruiging. It isn't big and it isn't overly flashy but what it delivers is a few hours of absorbing gameplay (more than can be said for some "new" games out there which seem to be recycled ideas and storylines). The graphics are cartoony but in a Drawn sense rather than Disney and the artwork is beautiful. The storyline is based on a ghost story from New Orleans and really pulls you along. There are some fun twists (wait till you meet the alligators) and the puzzles, though few and far between, are taxing enough to stretch the grey matter. So overall I really encourage you to try this and a little voodoo magic! And devs - when is the next one out? Can't wait!
March 10, 2012
A real gem!
Thoroughly enjoyed this game. Graphics, sound, gameplay - all excellent. Not too difficult but still a bit of a challenge, Only drawback was I wish it was longer :( Hope a sequel is in the pipeline??
December 21, 2011
Mileage varies
If occult/voodoo roleplay disturbs you, this is not the game for you. If you enjoy that sort of thing (and I do), this game is great fun in that respect. The story is excellent, very easy to get caught up in. The main character had a bit more depth to her than usual. The artwork was very beautiful, and the sounds and cutscenes were great. Not too many puzzles, but the ones included were fun, and most were a bit different from the usual. The reason it only gets four stars is purely subjective. I hate replaying the same Hidden Object scene over and over, and this game is very guilty of that. The HO scenes are lovely and most aren't too difficult (though the hint recharge is excruciatingly slow). But why interrupt a great story to go through the same junkpile for the third time, no matter how pretty some of them are? For players whose focus is on the HO scenes, this is a game not to be missed.
January 20, 2012
A Delicious Game
I loved the game because it did make you think to solve the problems, but , I was expecting more stories and more characters. They could have gone really far with this game, I don't know why they did not.
January 3, 2012
Should be called "Deadtime STORY"
The reason I have only given this game 2 stars is because there is only one single story involved in this game. I loved the introduction, with the host gearing us up for some tragic tales. Only to be immensely disappointed to find that the game came to an abrupt end after finishing only the first story.... And it was a rather short story at that. Not long enough to warrant the purchase I feel. I didn't particularly like this story either, but I felt that the other stories would be more interesting to me... if only there had been other stories. I did enjoy the type of gameplay and the art. Just wish there was more than one deadtime story!
November 21, 2011
Nice change of venue, but quite frustrating
Born and raised in the south USA, I've always been intrigued by the mysterious culture surrounding the New Orleans area, and I give the game 5 stars for recapturing that. The characters' conversations and accents were dead on, and the background music (especially the jazz in the French Quarter) added to the ambiance. The story was plausible because superstition, fear of the unknown, and mystic repercussions rule the area as much as the law. As excited as I was by all of this at the beginning, the game became tedious because: 1. There were many times that I was not sure what to do next and became frustrated because there was no journal or log to check. 2. HOS objects were ridiculously obscure. I rarely use a hint to find these in other games, but had to use hints on 75% of the HOS here -- and showing them wasn't a AHA moment, it was "that is unreasonable" moment. 3. The carriage was a nice touch to get to other areas, but I would have preferred a jump map indicating where areas with actions were available. I took way too many rides to areas that had nothing I needed (another reason for a journal or log). Bottom line, although I consider myself an expert on HO games, I still play them in casual mode because I buy these to de-stress from my regular life. Deadtime Stories had 5-star possibilities, and I so hope to see more from these developers, but this game was just a little more work than fun for me.
January 7, 2013
Leatrice
This is the best game about voodoo, spells, and curses I have ever played.
December 7, 2011