Deadtime Stories
Sinister thrills await in this gorgeously dark and unsettling telling of a real-life ghost story from New Orleans' shadowy history. Free trapped spirits, cast spells and unlock fragments hidden in the paranormal world to reveal the story of a misguided voodoo queen. Use your wits as you dive into a spooky world in Deadtime Stories, a haunting Hidden Object Adventure game. Discover the history and secrets of 19th century New Orleans!
Gorgeous artwork
Immersive atmosphere
Sinister thrills await you!
Game System Requirements:
OS:

Windows XP/Vista/7/8

CPU:

1.0 GHz

RAM:

512 MB

DirectX:

9.0

Hard Drive:

130 MB
Game Manager System Requirements:
Browser:

Internet Explorer 7 or later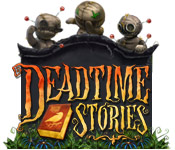 NEW299
The Big Fish Guarantee:
Quality tested and virus free.
No ads, no adware, no spyware.

Reviews at a Glance

Deadtime Stories
0
out of
5 (
0
Reviews
Review
)
Customer Reviews
Fun Game
I really liked the graphics in this game. Got stuck a couple of times but the hints helped. Once I really got the hang of it, it was over...
January 16, 2012
fab
great game,kept the mind thinking,it wasnt your basic click & find boring game...........keep em coming
March 12, 2012
Deadtime Stories
If you like HOG, then you will like this game. To me it seemed more like a treasure hunt/HOG only. The HOS are the same ones over and over again. You collect items thru several scenes then put them together to get one item to finish that segment and get a cutscene. The story line is good. For the most part it is a relaxing game to play on a rainy day.
July 23, 2013
Nice change of venue, but quite frustrating
Born and raised in the south USA, I've always been intrigued by the mysterious culture surrounding the New Orleans area, and I give the game 5 stars for recapturing that. The characters' conversations and accents were dead on, and the background music (especially the jazz in the French Quarter) added to the ambiance. The story was plausible because superstition, fear of the unknown, and mystic repercussions rule the area as much as the law. As excited as I was by all of this at the beginning, the game became tedious because: 1. There were many times that I was not sure what to do next and became frustrated because there was no journal or log to check. 2. HOS objects were ridiculously obscure. I rarely use a hint to find these in other games, but had to use hints on 75% of the HOS here -- and showing them wasn't a AHA moment, it was "that is unreasonable" moment. 3. The carriage was a nice touch to get to other areas, but I would have preferred a jump map indicating where areas with actions were available. I took way too many rides to areas that had nothing I needed (another reason for a journal or log). Bottom line, although I consider myself an expert on HO games, I still play them in casual mode because I buy these to de-stress from my regular life. Deadtime Stories had 5-star possibilities, and I so hope to see more from these developers, but this game was just a little more work than fun for me.
January 7, 2013
Too short
In this game you get to make potions and do spells (voodoo magic). The graphics are awsome, very colourful and original, but I did not care much for the music. What I did like a lot were the voiceovers, they made the story more real to me. If you choose to purchase this game, be aware that it is VERY short. I feel that the story could have been at least twice as long and a bit more detailed towards the end. There were several characters that I would have liked to get to know better (for example the apothecary, or the people in the swamp). I would also have loved to see some more creepy locations. It seems to me as though the developers had some excellent ideas, but unfortunately they didn't take enough time to elaborate on them and/or lost their inspiration half way through. I think this could have become an excellent game, if the story were longer and if the storyline concentrated on more of the characters.
October 31, 2012
Oh What Happened?
This game could have been so much more!!! The setting, New Orleans and the accents were perfect. Then, the "story" starts. However, there really is no story. You are going from HO scene to HO scene collecting ingredients to make voodoo potions. The sound was excellent, except for the annoying noise make during misclicks on HO scenes. The colors were bright. I do not believe there was a choice of difficulty. There is no map, but one isn't needed because basically you are in the same 5 rooms. The hint button is helpful, but slow to recharge. Very slow. There is a spellbook telling you what you need for each spell. I had such high hopes for this. I don't mind some HO scenes, but the one after another.... NO.
March 21, 2013
Jumble galore
First of all STORY not STORIES. Second, some objects too small to see, cramped or too dark. Interesting puzzles and 5 star voice overs. Story pretty good, too bad the cutscenes can not be re-watcheched. Making the potions were fun and most of the graphics were superb. Could have been longer and bit more story to it tho. Easy jumps from locations to another via a carriage. Hint sluggish recharging and not the most helpful. Thank goodness time period correct objects (nothing more annoying than finding a VCR tape in a mid 1800's setting) I recommend this game if you can get it on sale or have a freebie coupon. Try demo first.
May 30, 2013
Should be called "Deadtime STORY"
The reason I have only given this game 2 stars is because there is only one single story involved in this game. I loved the introduction, with the host gearing us up for some tragic tales. Only to be immensely disappointed to find that the game came to an abrupt end after finishing only the first story.... And it was a rather short story at that. Not long enough to warrant the purchase I feel. I didn't particularly like this story either, but I felt that the other stories would be more interesting to me... if only there had been other stories. I did enjoy the type of gameplay and the art. Just wish there was more than one deadtime story!
November 21, 2011
Overrated in its description
It took me a very long time to get used to how this game worked. There is no journal or map. I wasn't able to get very far at all in the demo with figuring things out, and only purchased it much later on a BOGO sale with this one being the free game. I bought it because I was interested in the voodoo storyline and because it was set in New Orleans. I was prepared to walk the streets and experience some of the flavor of what Nawlins' is all about but I was extremely disappointed. You didn't get to experience much of the city at all. Just one street in the French Quarter that had many possible buildings to explore but they were there just for show. The hidden object scenes were the worst though. Not only were they dark, you revisit the same locations and have to get the SAME items you got before! This is redundant and a poor excuse to lengthen the playing time. The clunky game cursor couldn't be changed and the loading time between scenes was sluggish. When you travel from one location to another, it shows you the opening scene again each time. This got boring really fast and seems to indicate that they didn't have many ideas for this game at all. Some puzzles had no directions but the only real good thing was when you needed to release the spirits. There was something really interesting and different in the way you used a paintbrush to do this. Unfortunately, it isn't enough to save this game. However, the game itself is gorgeous to look at, especially the swamp areas. The graphics are distorted to depict a skewed look to each scene, and it reminds me of Oddly Enough:Pied Piper. Many people don't like this look but I do because it adds to the unnatural feel to the storyline since it centers around voodoo. The actual voodoo story is quite interesting with realistic sounding accents, but some may be disturbed by it since voodoo is recognized as a real religion and would not want to play it in a game. The sound effects were outstanding and really added to the ambience of the outdoors. I just felt the game promised a lot more than it delivered. It's worth trying out because you'll either like it or hate it. Just be forewarned you won't get as much out of it as the description says. There are many games that are much better to be recommended than this one.
September 22, 2013
This game is not a choice for me...
Before I bought this, I thought this game would contain some short wonderful stories with the same theme. However, we only have one story, and it was short for me to enjoy. The music works well with the atmosphere. The graphic is well-done. Still, I dislike HOS (Hidden Object Scenes). The scenes are repeated, and usually, it always asks us to find tiny objects. The words to describe the objects sometime confuse me a lot. The HOS makes my eyes dizzy, and the result is, I quitted the game. You could find so many wonderful games with much better HOS out here... Well, still, I will be looking forward to see if Deadtime Stories would have a sequel.
October 21, 2013