Eternity
Travel through the time and find your grandfather in Eternity, a fun and amazing Hidden Object Adventure game! After inventing the time machine, your grandfather decided to experiment on himself and is sent hurtling through time. Use your courage and puzzle-solving skills to travel through time and find him somewhere in Eternity! Meet characters from all parts of the past and future, and solve perplexing puzzles.
Rich environment
Perplexing puzzles
Find your grandfather!
Game System Requirements:
OS:

Windows XP/Vista/7/8

CPU:

1.0 GHz

RAM:

256 MB

DirectX:

6.0

Hard Drive:

137 MB
Game Manager System Requirements:
Browser:

Internet Explorer 7 or later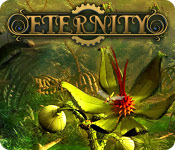 NEW299
The Big Fish Guarantee:
Quality tested and virus free.
No ads, no adware, no spyware.

Reviews at a Glance

Eternity
0
out of
5 (
0
Reviews
Review
)
Customer Reviews
Good yarn , Good game
I thought this game had quite an intriguing and novel concept, a bit of a variation from the normal point and click hidden object games. The graphics were quite good and the music soothing and didn't get on your nerves. The dialogue was just enought to keep you interested in what challenges lay ahead. The plot was that a son had to return his grand father to the present time after he developed a machine that took him through time and space meeting some significant characters from history. The puzzles were interesting and required some thought but were not that difficult whilst the hidden objects required visits to several different scenes to construct various items to be used in the tasks. There were also some standard h.o.s, some of which were a tad hard to find. All in all a good interesting and intriguing game - I enjoyed it.
January 10, 2012
Something Different
I thoroughly enjoyed this game (demo) although on checking the walkthrough to try and determine length of game I was disappointed to note that I had in fact completed just over half the game in the hour demo which probably makes the total length at 2 hours max. If it ever comes on sale then it's a definite buy but won't pay full price for such a short game.
January 25, 2012
I need a mindrea....excuse me, a psychic to play
?Eternity? is a hidden object adventure where you must travel in time to rescue your grandfather. The story starts with your eccentric inventing grandfather calling out for your help. He has partially built a time machine and needs your help to complete it. With the promise of treasure resounding in your head, you agree. With 4 areas to search, you find parts to complete the machine and power it up. When you do, of course disaster happens and your grandfather is lost in time ... but be not alarmed (or be alarmed, whichever suits your fancy), he can be found (rey ... not! ;P) for he has sent a time capsule back to you so that you can come and rescue him ... wherever he may be. So now, you must travel back and then forward with each successfully completed chapter. That said, the game as is ... is not too bad. The visuals are very good, very realistic with some depth-perception to it. The sounds are very minimalistic and not distracting. I usually turn down the volume on the music so I can?t comment on it. Now onto the game-play, the current goal that you must solve is displayed on the bottom above your inventory. You must travel between the other areas to find the objects you need and the tasks to do. A note, when you start a chapter all areas may not be active, so you won?t be traveling much. However when you finish the first goal, the other areas do become available. The goals are simple but getting there is something else. You travel between the areas and have to search (running the mouse over the screen) the WHOLE screen to just find anything (let?s not talk about the tasks) ... occasionally coming across a hidden object scene ... the hint button does show you if there is/?are? (I have used the button and the object found usually was the last thing to do on the screen) any objects in the area. And that is one of the problems here, there really is no direction, you wander from painting to painting (the depth perception is nice but you don?t walk to the different areas, you choose from a wheel in the lower right. It was just staring at different paintings. The tasks you almost have to read the walkthrough to find and decipher (don?t expect to get any really good help, esp. from the hint button - it only tells you that a certain object can be used in a certain place. There also is very little or NO clues to solving the other tasks in each chapter) in order to move on in the game. Not to mention the order to complete them. For instance, there was on action task in the Mayan chapter involving 8 stone faces, in which you had to press the faces in the right order to solve it. Ok, no problem for that, the problem came when I tried to press the sequence (btw: there is nothing to indicate that you must push the faces unless like me, you do it accidentally) and it gave me an ?error? message that the faces must be pressed in the correct order even when I pressed the first face! WHAT?!?!? And the only clue was a fraction (2/2) on a stone in the temple, which might have been for the another task. There was no other hints or clues as to what should be done (I admit I looked in the walkthrough to see the solution and seeing the solution made the fraction clue clear.) for the faces. And when I ?solved? it, I had to press the sequence rapidly else I got the ?error? message again. Moving on, you have no journal during the game-play, only in the cut-scenes between chapters, and then to review a brief (and I mean BRIEF . . . just a paragraph and a colorful opinion of the completed chapter/s) summary of the chapter/s and a picture/s of what gift/s you have received, so you must commit to memory anything you might need for solving the tasks during the game-play unless you want to flip back and forth between areas for the clues. The chapters went by rather quickly so finishing the game in a couple of hours is possible and probable. As for buying this, I don?t recommend paying full price for this, maybe if it is a DD or spending a free credit or in one of their sales that Big Fish has every now and then, I leave that decision up to you. I do recommend trying this game, and letting you decide if you want to buy it. For myself, it is a no. It was unfortunately more frustrating than enjoying. :( For you, it might not be. I can?t read your mind and my psychic hasn?t told me anything in those regards! ;) HAPPY GAMING!!!!
April 23, 2012
visually beautiful, but lacks direction
"Eternity" is a visually beautiful HOG in which you most solve different tasks in small "chapters" which are associated with a specific time to which you travelled with the time machine. The best part about this game are is the graphic: it is 3D and beautifully executed. The level of challenge could be better, though, and often the game lacks clear instructions: Once you've found your objects, it is sometimes unclear where to put them or ho to combine them. Also, the game is rather sensitive: If you click on the lock with a key, the box won't open, but if you click on the general box, it will - this can be annoying. The individual "capters" are also far too short an can often be solved in 2 minutes. It would be more fun if it would take longer and be more complex - the hidden object scenes are far too easy with too little objects to find, and everything is pretty obvious. I wouldn't buy this game (I've only played the demo), since I've played more challening games. However, for children or beginners it might be good.
March 31, 2012
DOES HAVE EASY MODE
This game, has you completing the 1st chapter in the Classic mode; upon completion of said chapter, it'll give you a choice of either Classic or Easy versions of the game. I like this game and I'm playing in the Classic Mode rather than the Easy Mode which is surprising for me to be able to do. If I remember correctly, I rejected this game when it first came out because I hadn't realized that all I needed to do was to follow the navigational wheel and once a particular area was checked off, then I could move onto another area. Some areas, of course, you know that you'll have to return to in order to complete it but the navigational wheel was very helpful by informing me as to whether or not to keep searching for any items that you'd need elsewhere. I found the hint button (just click on the person in the lower left-hand side# helpful as well as there was an area that I had NO idea as to what I was supposed to do. I also liked how certain inventory items would pulsate so you knew to pick up those items #ALL AT ONCE) and place them mid-air so that they could transform into whatever and then return to the inventory box -- such as the logs for the caveman's fireplace. I completed 4 chapters and was about half-way through the 5th chapter of a total of 14 chapters when the demo ended so I figure that this game'll take me approximately 3-3 1/2 hours to complete.
April 28, 2012
It is okay
I was't wow'd by this game, but it wasn't bad. Basically, you are trying to rescue your grandfather and are traveling through time completing different projects at each place. I actually found some of the puzzles very challenging, as I could not readily determine what needed to be done for all scenes and had to use my hints. Overall, it is not a bad little game. I will not be purchasing it as I prefer to use my dollars for something that really pulls me in, but I have no reason not to recommend it.
March 31, 2012
Nice little game
It is a little game as I said, which means too short. However there are things to discover and puzzles to resolve. As it is short you may have finished it with the demo version so I do not recommend. I bought it for my grand children.
April 13, 2012
There's a Reason why it's only $2.99 today...
That old maxim, you get what you pay for, definitely applies to this game (unless it is regular game club price). Visuals and graphics were nothing outstanding or even above average, in my opinion; simply average. If this game was several years old, then I could understand some of the ravings of other reviewers...compared to the gorgeous graphics and beautiful scenery in most of today's modern games, this game, Eternity, just does NOT stack up--it isn't even in the same conversation! The storyline is one we have seen many times--find Grandpa who is lost in time. The novel part may be the use of a time machine, but I have seen even that before. Once you reconstruct the time machine and get his mini-machine he's sent back for you, you travel to various periods/places in time--from caveman to Egypt (with an 'ancient laser' to help cut marble for a pyramid!) and so forth. In each locale, you have to travel to 4 sites and find items to complete some mission--from making a cart for the caveman to helping construct pyramids. The format for this gameplay is unique--4 sites you click on, complete the task or gather items & click back & forth between the 4 sites until the mission is accomplished. Nothing really new, nothing intriguing, nothing very challenging. For example, in the first 'chapter' you find yourself in caveman times, complete with cave and caveman who speaks in English. He want fire, so you go have a HOS where you must find the items to make an axe.Take the axe to the forest, cut down trees for firewood; bring firewood to cave, but don't think you can just stack the wood in the fire ring, nope--you must click on each log in your inventory, put them together with the matches you cleverly brought along. Then, once the fire is in your inventory, you can place it in his fire ring. The reward is another mission--building a cart. All in all, there are at least 2 tasks per place/time. You get negative responses on finding Grandpa (naturally until the end). The game is so simple that a child can &, in my opinion, should do it...unless you are simply a bored adult who wants a minimally challenging point and click sort of game with a few puzzles. a few HOS, and several figuring out how to accomplish tasks given to you. I was seriously disappointed with the game, I tried to find SOMETHING redeeming about it, but really could not. The demo lasts about an hour and according to the walkthrough, that's about HALF THE GAME! I can't really recommend this game, but do think you should download the trial and evaluate it for yourself, YOU might like it!
April 26, 2012
Different...
This game had a nice concept but could have been made a LOT better. When finding objects I was often confused about what to do with them or where to put them. Hitting the hint button will sparkle where the item is supposed to go and then not allow me to put it there. Too bad too because it was a nice change from the regulart HOGS.
June 29, 2012
My Kind of Game
I love games like this where you travel through history in mini chapters! In each time period you get to look for various items needed to complete the major tasks for that chapter. Some chapters are shorter than others. You do go back and forth between various sites in each chapter, but you have a map which makes it easier to do it. There are various mini games throughout, that are fairly standard but still fun. You do have the option to skip them if you choose. The hints are pretty generous and usually helpful. An overall enjoyable game!
April 26, 2012
The Apple logo is a trademark of Apple Computer, Inc.