Magic Encyclopedia: Illusions
When Catherine receives word of an attack on the Magic Academy, she sets out to save her school from a fate worse than foreclosure! Join her as she learns about The Illusionist, a wizard that's changed the appearance of countless objects around the world and is gathering an unstoppable army. To defeat her nemesis, Catherine will have to figure out ways to switch back and forth between reality and deception to solve puzzles in Magic Encyclopedia: Illusions!
Minigames galore
Gorgeous Hidden Object scenes
Save the Magic Academy!
Game System Requirements:
OS:

Windows XP/Vista/7/8

CPU:

600 Mhz

RAM:

128 MB

DirectX:

6.0

Hard Drive:

177 MB
Game Manager System Requirements:
Browser:

Internet Explorer 7 or later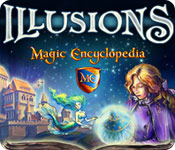 NEW299
The Big Fish Guarantee:
Quality tested and virus free.
No ads, no adware, no spyware.

Reviews at a Glance

Magic Encyclopedia: Illusions
0
out of
5 (
0
Reviews
Review
)
Customer Reviews
Magic Encyclopedia: Illusions
17
17
FROG with fun "illusion" mode
I like FROGs (fragmented object games) a lot and this one has an interesting twist to it; each scene can be viewed in real and "illusion" mode that look slightly different and the fragmented objects can be found in both. As with most other FROGs, once you find all the object fragments, you can combine them to make inventory items. You also have a good variety of puzzles that provide a decent challenge, although nothing too innovative. The graphics are bright, colourful, and while not on the beautiful/gorgeous end of the scale, they have a nice magical quality to them and works great for all of the exotic locations you travel to. After finishing each "chapter" (a group of locations), you can revisit the scenes to play optional spot the differences minigames. While not one of the best in this genre, it's pretty good overall.
January 1, 2013
Surprisingly good
I was really surprised how much I enjoyed this game. I'm not a fan of Hidden object so I wanted to give the fractured object a go. That's when you find a pieces of an item before your can use. The only problems I had with this game was that the spots where you click on things was very pedantic. I would try something and when it wouldn't work go of and spend ages trying other things. Only to come back and find out I wasn't exactly in the right spot. Also I found it hard to move back to scenes. As there isnt a cursor or a path. You just sort of have to click close left of the screen or something. Overall I was impressed by this game. And am going to try some others in the series
December 6, 2013
Fragmented Object Game, You might like it.
You should give this game a try. It wasn't my favorite, but it has a lot to recommend it. The Story: The Magic University has been attacked. The book of Illusions is gone. You have to save the world. You, the young female student, must travel around the world to prevent all out war and stop the bad guy. Pretty typical. The game is divided into five chapters, although the last on is a series of five 'spot the difference' puzzles. The other levels are well thought out with five areas to search. I was satisfied with the length. On each level you have to find miscellaneous pieces of things to meet your goals. There are also areas of interest that require interaction. Note: There are A LOT of pieces. And sometimes you have to leave an area, complete some task, and then return before you can find the rest of the pieces. The really cool thing about this game is that the appearance of an area is filled with illusions. You have to used several means (lastly, magic glasses) to see through the illusion to find everything. Fortunately, the hints recharge quickly. I really needed the help. Not only is finding all the pieces challenging, to me it wasn't always clear when I had to leave an area and go somewhere else before finishing in that spot. The graphics are good to very good (cartoon). The puzzles/mini games are easy IMHO, although I skipped the fishing one, because I could not figure out how to do it. The music is repetitive and does get annoying. No voice overs and the text dialogue can be clicked through. I finished playing it, but this wasn't my sort of game. I am recommending it anyway. Many people like FROGs (Fragmented Object Games) and this one really has some fun and compelling qualities. Give it a try.
June 21, 2013
Good game but not for me
This is a Fragmented Hidden Object game, the graphics are bright & colourful, the artwork more on the cartoon side but nice enough. The music is very odd as a lot of the time it sound like it belongs to a game set in China; there were no voiceovers & those who read fast can click through the subtitled dialogue. The mini games were pretty easy & fun to play. You have to find the objects in two places; initially you begin in a scene & one of the first objects you collect can change the ?illusion? of that scene. Using this item subtly changes the view & more of the FR0Gs become visible, luckily the hint charges in 30 seconds for those like me simply cannot see all the objects. They really were very well hidden & difficult to find so will give you a workout. However the hint is not very useful once you have found all the items in a scene & have one fragment left to find; it simply says ?I need to look somewhere else? but doesn?t give any clues where. I went into every scene I had opened using both normal & illusion view but could not find the fragment of the object I was trying to piece together. At this point, 40 minutes into the demo, I lost patience & gave up but I hope others have better luck than I. Am recommending because although it did not suit me others may find it enjoyable & interesting to play.
December 19, 2011
Good but Sometimes Frustrating
I just finished playing the second and third games of this series back-to-back, and I found I enjoyed this one less than the second. For one thing, the objects in the HO scenes are extremely hard to spot in some scenes, and I resorted quite a few times to the hint button (which I usually don't like to use). There was also no map, which was a little confusing since some of the tasks required you to retrace your steps. It was also completely unclear what the tasks were or what the application of the objects you collect might be, in some situations--there simply weren't logical connections between some of the objects and the task performed. It was also confusing that most of the HO and tasks had to be performed only within the current window--objects were not carried from one room to another--which was frustrating because there are a few times that you do need to complete tasks on other screens first before returning to finish the current one! And finally, the "hint" button was okay for finding objects but was no help at all in trying to figure out what to do with the objects or where to go next. I will say, however, that the storyline was better in this one than the previous two ME games, and the graphics were good and the game was also suitably long without being too repetitive or tiring. There is a "skip" button on the mini-games, too, which the first ME didn't have. Overall, a decent game, but just be aware that it may be harder than it looks!
March 6, 2013
eh
It was only so so. The graphics where cartoonish and harder to find objects. The game was not intuitive and left wondering what you should do next. Basically a poor version of the previous titles. I made the mistake of buying before I tried based on the quality of the previous versions.
January 6, 2014
I quit after 23 minutes of free trial
I downloaded trial play and quit after 23 minutes. I like games that are a challenge to figure out but at least have sensible in-game clues to help me. This game required that I use the hint button. Having to go back and forth between magical states in one scene was tedious. Several times, I accidently clicked something that sent me back to the previous scene which required redoing steps to leave the scene. Boring! I have learned to read the awful reviews first. I no longer believe the glowing four and five star reviews.
July 5, 2014