Lilly and Sasha: Curse of the Immortals
After Sasha is fooled into placing her hand on an ancient shrine, her twin sister Lilly starts noticing a new darker side to her that she has never seen before. After discovering that Sasha's body is slowly being possessed by the immortal Zahhak, Lilly must furiously try to save her! If she fails, she will have to watch as the infinite power of an immortal lays claim to the world once more in Lilly and Sasha: Curse of the Immortals, an exciting Strategy game.
Unique puzzles
Compelling story
Break a deadly curse!
Game System Requirements:
OS:

Windows XP/Vista/7/8

CPU:

1.0 GHz

RAM:

256 MB

DirectX:

9.0

Hard Drive:

130 MB
Game Manager System Requirements:
Browser:

Internet Explorer 7 or later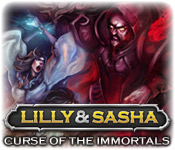 NEW299
The Big Fish Guarantee:
Quality tested and virus free.
No ads, no adware, no spyware.

Reviews at a Glance

Lilly and Sasha: Curse of the Immortals
0
out of
5 (
0
Reviews
Review
)
Customer Reviews
Lilly and Sasha: Curse of the Immortals
10
10
Challanging, funny, but missing the love
First things first, this is a part one of three game and the other two parts have already been made, but BGFs does not have them. You have to buy them on the creator's website. I hope one day they will be on BFG. Now, getting past that... This game was not what I was expecting it to be. It started out dark, then pretty funny, which had me laughing out loud in some parts, but I wasn't too intrigued. However, I thought I'd give it a try, so I went ahead and bought it. Two hours into the game, you can't wait to see what happens next, and now you want to finish it just to find out. This is not a short game. I think off and on between work and daily life, I spent about two weeks on it. I think the longest part about it are the many puzzles you have to figure out to continue, and some of them are pretty darn hard. My biggest problem with this game is that there is no actual love story or romance between characters. I've heard that the other two games change that, which I haven't played yet, but in this one, there's nothing. The story itself is very, very good with lots of LOL moments in the dialogue, so even if it's just for that, it's worth it. And the puzzles, despite some being hard, are very fun. Worth every penny.
February 28, 2012
Everything a RPG should be
Loveable characters, hilarious dialogue, excellent puzzles and days of gameplay. For those new to RPGs there are options for battle difficulty level, instructions, maps and a journal. I laughed the whole way through the first in the series and went on to buy the next 2 games in the trilogy.
February 3, 2012
Amazing!
don't be fooled by the old school cheesy graphics...this game is great...difficult puzzles and great search mystery...RPG lovers will love this!!!
May 12, 2012
lilly and sasha
brilliant game if you like old style role playing full of puzzles very colourful and challenging highly recomended
November 15, 2011
You've got to play if you love RPG!
Ok, at first I thought it was a little cheesy, but quickly started to have a lot of fun. Then, I really enjoyed the cheese factor. Some of the puzzles really made me think hard, but then there were hilarious moments when I was laughing out loud. Good game if you also like Aveyond, Ella's Hope, Leah's Tale ...etc. Now I really want to play the sequels, but Big Fish doesn't have them. Seriously debating purchasing them from a different gaming site, but wish I could buy them at Big Fish... hint hint.
April 10, 2013
Must Have More!!
It started kind of boring, but gradually became more and more interesting. The more detailed animations of the characters aren't amazing, but they don't come up that often. The stort line is AMAZING! The game is very humorous, too. It will have you laughing one moment, and be all serious the next. It is like a good book; especially the end. I want the next game!!
November 20, 2012
Unusual and great gameplay
I'm currently 50% through the third and final game in this series. (As others have mentioned, Parts II and III need to be purchased from the developer.) I will be very sad when there isn't any more left to play. This series is atypical in a few ways that I love. My biggest frustration with many RPGs is getting lost in gigantic maps. Exploring is a big part of the fun, but when gameplay takes many days, it can be frustrating to trudge back and forth trying to remember where the well holding the Relic of Awesome was that you bumped into a week ago. In Lilly and Sasha, the areas are big enough to be fun, but not too big. There are in game maps for some areas and the ability to easily teleport from city to city. Especially in Part I, the many puzzles are far more important than combat. The difficulty of the puzzles varies - most were quite easy, but a few had me stuck for a bit. I was able to solve them all without a strategy guide, however. There is a ton of dialogue - very entertaining dialogue - which might put some players off. Upgrades in gear equip automatically, and combat is fun rather than a grind. This game is about the story and the puzzles. More than once, I have been surprised by the turn of events. Highly recommended!
June 12, 2013
awesome RPG with a fun twist
This is a really good RPG, too bad BFG doesn't have sequels 2 and 3, because once you play this you will want to play the rest, and will have to buy them from another site (hint hint BFG). You get 3 characters per party, but can change them whenever and everyone levels up together. You do find some items but they are automatically equipped to the relevant party member. You can buy pets along the way who help you in battle. You find and buy "runes" which give special abilities in battle when equipped, and these you can equip to any party member. The game is a great length with lots of quests. What makes this a great RPG are the puzzles scattered throughout the game, which you must solve to proceed. They are creative,different, and fun, and sometimes take a little thought, but if you apply logic you shouldn't have much trouble. There are 3 modes, I played on hard, and I don't know if the puzzles change with the difficulty mode, but I was able to figure all of them out with a little trial and error. HIghly recommend this game!
May 15, 2013
Puzzle Game, not RPG
I love RPGs and bought this game based on all the positive reviews. I spent about 2 1/2 hours on it and finally closed the darn thing and deleted it from my computer. What a waste of money. This is a puzzle game masked as an RPG. I just got sick and tired of having to figure out where to move things so I could get through areas. Some of them are very, very hard, too and the only walkthrough that is available has to be bought. As well, these characters talk on and on and on and ON. Incredibly boring to sit at my computer and repeatedly hit the space button so I could eventually get through a long-winded conversation. There is nothing original about this game. It's boring, the gameplay is awkward, some of the puzzles are just too difficult and the characters are verbose. I've played many, many RPGs and really do not understand all the positive reviews for this game. Don't waste your money.
April 26, 2013
not a rpg
Don't waste you time it is a puzzle game
July 22, 2014