Oriental Dreams
A challenge as old as the Orient rises up before you! Will you accept this test of your mind and spirit or turn and run? On the surface, the task is simple: clear a board of colored runes by creating matches of three or more stones. As you progress, however, the puzzles will become harder and the obstacles more cunning in Oriental Dreams, a fun Puzzle game!
Classic gameplay
Wonderful graphics
Clear the board!
Game System Requirements:
OS:

Windows XP/Vista/7/8

CPU:

1.0 GHz

RAM:

512 MB

DirectX:

8.0

Hard Drive:

130 MB
Game Manager System Requirements:
Browser:

Internet Explorer 7 or later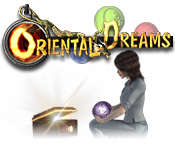 NEW299
The Big Fish Guarantee:
Quality tested and virus free.
No ads, no adware, no spyware.

Reviews at a Glance

Oriental Dreams
0
out of
5 (
0
Reviews
Review
)
Customer Reviews
IT TOOK A FEW YEARS BUT I DID IT!
Nice reviews are already written, so I just want to encourage those who are unable to complete the game. Yay! I finished it today! Bought the game when it first came out (a year or more ago?) and have intermittently downloaded, played, uninstalled, downloaded, played...I'm not good at strategy and get very impatient when it seems that there are only two more spaces to move the balls, but this time I just hung in there and suddenly I was at the last level and then it was over! The music is monotonous but I found my head bobbing along with it so I always kept it on. Despite my problems with strategy, I still found it relaxing in a perverse way! To me, it is a waste when hidden objects are added to a Match 3 game and I don't really like to switch gears, especially with a game that is intense (for my level). I think the great thing about Big Fish is that they hold our games and in a year or so it is always fun to reinstall a game and then discover that it is actually easier than the first time played, or even more fun. So if you were unable to finish this, or any other game, keep trying!
December 26, 2011
Good take on Match Three
Interesting version of Match Three. If you complete the stated goal for the level within a short time you get a gold goblet. If you take a bit longer, you get a silver one. The neat thing is that you can replay the level if you see that you're taking too much time and won't make the "gold" level. I've played it through three times. Only negative thing is that you can't stop the hints and after the first go round you don't need them any more. If you like Match Three, get this game!
January 12, 2012
A SERIOUSLY ADDICITVE GAME
I purchased this game during the 5.00 sale and what a surprising gem it is. The type of Match 3 in this game will make you think and keep you up for hours trying to get the gold cup for each level. It's far from being a short game due to the fact the challenge's of getting all the trophy's and gold cups on each level will prevent you from shutting down the game until you win! This game is definately one I'll play over and over again. Just LOVE it.
January 29, 2012
fun match three game
I love this game, have played it many times and have never grown tired of it like others I have played.
November 30, 2011
Love this game!!!!
This is a GREAT game! I wish Big Fish would make more like this. A lot more!!
April 27, 2012
Nice variation of Match-3
Match type: click-and-drag balls from one spot to another so that 3 balls of the same colour touch each other. There must be an open path on the board. It is timed, in the sense that if you achieve the goal within a certain time, you are rewarded with goblets - Gold or Silver - wich will give more points - and look better on the map, lol. But you will still be able to finish the level if Gold/Silver time runs out. Finished levels are represented as dots on a map, and you may click on a dot to replay to get a better time. Smaller see-through balls in a cell show where new balls will appear if your next move doesn't result in a match. So just moving the balls around without making matches will soon fill up the board making it impossible to move. The challenge becomes finding a balance between waiting to get balls of a desired colour, making matches to remove balls, and placing balls strategically either to block formation of balls or in anticipation of balls. Points earned go towards coins, which may be used to purchase and upgrade bonuses (powerups). The levels have different goals which add to a sense of variaition and challenge; Collect all runes - which are inside sparkly balls of a colour. Collect tiles - shown with a background colour; then find the matching tiles. Assemble the figure, some Hidden Object levels, collect hidden map - at the end of a chapter of your journey. Obstacles to matching are Walls that will block balls you need to finish a goal; Protected balls - locked into place and unmovable until un-protected. Awards/achievements for skillful playing, such as "make 10 successfull matches in a row", or "earn a goblet (i.e Gold or Silver time) on 10 levels" Screen resolution can be changed in the game, option of custom cursor or not. Also, hints can be turned off, which is nice if you have played before. There were some things I didn't like; - The achievements screen would pop up during regular play - that was very jarring and made me lose focus. - Movement of the balls - you have to click-hold-and drag to move, it would have been better to just click the ball, then click the desired location and the ball would move on its own. - The hidden object levels! I am not a fan of such, and do not enjoy them in Matching games. This is a nice matching game with a slightly unusual matching scheme that hooked me by its sheer difference. There is a story to follow for those who want a bit of adventure, and the graphics and backgrounds are wonderfully done. Other Match-3 games using the same matching premise; for instance Wonderlines - not currently available here, or the Token Path puzzles in Ancient Quest of Saqqarah - the Temple of Bast.
December 28, 2011
Pretty puzzle game but a little short
Pros: nice graphics/gameplay (M3 part), embedded puzzles, untimed but with trophies Cons: IHOG part uninspired/too easy, game length Oriental Dreams is part token match M3 (where you move like colored balls together from any part of the playing field to match 3 of them) and part IHOG. The M3 portion has some boards with embedded puzzles, so you're not necessarily just trying to clear the marked "runes" from the board with your matches, but may have to assemble a smaller puzzle or item within the game board to win. The M3 obstacles are quite original for a well established game genre. There are one-way move tiles, brick walls that require a certain powerup only to remove, and board shapes that require careful planning to solve. The powerups in the game are equally innovative, random chain breakers and a ball color changing pot coming to mind. The IHOG part of the game, however, does not compare with its M3 counterpart. I don't normally play HOGs due to visual field problems, but managed to breeze through the well lit and not all that detailed HOG scenes here in about a couple of minutes each. If you get stuck, there's a Hint button, but I used it maybe 3-4 times in my first run through the game. The minigames that pop up every so often are also not particularly challenging and have been done before in other games. If I could rate the two parts of the game separately on difficulty, the M3 part would get 4 stars and the IHOG part 2 stars. The storyline is a bit hokey. There are also not that many levels to go through, so expect to spend maybe 4-5 hours on this game. It is not timed, although a counter keeps track of how long you've spent on a level. If you complete a level under a certain time limit you will win either a silver or gold trophy, but there is no penalty for taking as long as you wish. You can also replay any level you've completed if you want to go back and try for a trophy. An attractive game for relaxing to.
December 4, 2011
shaboody
took time but is a very enthralling game
February 6, 2012
That's it ?!
Usually I really like these kind of game. Generally concept is very good and I like it . But I need more play to game keep going on. Level is not enough on this game. They should make more level .I don't think worth to buy this game.Maybe 60min trial version or if you have free game coupon code, that's way to do.
July 23, 2012
A very different match 3 game.
Well, today seems to be my day for demoing games that aren't exactly what I thought they'd be. Ok. Had to get that off my chest. Oriental Dreams is not your typical match 3 game. Let me try, somehow, to describe the game play. Game Play: There is a game board, upon which are numerous colored balls, scattered about. You must make matches of 3 (or more if you can but good luck there) by dragging a like colored ball to another one of its color to make a grouping of at 3 balls. For instance, there is a blue ball somewhere on the board. You have to drag 2 other blue balss to it to make a grouping of 3 to make them disappear. Now, keep in mind please, that every time you stop, more balls appear on the game board. In most cases, hindering your progress so you have to match a whole different set of colored balls to get to your blue one, which may not even be significant to your goal anymore. NOTES: If you accidentally stop on your way to a ball with another ball, MORE balls will pop up on the game board. There is NOT one goal in this game, but many. Some can be one per level, others may be several in a single level. All are about the balls. Be watchful, because the board will be inundated with balls before you know it and there is not a move possible. Game over. You can buy bonuses in the shop, but they are difficult (if not impossible) to use because you still have to accrue enough of a specific colored ball to use them. And how you can even use them is still beyond me after an hour of playing the game. I would not recommend this game for anyone who has problems with holding and dragging using the mouse. I do, and therefore, this will not be a purchase for me. Wouldn't have been anyway because it just seems a bit too technical and strategic for me. But, hey, whatever floats your boat - lol. Happy Gaming!
August 18, 2014