Trial of the Gods: Ariadne's Journey
The saga of Princess Ariadne continues! Prince Theseus has been captured by cruel Amazons and it's up to you to help Ariadne on her dangerous and exciting journey to save her beloved. Play various Match 3 levels with unique mechanics, search for special hidden objects to restore a temple and receive power-ups from the Gods! Explore the game in Adventure mode, or play the Loom mode for a more traditional Match 3 game and unlock art and wallpapers in Trial of the Gods 2!
Fast-paced gripping gameplay
Unique upgrades
Help Princess Ariadne!
Game System Requirements:
OS:

Windows XP/Vista/7/8

CPU:

800 Mhz

RAM:

256 MB

DirectX:

8.0

Hard Drive:

119 MB
Game Manager System Requirements:
Browser:

Internet Explorer 7 or later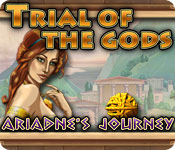 NEW299
The Big Fish Guarantee:
Quality tested and virus free.
No ads, no adware, no spyware.

Reviews at a Glance
Trial of the Gods: Ariadne's Journey
0
out of
5 (
0
Reviews
Review
)
Customer Reviews
Trial of the Gods: Ariadne?s Journey
9
9
Match 3 Fun
I have been gradually becoming addicted to M3 games, and I just love this one. It has a twist on the M3 section of the games, with different elements added in so there is a variation. I love the HOG as well, as this also adds in a variation. And of course, I always love the bits where I get to build something. Some levels easy, some a little more difficult, but not impossible. I wasn't going to buy it until I saw it in the "games you will love" section, so I decided to try it. Now I'm glad I did. One more added to my Favourites in M3.
April 30, 2012
FUN BEAUTIFUL THRILLING GAME
Love the Graphics Colors & Fun Match 3 GamePlay The StoryLine is Clear & Easy to Follow & is easy to Make Sense of Hidden Object Mini Games are Fun as Well. Working With Buildings & Other Challenges that are Similar is Very Enjoyable & Addictive!! Tons of Fun !!
March 24, 2012
For Young & Old Alike
This is a really neat game and would be great for kids. It's a mixture of match 3, hidden object and rebuilding. I thought I would get it for my grandaughter but found myself playing it and really enjoying it!! It's not really difficult which makes it a good game to just relax and play--the graphics are nice and the music isn't overwhelming like some of the games, just kind of soothing. Give the hour a try and see for yourself.
June 1, 2012
Fun and pretty M3
This is a game to play several times. I already did it. Visual and graphics are simple but pretty. The storyline is easy to follow but interesting. There is a nice variety in the minigames that makes them interesting. Surely I recommend this game.
October 12, 2012
2nd in Series, love this M3! CE type extras, story and BIG replay value!
What's not to love?!! LOL I LOVE them! More More More.. Pretty pleaaaaaasssseeeeee??!!! :P This is a M3/HOG, Very few HOG scenes, one per Chapter, with 10 or so items. If you like both M3 and HOGs it's a nice add on, (HOGs+RPGs are my 1st loves, then I tried M3s like this and Builder's, so I love Combo games!# if you don't like HOGs, the good news is; They are only a tiny part of the game and pretty easy! It's the kind that seems like new after awhile and you'll go back to play over and over with 2 play modes! I keep it on my portable at all times, when I'm bored in Dr's or long trip/bus ride. The length is as far as I got #forgot to finish it until now, after a OS reinstall# is good, a few days if your not a speed demon like me. There is about 60 Chapter's on the Map, but if I recall correctly, there was other Maps beyond the main one, in the 1st game..so there may be more Chapters/Maps in this one too. Sure you could try to zoom through, play timed... but it feels more like a game you slowly enjoy the ride and never want it to end! The options alone in this game make it amazing! The highlights: 1. Most important.. YES this has TIMED AND UNTIMED OPTIONS!! TY Developers!! 2. It fit's both my older and new laptop screen. On my new one, I just had to adjust the settings.. #I know.. BUT it IS possible!!) and only took me a few seconds to change back/forth. For some games it's worth it, this one is! 3.Both Music and Sound can be adjusted, I kept the sound on medium and like the satisfying sounds of matches/game actions. 4.YES, there is a story! It's played out in several beautiful hand drawn scenes at the end of every chapter, and messages in levels from those Adriane meets along her Journey; including the Gods/Goddesses whose Temples you must rebuild along the way 5. 2 Different Modes: Adventure, which is the story Mode, and must play to unlock Wallpapers. Ariadne?s Loom, where you play 10 levels to "weave" each Tapestry. The latter being one of the things I loved, the timer in it goes up and offers a HUGE replayability Factor..this is a M3, you'll want to play more and can't get enough of!! You unlock more as you finish them. 6 Wallpapers. You must finish the Adventure to unlock them. 7 There are also "achievements" to earn for Trophy's. Adding more to Replayability, if you don't earn them the 1st time 8 As was in the 1st you are (Along with saving your man, LOL) "rebuilding" each Goddess's Temple. Wish it was my choice, as it is, you earn a peice of each per level. At the end of the Chapter (or in between levels.. you can chose that) you take the pieces you've earned on each level and place them where they go..there is a shadow area indicating this too, again very liner, but a few times I had to really look for where to put some of the patterned or smaller Temple pieces. Game Play and comments/thoughts: Standard "swap" M3, but with ability to make combos as big as you can imagine. Each level has different goals, Adventure ( Classic story mode) has pearls on certian tiles you must match to collect. Do not let the begining fool you, the levels do get harder, and you will run into things like items to get to the bottem areas, where you must get them to a space or more over to the right or left, clear the board. Typical locked tiles, the power ups differ and are added as you go alone the way (don't want to spoil too much! :) Tiles are clear, and easy on the eyes, as is the background for clearing the board when needed (you always can, some goals just don't require it) with some very light HOG scenes here and there. The HOGSs are well drawn, clear, some items cleaverly hidden, and all in the period of time... no cell phones or "Modern" Items give it a real feel, and each HOG scene, ties into the story. Love that, wish more Devs would've done/do so too! Cursor works fine, doesn't feel clunky or slow. The extra "Tapestry" levels, I just adore! More next time please!! In them, a cloth is woven into an animated picture over 10 levels or so each. Playing it tonight, I challanged myself to clear a whole board in one click, and did so stratagizing for 2 hours! The timer on it goes up. AND.. this is the only M3 I've played, that the longer you play and earn more "jewels" the more your points go up, instead of the other way around, where you have to rush to get a high score. GREAT IDEA LOVE THAT. The Jewels BTW are the power ups in it too. They are different for bigger/types/faster matches and thay can make awesome chains!! You can move them, or double click to set one off where it is (they are on the space where you moved the tile to). You can rush is you like, challage yourself many ways, or compete with a friend/spouse etc (time finished, points, see who can earn a Tapesry 1st etc.. in that mode, the only limitation is your imagination. Each Tapestry is a beautiful wallpaper. Normally I don't get excited, but I did. Part because I earned it, part because they are so well done. Summery: I LOVED the 1st. just finished when the 2nd was released (HELLO Orneon, we need more of this Series!!) I'd almost finished this one, when I had some tech troubles (my laptop not the game, it runs smoooth as silk on all my PCs!) Forgot to reinstall this game to continue the story, (the 2nd in the series) when I saw it on sale, I was happy for the reminder and got lost in it for 4 hours! Since it's and on the Dev's sale today it's a steal!! Try if you must, but I found it to be a very fun, relaxing M3, that is as challaging as you wish to make it. I wish we had more like it that have an Untimed option!! So I highly reccommend it! Buy it on todays Dev Sale, as a DD, use a credit or PCC.. just get it!! You won't regret it if your a M3/HOG/Adventure fan. and if you like greek/Roman themed games! Happy Gaming!!
January 8, 2014
A Fun M3!
This M3 has a variety of challenges that keep it interesting. The power ups are plentiful and useful at just the right times. The game boards are big and bright, and the colors are bold. The graphics are very cartoonish, but they fit the storyline well. A fun way to pass the time.
May 10, 2012
Fun Game
I really like the different types of M3 games. Some really easy, some more difficult (and frustrating LOL). Plus a few HOG s thrown in it's a pretty good game. As each segment progresses the games get a little more difficult but still, pretty easy to finish. You have the option of timed or untimed which I really like. No pressure!! I have no idea at this time how long the game is but as I'm still building, I keep going. I love games where you get to build something or make a garden, farm etc. This is one of those.
May 12, 2013
Nice game but...
Trial of the Gods 2 is an alright game. There are multiple M3 boards, which makes it feel a bit repetitive even with the HO thrown in. Some of the boards are ridiculously easy while others are very difficult. Not impossible, just hard. Visually it was pretty minimal. All in all, good match-3 if that's your kind of game.
February 1, 2012
it's alright for a match three game
this is an interesting way to generate interest in greek myths. in this match three game, Ariadne must rescue Theseus who has been captured by Amazons. your mission is to help Ariadne to save him. graphics: the art is probably the nicest feature of this game. i especially like how the markers changed appearance when you mouse over them. i also like the special features that popped up on various levels, like balls of yarn, purses with jewels in them, various power-ups and whatnot. music: repetitive, simple, but not annoyingly so. my interaction: one hour demo mode, playing both the adventure mode and ariadne's loom mode. my recommendation: nothing special but if you like match three games, then you may like this one.
June 1, 2012
The Apple logo is a trademark of Apple Computer, Inc.